September 11, 2014
Nutella-Stuffed Pumpkin Chocolate Chip Cookies
Perfectly soft and chewy Pumpkin Chocolate Chip Cookies — Stuffed With Nutella — does that sounds like a delicious fall treat or what?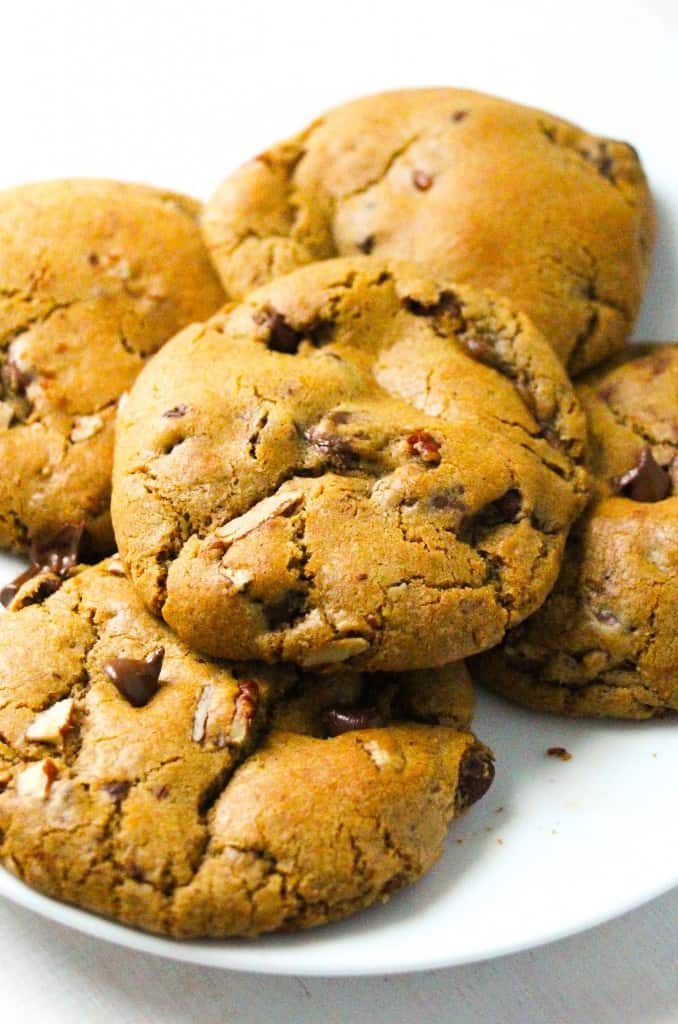 We converted our favorite chocolate chip cookie into a pumkin-fall delight and then took it to another level by browning the butter and stuffing it with Nutella. I am telling you this is D-E-L-I-C-I-O-U-S!
There are so many pumpkin breads and cookies out there that we really wanted to come up with something special. Pumpkin is the go-to flavor in the fall and when we combined it with our chocolate chip cookie well, let's just say it was a hit! We had to make some adjustments to our chocolate chip cookie recipe – so be careful about just adding pumpkin to a recipe. You need to adjust the flour etc. Otherwise you end up with a cookie or bread that is too goooey.
Don't let the stuffing of the Nutella scare you. It's really easy. And it REALLY makes this cookie THE BEST! How could biting into warm Nutella ever be a bad thing?
Hints about how to stuff your cookie: First you need to work with refrigerated dough and refrigerated Nutella. Take about 3 Tablespoons of cookie dough and make a pancake. Gently press your thumbs in the middle creating a little valley where you will put the Nutella.
For the Nutella I use two knives. One knife to scoop out my teaspoon of Nutella and the other to scrape it into the pocket of the cookie. Trust me, you don't want it on your hands because then when you go to roll your cookie you will have chocolate all over the outside….and we don't want that 🙂
Once you have the Nutella in there gently fold the cookie so that all the Nutella is sealed in. Watch for cracks….make sure the Nutella is sealed in there before you roll your dough into a ball. If you don't, the Nutella will get on the outside of the cookie. Once it is sealed – roll it into a ball……..and it is ready to be baked and on it's way to becoming you favorite new fall cookie!
Bon Appetit….I know you will love them as much as we do!
Nutella-Stuffed Pumpkin Chocolate Chip Cookies
Perfectly soft and chewy Pumpkin Chocolate Chip Cookies — Stuffed With Nutella — does that sounds like a delicious fall treat or what?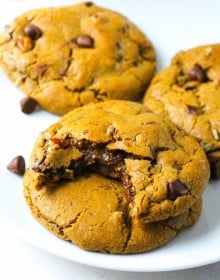 Ingredients:
2 sticks (1 cup) unsalted butter
1 1/4 cup packed dark brown sugar
1 large egg plus 1 egg yolk
1 teaspoons vanilla extract
2 1/2 cup all-purpose flour
1 1/4 teaspoons baking soda
1/2 teaspoon of salt
1/4 cup granulated sugar
1 and 1/2 teaspoons ground cinnamon
1/4 teaspoon ground nutmeg
1/4 teaspoon allspice
1/8 teaspoon ground cloves
4 Tablespoons of pumpkin puree
1/2 cup semi-sweet chocolate chips
1/2 cup milk chocolate chips
1/2 cup dark chocolate chips
1/2 cup of chopped pecans
Nutella (refrigerated)
Directions:
First, combine in a separate bowl the flour, baking soda and set it to the side.
Now it's time to brown the butter. In a small to medium skillet, melt butter over medium heat – stirring constantly. Once the butter begins to foam and has the aroma of a nutty flavor remove it from the heat. It will be slightly brown at the bottom of the pan. Set it aside and let it cool down. Give it about 10 minutes to cool.
Combine the browned butter, salt and sugars until thoroughly blended.
Add in the egg and egg yolk, pumpkin, spices and vanilla and mix until thoroughly combined.
Turn down your mixer and add the dry ingredients that you had set aside a little at a time.
Add in the chopped pecans (optional)
Once you have it all mixed together, gently fold in the chocolate chips
Chill your dough for 2-3 hours in the refrigerator (or overnight). If you are in a hurry you can speed it up by placing it in the freezer but be careful not to get it frozen.
Preheat the oven to 350 degrees.
Roll 3 Tablespoons of dough and roll into a ball. Make a pancake out of the dough into your hand and place it on some wax paper. Press your thumb in the center creating a little valley where you will put your Nutella.
Using 2 Knives place a teaspoon of Nutella (refrigerated) into the center of the pancake cookie – one to get the Nutella out and one to scrape it into the cookie center. The Nutella is much easier to work with when it is cold and when you don't use your hands.
Gently fold the cookie dough around the Nutella making sure to seal the Nutella completely. Gently roll into a ball.
Place dough balls on cookie sheet with 2-3 inches between each cookie ball.
Bake the cookies 14 minutes or until the edges of the cookies begin to turn golden brown.
They may look a little underdone in the middle, but no worries – they will continue to cook while they cool down.