September 30, 2015
Greek Breakfast Casserole
Greek Breakfast Casserole – an easy, make ahead brunch recipe. Loaded with spinach, tomatoes, feta, roasted red peppers, and eggs.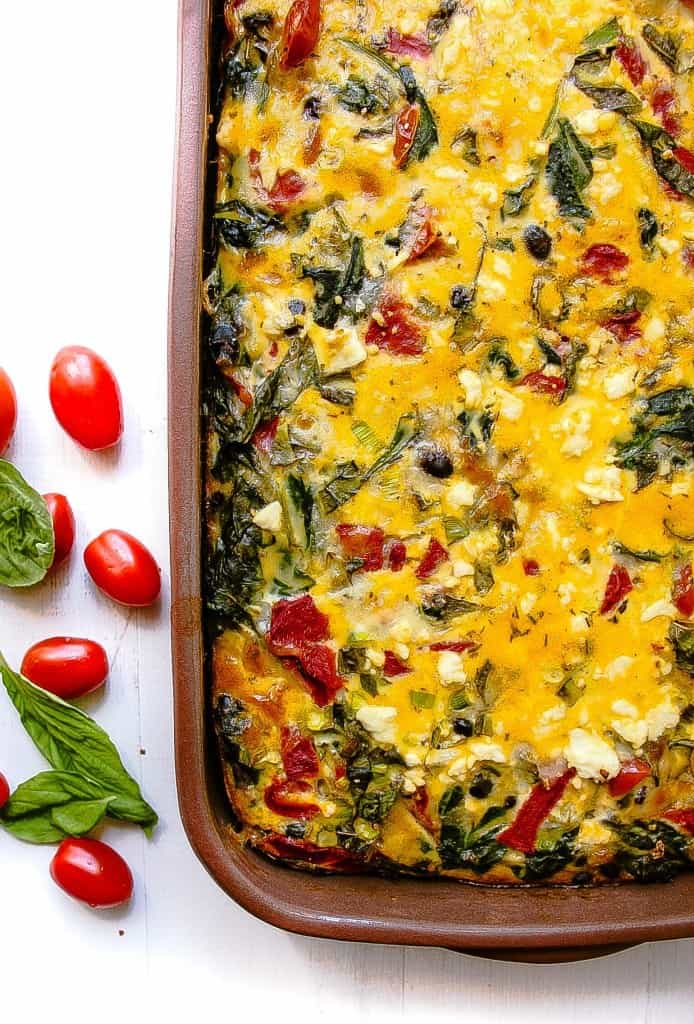 This is perfect for a party where you need some big batch, make ahead breakfast recipes to serve a crowd.
Can you make this ahead of time?
Yes! You can prep the whole thing the night before. Then refrigerate just before baking overnight. The next morning, bake the casserole as directed until the eggs are cooked through.
Can you prep this greek breakfast casserole ahead of time?
Yes! You can also bake this through fully and heat up individual portions throughout the week for an easy breakfast. Once done baking, cut into individual portions and refrigerate in an airtight container. Then, heat up the individual portions for breakfast throughout the week.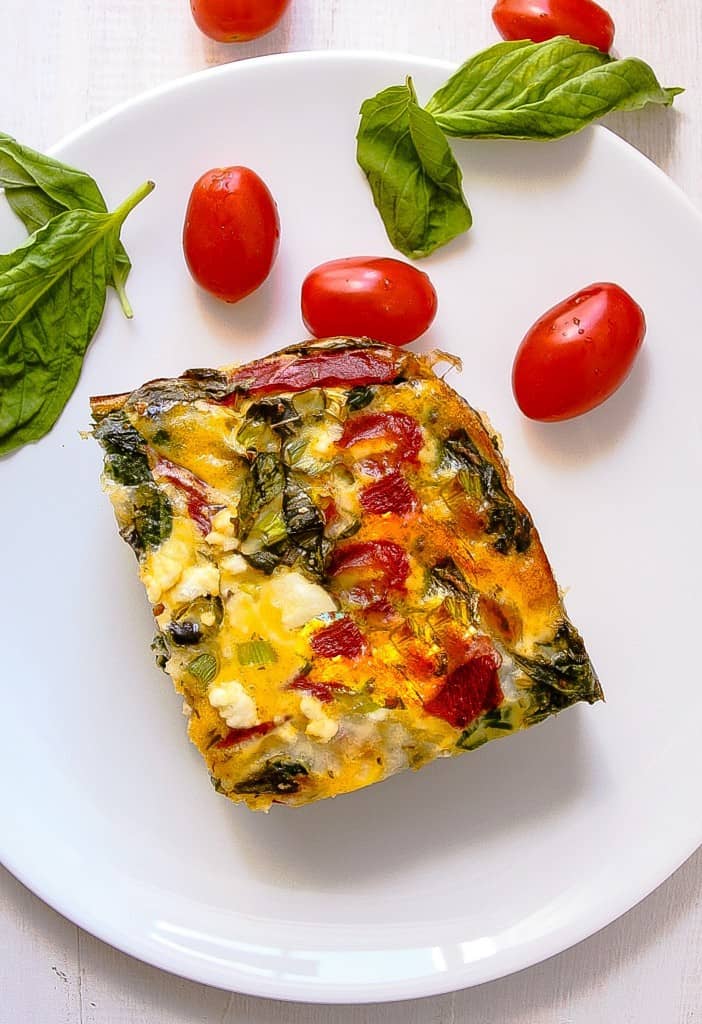 If you're throwing a party and want some other brunch ideas to serve with it…
Make this butter pecan crumb cake.
Or these incredible blueberry muffins.
Or some banana bread.
Hashbrown casserole.
Or individual hashbrowns!!
Ham Biscuits would be delicious.
A fruit salad for some freshness.
And yogurt parfaits.
Greek Breakfast Casserole
An easy, make ahead brunch recipe. Loaded with spinach, tomatoes, feta, roasted red peppers, and eggs.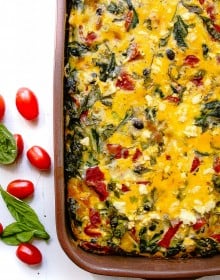 Ingredients:
6 cups frozen hash brown potatoes (I used the cubed potatoes with peppers – not the shredded)
10 large eggs, beaten
1 cup milk
1/2 cup heavy cream
1/2 teaspoon salt
2 teaspoons crushed red pepper
1 cup fresh basil, chopped
1 teaspoon dried oregano
1 teaspoon thyme
1 teaspoon paprika
1 jar roasted red pepper, cut into small pieces
1 ½ cup shredded mozzarella
4 ounces feta, crumbled
3 Tablespoons olive oil
1 teaspoon minced garlic ( or 2 cloves chopped)
1 pint grape tomatoes, halved
4 scallions thinly sliced, both the white and green parts
8 oz bag spinach
Sour cream for serving (optional)
Salsa for serving – highly recommend this as a garnishment
Directions:
Preheat oven to 350 degrees F.
Spray a 9×13 inch baking dish with nonstick cooking spray (or butter).
In a skillet with a few tablespoons of olive oil cook potatoes for 5-7 minutes – I like mine to be a little crispy when I put them in the casserole.
Arrange potatoes evenly in the bottom of the dish.
Combine egg mixture ingredients in a large bowl, stir well and set aside.
In a medium skillet heat 3 T olive oil and garlic, tomatoes and scallions for 5 minutes. Add spinach to the sauté and cook for 2 additional minutes (spinach should be bright green – do not overcook)
Combine vegetables with the egg mixture and pour over hash browns. Bake uncovered for 40 to 45 minutes or until a knife inserted near the center comes out clean. Let stand 10 minutes before garnishing with sour cream and salsa.
This casserole can be made ahead of time and refrigerated for up to 24 hours.
[this isn't a sponsored post, there are a few affiliate links above based on things I purchase on my own and love]