September 30, 2015
Greek Egg Casserole
 Tell your traditional ham, egg and cheese breakfast casserole to move over because there is a new sheriff in town.  This healthy, great tasting, easy-to-make breakfast casserole is fabulous.  The combination of spices, spinach, tomatoes, roasted red peppers and eggs will light up your day.
First, you know how obsessed with veggies I am right?  I just literally can't get enough.  This breakfast casserole is pretty much my ideal breakfast….throw a little fruit on the side and a latte and I am a really happy yogi 🙂
When we were in Greece one morning and had the most beautiful view overlooking at the Agean Sea—that's where we had this amazing, healthy dish.   We had a omelet that tasted very similar to this casserole recipe that we have recreated in this recipe.  I have been experimenting for several weekends trying to match what in my mind was the perfect breakfast in Greece.  I think we found it here in the this recipe.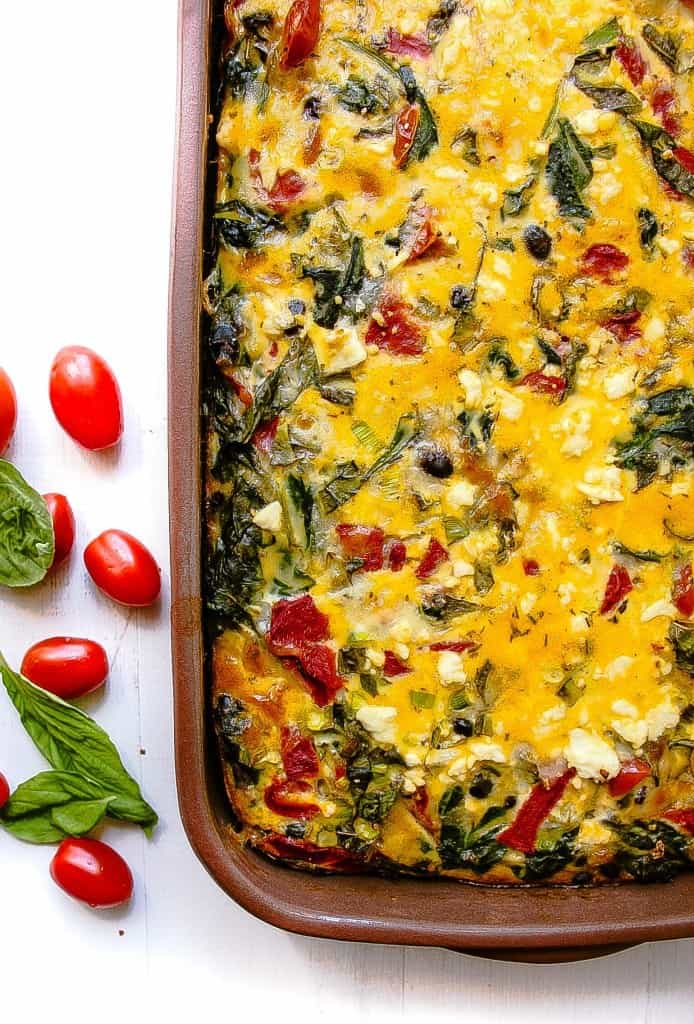 I mean look at it………it's beautiful.  I made this casserole past Friday night and just popped it in the oven after my walk on Saturday morning.  I cut up some fresh fruit on the side and made a latte and it was a great weekend morning.
This would be a great brunch recipe and would also make a great dinner.  I love the potatoes in here.  I think the potato wedges vs. shredded hashbrowns is key.  Make sure you have some salsa for garnishing because that adds a perfect touch.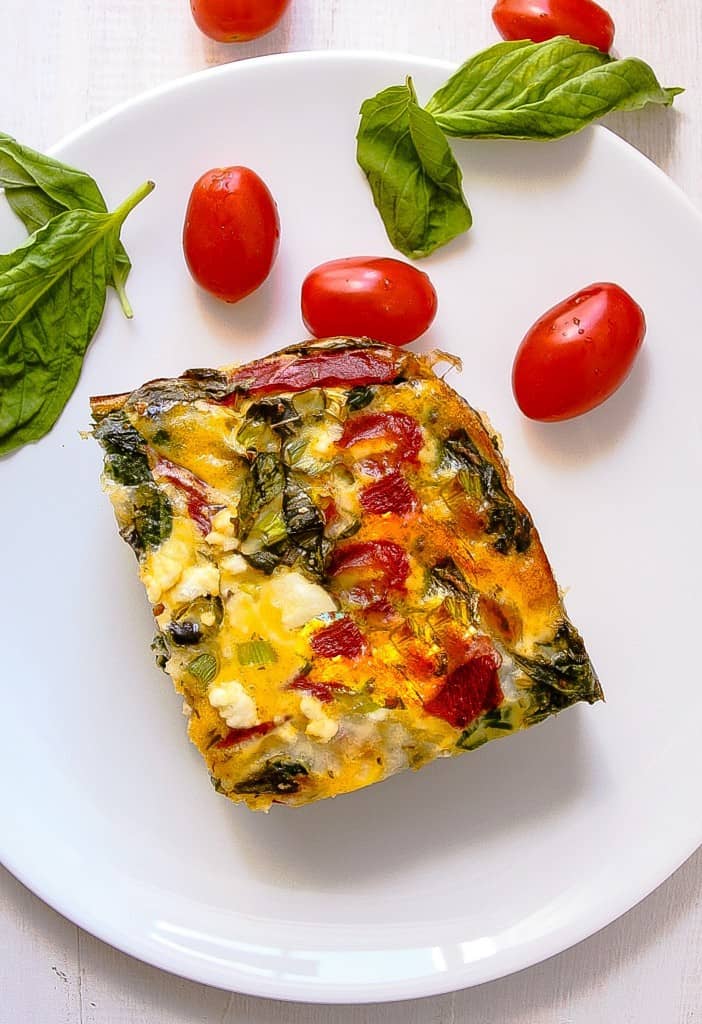 Make this dish for breakfast soon…..and have a beautiful start to your day!
Greek Egg Casserole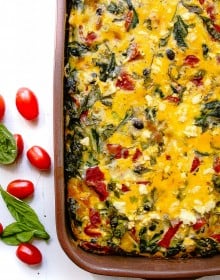 Ingredients:
6 cups frozen hash brown potatoes (I used the cubed potatoes with peppers – not the shredded)
10 large eggs, beaten
1 cup milk
1/2 cup heavy cream
1/2 teaspoon salt
2 teaspoons crushed red pepper
1 cup fresh basil, chopped
1 teaspoon dried oregano
1 teaspoon thyme
1 teaspoon paprika
1 jar roasted red pepper, cut into small pieces
1 ½ cup shredded mozzarella
4 ounces feta, crumbled
3 Tablespoons olive oil
1 teaspoon minced garlic ( or 2 cloves chopped)
1 can black beans (rinsed and drained)
1 pint grape tomatoes, halved
4 scallions thinly sliced, both the white and green parts
8 oz bag spinach
Sour cream for serving (optional)
Salsa for serving – highly recommend this as a garnishment
Directions:
Preheat oven to 350 degrees F.
Coat a 3-quart baking dish (or a lasagna baking dish) with nonstick cooking spray (or butter).
In a skillet with a few tablespoons of olive oil cook potatoes for 5-7 minutes – I like mine to be a little crispy when I put them in the casserole.
Arrange potatoes evenly in the bottom of the dish.
Combine egg mixture ingredients in a large bowl, stir well and set aside.
In a medium skillet heat 3 T olive oil and garlic, black beans, tomatoes and scallions for 5 minutes. Add spinach to the sauté and cook for 2 additional minutes (spinach should be bright green – do not overcook)
Combine vegetables with the egg mixture and pour over hash browns. Bake uncovered for 40 to 45 minutes or until a knife inserted near the center comes out clean. Let stand 10 minutes before garnishing with sour cream and salsa.
This casserole can be made ahead of time and refrigerated for up to 24 hours.