May 22, 2015
Salted Caramel Apple Soft Pretzels
Salted Caramel Apple Soft Pretzels – everything you love about dutch apple pie wrapped in a soft pretzels form!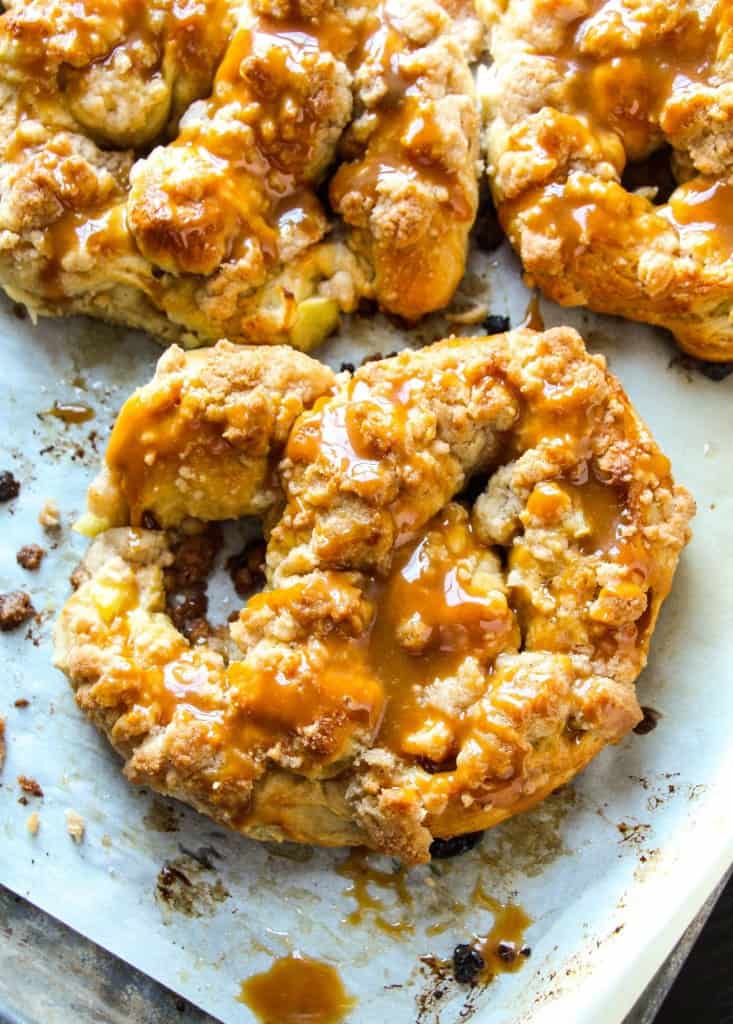 Too much? Never. These pretzels are unbelievably delicious and seriously addicting. This was definitely one of those 'happy dance' recipes. You know what I mean?
How to make these salted caramel apple soft pretzels
The soft pretzels that I make aren't boiled in baking soda. They are given an egg wash instead – therefore, they have more of a breadstick taste/texture – but shaped like a pretzel. In my opinion, these are 100x better than boiled soft pretzels.
Then, I added cinnamon and fresh apples and sprinkled with buttery cinnamon crumble on top right before baking.
THEN – once out of the oven these babies get dunked/drizzled with caramel. Perfection.
Tips for success:
1. Make sure your yeast isn't old! Old yeast will make the pretzels really dense and not fluffy in the slightest.
2. Speaking of yeast, make sure you use 1 whole tablespoons. It's a little more than a single yeast packet (1 1/2 teaspoons), about 1 1/2 yeast packets.
3. Halfway through baking, brush the pretzels with melted butter!!! It gives the best color and flavor.
Salted Caramel Apple Soft Pretzels
Salted Caramel Apple Soft Pretzels – everything you love about dutch apple pie wrapped in a soft pretzels form!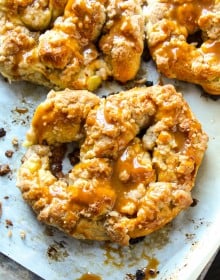 Ingredients:
For the pretzel dough:
1½ cups water
1 Tablespoon instant yeast
3½-4 cups bread flour
2 Tablespoons brown sugar
1 teaspoon salt
1 teaspoon cinnamon
1 large apple (honeycrisp or granny smith), peeled and small diced
For the egg wash:
1 large egg
2 Tablespoons water
For the cinnamon streusel:
1 cup all-purpose flour
2/3 cup granulated sugar
1 stick (1/2 cup) salted butter-melted
1 teaspoon cinnamon
Topping:
melted butter (optional)
Warm caramel
Directions:
To make the dough:
Combine water, yeast, and sugar in bowl of a stand mixer that is fitted with a dough hook, until fairly mixed, about one minute. Some clusters of yeast will remain. Let yeast/water rest for 5 minutes.
In a medium bowl combine flour, cinnamon and salt. Add flour and salt mixture to the water and yeast and knead for 2 minutes. If dough is super sticky add small amounts of flour until dough stops sticking to sides. I had to add about ¼ cup more. Do not add more than ½ cup. Add apples and mix until even distributed.
Let dough rest for 15 minutes.
To shape the pretzels:
Preheat oven to 425 degrees.
Turn the dough out onto a floured surface. Knead the dough for 1-2 minutes and shape into a ball. It is okay if some of the apples fall off.
With a sharp knife, cut ball of dough in half and then into thirds to make 6 smaller balls of dough. Each ball should be a little over ½ cup. This measurement does not have to be exact. Use as much or little dough for each pretzel as you wish – the size of the pretzel is completely up to you.
Take each ball of dough and roll into a rope. As even in diameter as you can get it. My ropes were about 20-25 inches long. Feel free to make your pretzels as thick or as thin as you wish. I personally like thicker pretzels, but make sure you do not make your ropes too thick because the dough will expand quite a bit in the oven.
To shape the pretzel, take the ends of the rope and draw them together so the dough forms a circle. Twist the ends, then bring them towards yourself and press them down into a pretzel shape. See above for link to visual instructions.
In a small bowl, beat the egg and water together and pour into a shallow bowl or pie dish. Dunk the shaped pretzel into the egg wash (both sides). Place on a baking sheet lined with parchment paper and sprayed with nonstick baking spray.
To make the streusel:
In a small bowl, whisk together flour, sugar and cinnamon, add melted butter and stir with a fork until crumbly. Spoon streusel evenly over pretzels.
Bake for 10 minutes, remove the pretzels from the oven and brush with melted butter and before returning them to the oven to bake for 5 more minutes.
Remove from oven, drizzle with warm caramel, allow to cool and enjoy. Serve warm or at room temperature. Best when fresh from oven, but pretzels may be stored in an airtight container or zipped top bag for up to 3 days or frozen for up to 3 months.
[this isn't a sponsored post, there are a few affiliate links above based on things I purchase on my own and love]