May 31, 2016
Vegan Blueberry Pancakes
Vegan Blueberry Pancakes – Thick, light and fluffy. 6 ingredients. Homemade and extra easy. Buttery and perfectly sweet!
Recipe inspiration
These pancakes are a spin on these vegan pancakes. That pancake base is my go-to vegan pancake mix. It makes the thickest and fluffiest pancakes ever! This time I stuffed them with blueberries. I love how much color and flavor it adds. You could definitely sub the blueberries for chocolate chips. Any kind of nut would also work.  Or all of the above!
You could also put an oreo in the middle for a vegan black hole pancake (!!!!!)
These are the perfect weekend breakfast. Super quick and easy to throw together. And the whole family is guaranteed to love them.
Make them mini or regular size
I like to make mini pancakes. (Like the ones you see in the pictures.) Because mini pancakes are so much easier to flip. But you can make regular size pancakes if you prefer.
What to serve with these vegan blueberry pancakes?
Do these these hashbrowns for a next level homemade breakfast.
Vegan Blueberry Pancakes
Thick, light and fluffy. 6 ingredients. Homemade and extra easy. Buttery and perfectly sweet!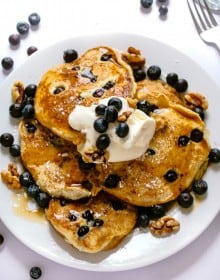 Ingredients:
2 cups all-purpose flour
2 Tablespoon baking powder (yes, Tablespoon)
2 Tablespoons granulate sugar
1 teaspoon salt
1½ cups water
1 cup fresh or frozen blueberries
maple syrup, for serving
Directions:
In a medium bowl, whisk flour, baking powder, sugar, and salt. Add the water to the flour mixture and whisk until just combined. Do not overmix; the batter should be lumpy. That is okay.
Spray a large nonstick skillet or griddle with nonstick spray and heat over medium-high heat. For each pancake pour ¼ cup of batter onto the skillet and sprinkle 5-6 blueberries on top, and when small bubbles appear in the center of the pancake, it is time to flip it. Let is cook on the other side until cooked through, about 2 minutes. Repeat with remaining batter, spraying more nonstick spray to the skillet as needed.
Serve pancakes with warm maple syrup and desired toppings.