January 12, 2015
NYC Copycat Birthday Cake Cream Cheese
Birthday Cake Cream Cheese – A quick & easy cream cheese that tastes like birthday cake. Gluten free, only 4 ingredients, & made in 2 mins!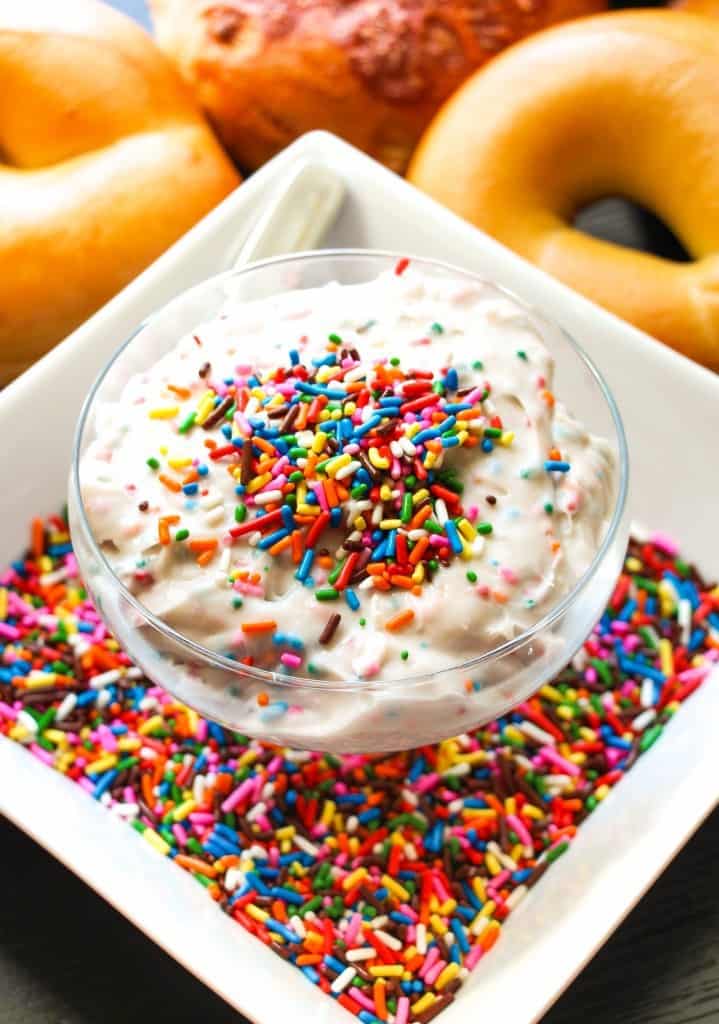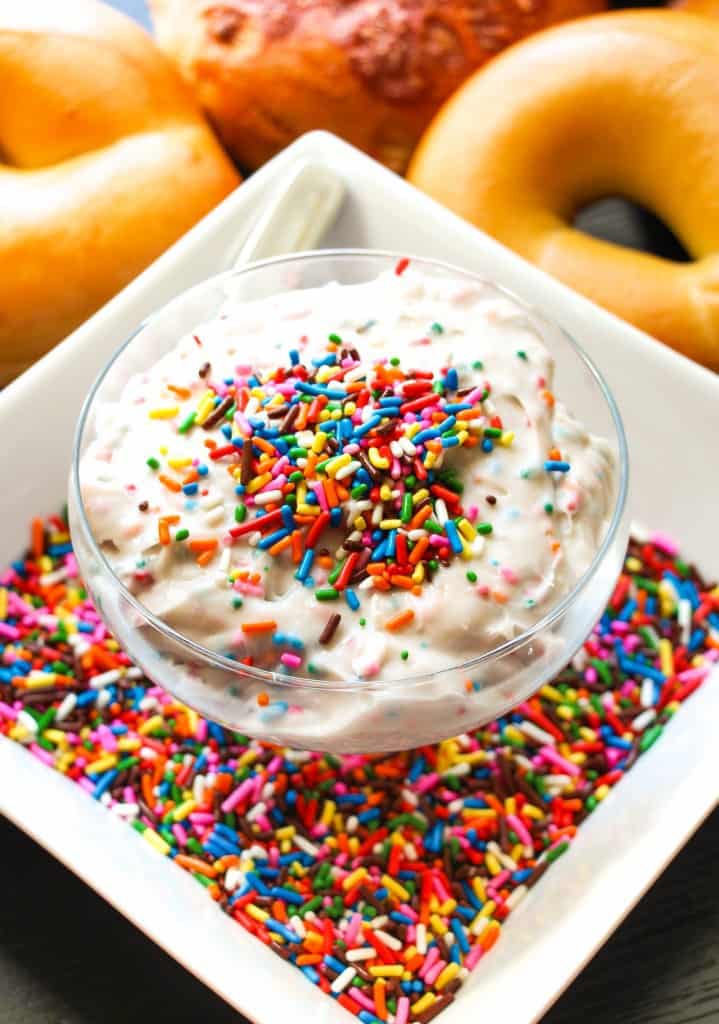 Birthday cream cheese has taken New York by storm. I am seeing it everywhere. Loaded up with a thick schmear on huge bagels.
Do you need cake mix to make birthday cake cream cheese?
No! This recipe is made without cake mix! Or any flour for that matter. Which makes it super easy. Because putting flour into something you aren't going to bake is technically unsafe to eat. So you have to bake the flour. Which is a lot of extra effort to do. Especially when you don't even have to.
The four ingredients in this cream cheese are: cream cheese, almond extract, powdered sugar, sprinkles.
Almond extract is how you get the cake mix flavoring without cake mix. Almond extract is my grandma's secret ingredient in her sugar cookie icing. And it's the secret ingredient in most wedding cakes.
The powdered sugar is for sweetness. Without the powdered sugar, it tastes like cream cheese with sprinkles. So I'd say the powdered sugar is just as, if not more important than the almond extract.
This cream cheese pairs with just about any bagel flavor: plain bagels, chocolate chip, cinnamon crunch, blueberry, french toast, anything!
It would even be amazing to dip my caramel apple soft pretzels in!
Outside of bagels, you could also put this on toast, English muffins, waffles, or pancakes!
Birthday Cake Cream Cheese
The best cream cheese you will ever taste – Birthday Cake Cream Cheese. A quick and easy cream cheese that tastes just like birthday cake, but it's gluten free, only has 4-ingredients, and it comes together in 2 minutes!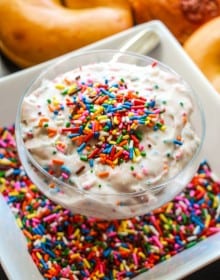 Ingredients:
1 (8 oz.) package cream cheese, at almost room temperature
1/2 cup powdered sugar
2 teaspoons almond extract
2-3 Tablespoons rainbow sprinkles
Directions:
In a medium bowl, fold the cream cheese, powdered sugar, and almond extract together with a rubber spatula, until combined. Fold in rainbow sprinkles. Transfer to an airtight container and serve immediately or refrigerate for up to 3 days.