April 22, 2023
Roasted Honey Glazed Carrots
Roasted Honey Glazed Carrots – whole carrots roasted in olive oil, glazed with honey, and drizzled with a basil goat cheese sauce. The perfect spring side dish!
I love roasted vegetable side dishes because you don't have to tend to them once they are in the oven. It's a put it in the oven and forget about it while you prep the rest of the meal.
But in my experience, roasted vegetables can be a little boring.
Layering on more flavor with a honey glaze…
A honey glaze is a perfect flavor addition. Because you can still roast it in the oven like normal. The only difference is the carrots get glazed with honey in the last 5 minutes. The sweet sticky glaze adds so much flavor and delicious texture to the carrots with hardly any extra effort.
The carrots go from boring to something you can't get enough of.
You can stop there and serve the carrots as honey roasted. I do this often when I'm short on time or energy. Or when I want a versatile side dish that can go with many different dishes… like something Asian!
Making the honey roasted carrots special enough for company with basil goat cheese sauce…
The goat cheese sauce is the most amazing finisher for roasted carrots. It takes the carrots up a level in flavor. It also makes them a little extra special for company.
Best carrots to use for roasted carrots?
Any! This recipe works great with baby carrots, whole carrots, or rainbow carrots.
Should I peel my carrots before roasting?
You don't have to peel the carrots. But I definitely prefer them peeled in this recipe. The smooth fresh outer surface doesn't dry out as much in the roasting process. It also sticks to the glaze better.
Why are my roasted carrots hard?
If you're carrots are hard, it just means they have to roast longer! I like to get the carrots basically cooked to my liking before putting the glaze on. The glaze caramelizes quick in the oven. So leaving the glaze until the carrots are pretty much fully cooked will prevent any glaze burning.
Can you make these ahead of time?
Yes! Bake/glaze the carrots until they are still a little hard and crisp. Then take them out of the oven and store in the fridge for 1-2 days. You can also make the basil goat cheese sauce ahead of time. Refrigerate the finished sauce in an airtight container.
Then reheat the carrots in the microwave and top with the basil goat cheese sauce.
What to serve with this recipe?
The basil goat cheese sauce is also particularly good to make with the carrots when you are serving steak with it. The steak + basil goat cheese sauce combo is incredible.
Or with salmon or roasted chicken!
Watch the recipe video here:
Roasted Honey Glazed Carrots
Whole carrots roasted in olive oil, glazed with honey, and drizzled with a basil goat cheese sauce!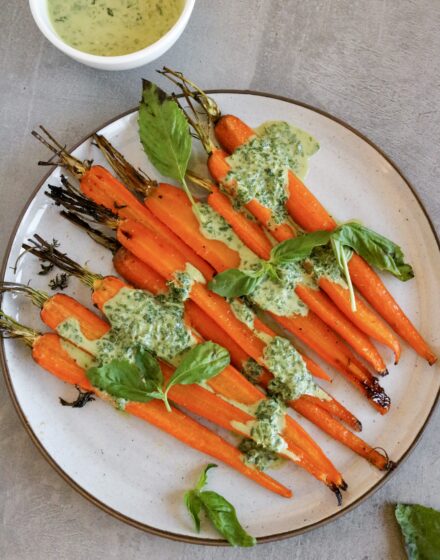 Ingredients:
CARROTS:
2 lbs carrots, peeled + cut in half lengthwise
2 Tablespoons olive oil
Salt + pepper
4 tbsp honey
1 tbsp sriracha
Juice from 1/2 lemon
BASIL GOAT CHEESE SAUCE (optional):
2 cups baby arugula
1 cup fresh basil leaves
4 ounces goat cheese
3 Tablespoons balsamic vinegar
1 lemon, juiced
1 Tablespoon honey
3-5 Tablespoons olive oil
3 teaspoons garlic powder
Salt + pepper
Directions:
CARROTS:
Preheat the oven to 450 degrees. Line a baking sheet with parchment paper.
Place the carrots on the prepared baking sheet in a single even layer. Drizzle with olive oil and season with salt + pepper. Toss the carrots with your hands to evenly coat in seasoning.
Roast for 15-20 minutes, until the carrots are fork tender.
In a small bowl, mix together the honey, sriracha, and lemon juice.
Remove the carrots from the oven and brush with the honey sriracha mixture.
Bake for an additional 5 minutes or until the sauce bubbles and thickens.
Remove from the oven and drizzle with arugula goat cheese sauce (recipe below).
BASIL GOAT CHEESE SAUCE (optional):
Add the arugula, basil, and garlic to a mini food processor or blender and pulse until the greens + garlic and finely chopped up.
Blend in the goat cheese and balsamic vinegar, until smooth and creamy.
Add the olive oil and blend until incorporated.
Then add 1 Tablespoon of water at a time until you get to your desired consistency. (We like it to be the consistency of pancake batter). Taste and season with salt + pepper.