April 16, 2023
Steak Quesadilla Recipe
Steak Quesadilla Recipe – the a loaded steak quesadilla with steak, fajita veggies, and extra monterey jack cheese with a side of chipotle sour cream for dipping.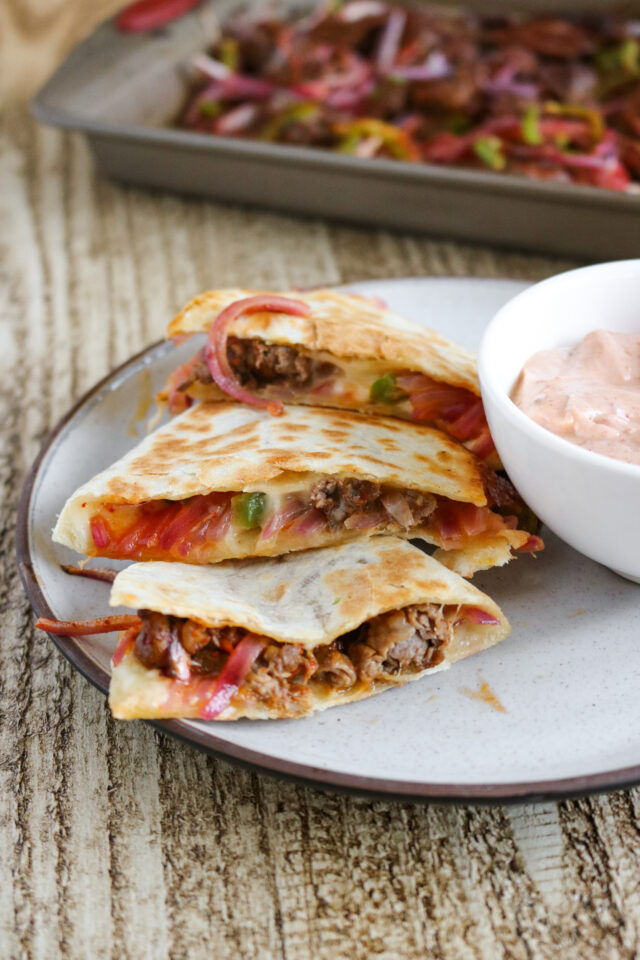 The inspiration:
There's a Chipotle order that's so simple but 100% incredible. It's a steak quesadilla with fajita vegetables, and extra cheese. Then it's dipped in sour cream mixed with chipotle vinaigrette. The steak + veggies in a quesadilla plus a sauce… genius.
But most of the recipes making this at home require multiple recipes within the recipe. I simplified it so it's enjoyable to make even on a weeknight.
Shaved beef makes for shorter prep time…
First step in making it easier is pre-cut meat. I used the shaved beef from Trader Joe's. It's perfect for quesadillas. The thinly sliced meat spreads across more surface area compared to cubes of steak. It has more surface area to season. And it's easier to chewy through.
If you aren't near a Trader Joe's, you can also find shaved beef at most grocery stores. But if you can't find shaved beef, you can use skirt steak or flank steak and cube it or thinly slice it yourself.
Steak and veggie filling is made on a sheet pan & requires only one seasoning:
Next step in making it easier is cooking the steak + veggies all together. I don't love cooking steak and veggies in a skillet. You have to work in batches. It splatters oil in the stove. And sometimes the steak ends up more steamed than seared.
Instead, I found a way to make the whole thing in the oven and get those charred bits. You set a timer and forget about it! No babysitting it on the stove. Or batches to work in. Or mess to clean up!
I also used only one seasoning: the chili lime seasoning from Trader Joe's. You get the taco flavor from the chili but also get some brightness from the lime flavor. It's the perfect all purpose taco seasoning. You don't even need salt or olive oil!
You can use Tajin or taco seasoning if you can't find the chili lime seasoning. But be careful with the Trader Joe's taco seasoning. It's very spicy!
Dipping sauce simplified:
The dipping sauce is one of my favorite parts of this quesadilla order. I love there's a sauce to dip it in. It adds so much flavor and moisture. But it doesn't make it super messy. So you can still keep the handheld feature of a quesadilla.
The combo in the Chipotle order is chipotle vinaigrette and sour cream. I do have a recipe for the chipotle vinaigrette on here. It's amazing if you have the time to make it. But more often than not, I don't have the time or desire to make it on a weeknight. So I use a chipotle salsa. It works great and it has a fraction of the time and ingredients!
Recipe alterations:
I prefer Trader Joe's flour tortillas and Monterey jack cheese. But you can also use corn tortillas and any kind of cheese you have.
If you are looking for a healthier option, I have also made the steak and veggie mixture into a salad. A little romaine, steak, veggies, black beans, pico de gallo, and corn. Like a homemade chipotle salad!
You could also do pretty much every other variation chipotle offers with this steak and veggies mixture – burrito, burrito bowl, taco, etc.
Watch recipe video here:
Steak Quesadilla Recipe
A quesadilla with steak, fajita veggies, and extra cheese with a side of chipotle sour cream for dipping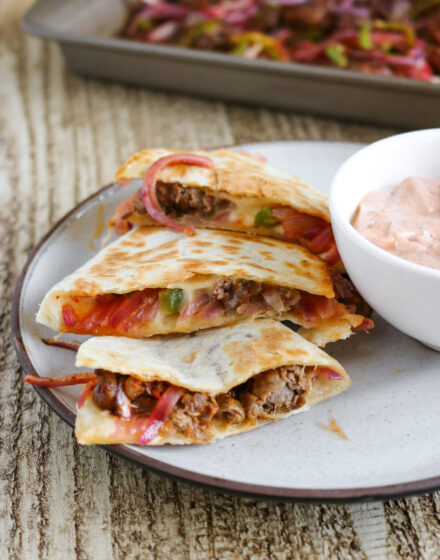 Ingredients:
1 green bell pepper, thinly sliced & cut in half
1 red onion, thinly sliced
1 (1 lb) package Trader Joe's shaved beef
2 tablespoons Trader Joe's chili lime seasoning (or taco seasoning)
4 flour tortillas
2-3 cups shredded Monterey Jack cheese
1 cup sour cream
1/2 cup chipotle salsa or chipotle vinaigrette
Directions:
Preheat oven to broil.
Add the bell peppers, onions, and shaved beef to a sheet pan. Separate the beef into thinner pieces.
Season generously with chili lime seasoning.
Broil for 7-8 minutes, or until the beef looks browned and crispy on top.
In a medium bowl, combine the sour cream and chipotle salsa. Set aside.
Heat a large skillet over medium heat. Place the tortilla in the skillet and add 1/2 cup cheese to one side of the tortilla. Top the cheese with beef/peppers/onions. Top with a little more cheese. Fold the bare side of tortilla onto the meat & cheese.
Cook for 3-4 minutes per side, or until the cheese has melted and the tortilla is golden brown.
Slice into thirds and serve with chipotle sour cream or keep warm in a 250 degree oven if needed.