July 3, 2014
Master Guacamole Mix
Use my kitchen tested one-guacamole-fits-all to create your perfect guacamole recipe! 1 guacamole mix, endless options.
I have a real treat for you today. Several recipes in 1!
Go pick up some ripe avocados because guacamole is now on the menu for tonight!
This guacamole is ultra flavorful, ultra versatile, and simply incredible on top of your favorite tortilla chips.
Spiced with Serrano peppers and flavored with cilantro and lime juice, you can leave it plain, liven it up with sweet and juicy pineapple, or even make it extra chunky with the addition of Pico de Gallo salsa. No matter who you are serving, this one-guac-fits-all never stands a chance in front of a large crowd.
The best part? It's so quick and so easy, which makes it an easy dish for you to whip up when you're in a time crunch!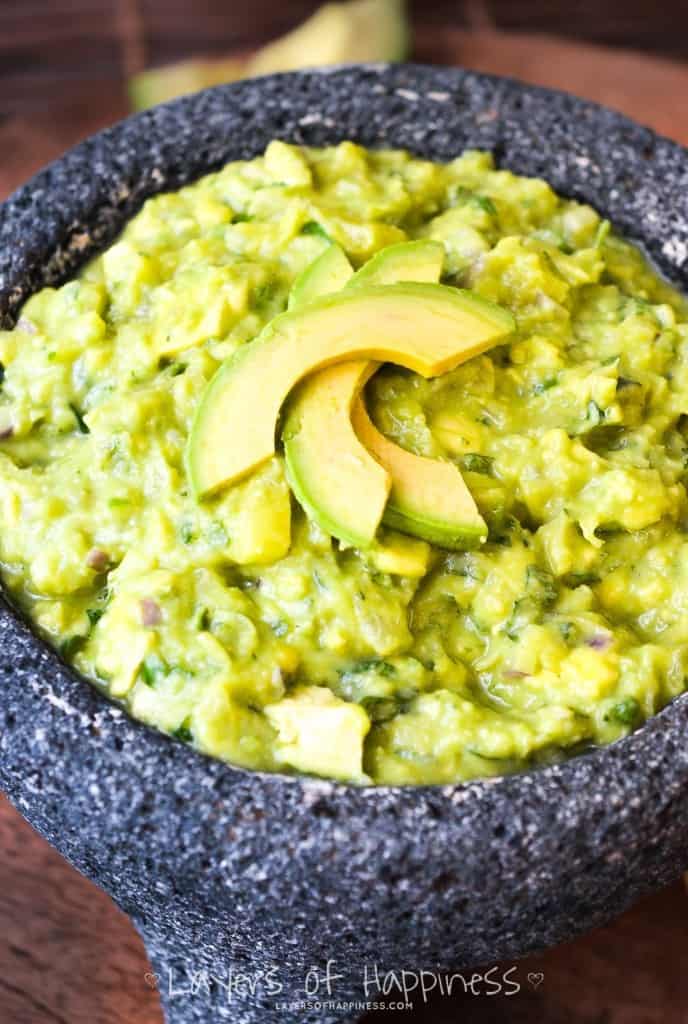 When buying avocados at the grocery store, there's no secret… I just feel for softness. Soft = ripe/ready to eat. Hard = Will be ready to eat in few days. Avocados are like bananas when it comes to how fast they ripe, so use that and when you will be making your guac to determine how ripe to buy your avocados.
The spicy/heat level is extremely adjustable. In the recipe I have provided a range, but feel free to leave out the Serrano peppers altogether if your heat tolerance is little to none like us!
My favorite combination to date is an extra Serrano pepper thrown in with a can of drained, crushed pineapple…. you must try it!! I promise you're going to love that version. Each bite is super chunky and loaded with pineapple, a little spice, a little sweetness, and lots of creamy avocado. It's SOOO good! And I also promise it's not too spicy… The acid in the pineapple cuts through the heat leaving you with a sweet/not-too-spicy addicting guacamole!
If you've never made guacamole at home, I urge you to try.
Stop spending $5 per container claiming to have 8 servings and make your own. Serve it with your favorite veggies, crunchy tortilla chips chips and then… prepare to be amazed.  You can thank me later.
It's perfect in the summertime, springtime, for Cinco de Mayo or anytime you're craving this classic dip.
Enjoy!
Master Guacamole Mix
Use my kitchen tested one-guacamole-fits-all to create your perfect guacamole recipe! 1 guacamole mix, endless options.
Ingredients:
3 large ripe avocados, peeled and pitted
1/4 cup lime juice
1 cup fresh cilantro, chopped
1/2 cup red onion, finely chopped
1 large serrano chili, seeded and finely chopped
1 1/2 teaspoons salt
(Optional add-ins) 1 1/2 cups Diced tomatoes, 1 can crushed pineapple, 1 1/2 cups chopped mango, or 1 1/2 cups grilled corn
Tortilla chips, for serving
Directions:
Using a fork, mash avocados with citrus juice in a small bowl.
Add cilantro, chopped onion, serrano chili, and salt. Stir to combine.
(Optional) Fold in desired add ins.
Serve with tortilla chips and enjoy!