June 23, 2014
Coconut Almond Macaroons
Perfectly sweet and super chewy coconut macaroons topped with a Coconut-flavored almond and a drizzle of chocolate.


Summer is full of cookouts, picnics, family gatherings, baseball games, and everything in between. No matter the occasion, we always need a dessert. Lately, these coconut macaroons have become our go-to dessert. They are dangerously easy to make and even more dangerously delicious. 
I first made these macaroons back in April without any toppings. I was so amazed at how yummy the macaroons turned out that I never imagined I would ever be able to top them. I guess I was wrong because these macaroons topped with a Blue Diamond Coconut-flavor Almond (my favorite almonds ever!!) and a drizzle of chocolate take these babies above and beyond leaving you with the best coconut macaroons ever.
These are almost like a double-stuffed Almond Joy with a lot less chocolate a whole lot more flavor… Next big thing: double-stuffed Almond Joys?!
Seriously. They are so good. You have to try them.
The difference between this coconut macaroon recipe and most other recipes is that I don't use sweetened condensed milk. Instead, I use almond paste, and it gives the most incredible flavor to the macaroons, it's out of this world.
If you have never used/cooked with almond paste before, you can find it in most grocery stores near the canned pie fillings on the baking aisle. It is definitely required to make this recipe because it's what makes these macaroons SO chewy and gooey!
These would be perfect for any occasion – birthdays, cookouts, or summer parties!

For some extra tips, head on over to my post on the original macaroons
Coconut Almond Macaroons
Perfectly sweet and super chewy coconut macaroons topped with a Coconut-flavored almond and a drizzle of chocolate.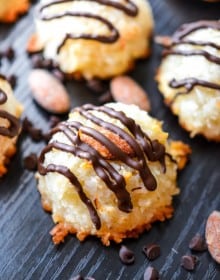 Ingredients:
4 large egg whites
1 14-ounce bag of sweetened shredded coconut
1/2 cup sugar
1/2 teaspoon almond extract
1 (7 oz) tube almond paste, shredded (about 1 cup)
One pinch of sea salt
about 20 almonds
6 ounces semi-sweet or milk chocolate
1 teaspoon coconut oil
Directions:
Place almond paste in freezer and preheat over to 325°F and line a large baking sheet with parchment paper.
In a large mixing bowl, whisk the egg whites until they are foamy and very frothy. Shred the chilled almond paste. Fold the almond paste and remaining ingredients into egg whites until well combined. The mixture will seem dry at first, just keep mixing until all ingredient are well combined and wet.
Scoop macaroons using a medium cookie scoop onto a prepared baking sheet.
Press one almond into the top of each macaroon. Bake for 25 to 30 minutes, until golden brown and set. Cool for about 10 minutes.
Melt chocolate and coconut oil in the microwave for about a minute, check every 15 seconds. Be careful not to over heat. Drizzle over cooled macaroons.
Serve immediately or store in an airtight container to keep moist.