March 18, 2013
Baked Fish and Chips
Yesterday night we enjoyed a nice Sunday dinner to celebrate St. Patricks Day. We put a healthy twist on the traditional St. Patrick's Day fare… Fish n' Chips! We baked instead of frying the fish and substituted in a few ingredients to make up for the missing heavy cream that was thrown out of this recipe. I honestly didn't even miss the fried fish over the baked. The fish still had the same great crunch and flavor without the extra calories.
I was hoping to use fresh Grouper for this recipe, but Whole Foods was out of it when I stopped by. I opted for Wild Alaskan Red Snapper instead and it turned out even more fabulous than I expected.
We served the fish with actual blue corn "chips" instead of french fries and an amazing tartar sauce on the side. The key to a healthier tartar sauce is to bulk the sauce up lots of relish and chopped onion instead of lots of mayonnaise. You could go even healthier and substitute greek yogurt for the mayonnaise.
This recipe serves 3-4 but you may need to double the recipe if you are feeding food-loving boys like us!
P.S. I could resist the urge to buy a box of the Triscuit Brown Rice with Sweet Potato, Roasted Sweet Onion yesterday at the grocery store… Oh my gosh!! Sooo good!!
Baked Fish and Chips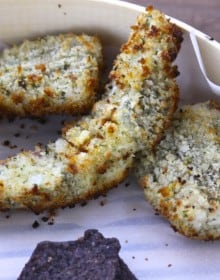 Ingredients:
For the fish:
1 cup panko (Japanese-style bread crumbs)
1 tablespoon margarine or butter, melted
1/2 teaspoon freshly grated lemon peel
2 large egg whites
1/4 cup all-purpose flour
1/4 teaspoon ground cayenne red pepper
1 ½ teaspoons dried dill
1/4 teaspoon ground mustard
1 teaspoon salt
1 1/2 pounds grouper fillets, cut into 2 inch strips
For the tartar sauce:
½ cup light mayonnaise
1/2 cup grated onion
1/2 cup dill relish
1/2 teaspoon dried dill
Squeeze lemon juice
Salt and ground pepper
Directions:
In a small bowl, combine the mayonnaise, onions, relish and dill. Season with lemon juice, salt and pepper. Cover and chill. Yield: 1 cup.
Place wire rack in 15 1/2″ by 10 1/2″ jelly-roll pan; spray pan and rack with cooking spray.
On waxed paper, with fingers, combine panko, margarine, lemon peel, and remaining 1 tablespoon oil.
In pie plate, with fork, beat egg whites until foamy. On another sheet of waxed paper, place flour.
in small bowl, combine ground red pepper, dried dill, ground mustard, and 1/2 teaspoon salt. Sprinkle grouper with salt mixture to season both sides.
Coat turbot with flour, shaking off excess.
Dip grouper into egg whites, then coat with panko mixture, patting on crumbs to cover.
Arrange grouper on prepared rack in pan. Place grouper on rack in oven nearest heat source and bake 8-10 minutes.