March 23, 2015
Easy Almond Chicken Stir Fry
A simple 30 minute stir fry with chicken, crunchy almonds, tangy sauce, and lots of vegetables – this stir fry is packed with AMAZING flavor. Serve with brown rice or quinoa and it makes a perfect easy weeknight dinner!
Ladies and gents, I bring you my new favorite meal. The flavor and texture in this dish is insane!! It's protein packed, bursting with flavor, tangy garlic sauce, tender chicken and bright, fresh vegetables, and some crunchy sliced almonds – and it comes together in less than 30 minutes!!!
My goal for this Almond Chicken Stir Fry was to create an Asian dish that is addictive-ly delicious but quick and easy and at the same time healthy. It was a lot to take on, but consider it mission accomplished.
I used broccoli, red and green bell peppers, carrots, mushrooms, green onions, and celery for the vegetable mixture. I know what you are probably thinking… Celery?? I know, I know. But just trust me guys. The celery adds flavor and texture. It's like  the new kid on the block, but it totally fits in with the cool kids.
I know you can't really see the carrots in these pictures, but I have been loving this new trick for stir frying carrots… I have been peeling my carrots instead of grating them. I don't mean just peeling the skin off, I mean peeling the skin off and then using the peeler to peel the carrots themselves into long curly strips almost like noodles. They are long and bendy and more fun to eat than the old box-grater variety.
The vegetables get stir fried with bite-size chicken and sliced almonds, then lightly coated with a tangy asian garlic sauce. The sauce used is my go-to stir-fry sauce. It comes together in a snap, and it's packed with flavor, so a little bit goes a long way.
Tender chicken + crunchy almonds + tender, but still crisp (aka NOT mushy) = easy weeknight dinner heaven. Well, if we are being honest here, who needs it to be a weeknight to need an easy dinner. I love an easy dinner any day of the week. In fact, we made this Saturday night and it was awesome. Less time in the kitchen = more-time-to-walk-around-the-neighborhood-and-soak-up-as-much-of-this-awesome-warm-weather-as-possible-because-we-have-been-so-warm-weather-deprived-around-here-this-winter.
We normally serve this over brown rice or quinoa but lately I have been really into cauliflower rice! You can eat an ENTIRE head of cauliflower instead of 1/2 cup of rice and STILL only consume a fraction of the calories and carbohydrates, so why not?!
On top of that, it's SO simple and you absolutely must try it! It doesn't pass completely as rice since the flavors are slightly different. But it have the same texture as rice and in my opinion, tastes even better as it absorbs the sauce perfectly and takes WAY less time to cook.
I don't really have a recipe for cauliflower rice… I just throw as much as I want in the blender, pulse it around a few times until it resembles rice, transfer to a skillet, add a little olive oil to light coat the cauliflower rice, sautée for about 3-5 minutes until cauliflower is tender, but still a little crisp.
One last piece of advice: double this. I mean, it serves 4 people already, but if you're generally hungry and you like lunch leftovers (me! me! me!) then make as much of this as you can store in your fridge. The flavors will soak their magic into everything and YUM. I am sosososo excited for lunches this week.
Now go make this for dinner. 🙂
Easy Almond Chicken Stir Fry
A simple 30 minute stir fry with chicken, crunchy almonds, tangy sauce, and lots of vegetables – this stir fry is packed with AMAZING flavor. Serve with brown rice or quinoa and it makes a perfect easy weeknight dinner!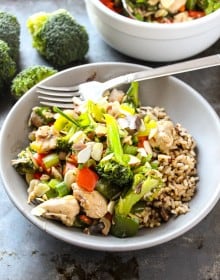 Ingredients:
For the sauce:
1/2 cup vegetable broth (or water)
1/4 cup soy sauce
2 Tablespoons cooking sherry
2 Tablespoons honey
3 teaspoons corn starch
2 teaspoons sesame oil
For the stir fry:
1 pound skinless, boneless chicken tenderloins (cut into 1-1.5 inch pieces)
1 tablespoon vegetable oil (olive oil or canola oil also works)
1/4 teaspoon black pepper
For the vegetables:
1 cup broccoli florets, chopped
4 medium carrots, peeled, then use the peeler and continue peeling the carrot into long strips
1 cup celery, chopped (about 1/2 a stalk)
1 medium red bell pepper, chopped
1 medium green bell pepper, chopped
1 cup baby bella mushrooms, chopped
1 bunch green onions, sliced
1/2 cup sliced almonds
2 cloves garlic, minced
1 1/2 teaspoons corn starch
1/2 teaspoon ground ginger
Directions:
Make the sauce: In a small bowl, whisk together broth, soy sauce, sherry, honey, corn starch, and sesame oil until smooth and combined. Set aside.
Heat a large wok or skillet over high heat. Add the oil and swirl to coat. Add the chicken pieces and pepper. Stir fry until cooked through, about 5 minutes. Remove chicken from pan onto a plate. Cover with a paper towel and set aside.
To the pan, add the broccoli, carrots, celery, red bell pepper, green bell pepper, mushrooms, green onions, almonds, garlic, corn starch, and ginger. Add a little more oil if needed, and stir fry until crisp-tender. About 7-10 minutes. It will seem like a lot of vegetables, but they cook down. You can stir fry in two batches if needed.
Add the chicken and sauce to the pan with the vegetables and stir to evenly coat chicken and vegetables with sauce. Cook until slightly thickened (about 1 minute).
Serve immediately with brown rice, quinoa, or cauliflower rice.
PIN THIS RECIPE >>>