March 23, 2015
Chicken and Broccoli Stir Fry
Chicken and Broccoli Stir Fry – A simple 30 minute stir fry weeknight dinner. Made with chicken, broccoli, almonds, and a savory sauce.
My goal for this recipe was to create an stir fry recipe that is addictive-ly delicious but quick and easy.
Do you cook chicken or vegetables first in stir fry?
Yes! You cook the chicken in the skillet. Then remove the chicken and cook all the vegetables. And then you will simmer the cooked chicken and vegetables in the skillet with the sauce.
What is the secret to a good stir-fry?
Use a wok! The rounded edges gives you more surface area to work with. So you can spread the vegetables out and they get seared instead steaming.
Don't overcrowd the pan! You want the flavor of charring the vegetables and you don't get that if there are too many vegetables in the pan. Because then the vegetables just end up steaming. That's why I cook the chicken and vegetables in different batches.
Use the types of vegetables you like. In this recipe, I use broccoli, carrots, celery, red and green bell peppers, mushrooms, and green onions. But you can leave out any vegetables you don't like. Or add any vegetables you do like or have in your fridge and need to use up.
What to serve with this chicken and broccoli stir fry?
It has so much flavor all you really need is a vessel to soak up the sauce. You could do brown rice, quinoa, jasmine rice, or even cauliflower rice.
Or you could get fancy and make our coconut rice on the side.
Chicken and Broccoli Stir Fry
A simple 30 minute stir fry weeknight dinner. Made with chicken, broccoli, almonds, and a savory sauce.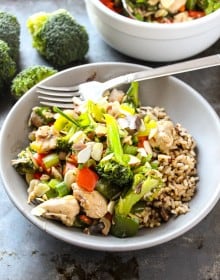 Ingredients:
For the sauce:
1/2 cup vegetable broth (or water)
1/4 cup soy sauce
2 Tablespoons cooking sherry
2 Tablespoons honey
3 teaspoons corn starch
2 teaspoons sesame oil
For the stir fry:
1 pound skinless, boneless chicken tenderloins (cut into 1-1.5 inch pieces)
1 tablespoon vegetable oil (olive oil or canola oil also works)
1/4 teaspoon black pepper
For the vegetables:
1 cup broccoli florets, chopped
4 medium carrots, peeled, then use the peeler and continue peeling the carrot into long strips
1 cup celery, chopped (about 1/2 a stalk)
1 medium red bell pepper, chopped
1 medium green bell pepper, chopped
1 cup baby bella mushrooms, chopped
1 bunch green onions, sliced
1/2 cup sliced almonds
2 cloves garlic, minced
1 1/2 teaspoons corn starch
1/2 teaspoon ground ginger
Directions:
Make the sauce: In a small bowl, whisk together broth, soy sauce, sherry, honey, corn starch, and sesame oil until smooth and combined. Set aside.
Heat a large wok or skillet over high heat. Add the oil and swirl to coat. Add the chicken pieces and pepper. Stir fry until cooked through, about 5 minutes. Remove chicken from pan onto a plate. Cover with a paper towel and set aside.
To the pan, add the broccoli, carrots, celery, red bell pepper, green bell pepper, mushrooms, green onions, almonds, garlic, corn starch, and ginger. Add a little more oil if needed, and stir fry until crisp-tender. About 7-10 minutes. It will seem like a lot of vegetables, but they cook down. You can stir fry in two batches if needed.
Add the chicken and sauce to the pan with the vegetables and stir to evenly coat chicken and vegetables with sauce. Cook until slightly thickened (about 1 minute).
Serve immediately with brown rice, quinoa, or cauliflower rice.