March 10, 2015
Easy Carrots & Dirt Pudding Cups
These fun, no bake, 5-ingredient "Carrots & Dirt Pudding cups" come together in minutes – perfect for any Easter celebration!
This recipe is sponsored by Collective Bias, Inc. and its advertiser. As always, all opinions and writings are my own. Thank you to my sponsors who allow me to continue producing free recipes! For more Snack Pack Mixin ideas, click here. #SnackPackMixins #CollectiveBias
It's Tuesday!
The snow is gone. School is back in session. And Virginia is experience some awesomely WARM WEATHER.
Those three things + these pudding cups are a force to be reckoned with in my life right now. It still hasn't been warm enough, long enough to do any actual spring planting (yet), so I took the liberty to plant some "chocolate covered strawberries," AKA carrots, in pudding planter instead.
Let's just get this out of the way right off the bat: these pudding are sooo simple. To the point that if you're embarrassed by easy recipes, we still love you but Goodbye. So long. See you next time.
The rest of us who are the opposite of embarrassed by easy recipes get to stay and enjoy ourselves some extremely simple and super festive pudding cups that make for a perfect craft/treat to make for a Spring celebration or a fun after school snack with kids. Party in the kitchen!
One thing I've learned about myself in the last few years is that I can make a seriously awesome baked french fries, or soft pretzels, but I am not what one might call, "The DIY-er" (Read: a crafty person). I just don't have the patient, steady hands a successful crafter possess.
Don't get me wrong, just because I can't craft doesn't mean I don't like to craft. Enter: Super easy crafts… Like this pudding cup!!! And yes when a pudding cup looks this pretty, it's totally a "craft."
These adorable pudding cups took about 8 minutes to make and they were gone even faster! My family loved these – think "Dirt and worms" but with an festive twist for Easter…. because who would rather have a fresh chocolate covered strawberry dunked in the top over slimy worms scattered in the bottom?! Am I right??
…. Just kidding I LOVE "dirt and worms" cups. In fact that is exactly where this recipe idea came from, but I promise these are just as awesome. If you are super cool then you could put worms at the bottom of these pudding cups.. Carrots + Dirt + Worms = SPRING!! That's totally optional, though.
I'm seriously dying over how cute these are! Plus those strawberries, they look so cute! Just like a carrot getting pulled out of the ground. And I'm also super proud of myself because they totally look like a Pinterest craft I might stumble upon. But they are SO easy!!
To make these pudding cups, the strawberries get dipped and drizzled in chocolate to look like carrots and crushed up Oreos and graham crackers make up the "dirt." From there, leave the pudding in the cup, add a layer of crushed graham crackers, then a layer of crushed Oreos, and then dunk a orange chocolate covered strawberry in the center. Pudding cup done!
For the pudding cups I used ConAgra Snack Pack brand… I snagged a bunch at our local Walmart. You can find them on the canned and dried fruit aisle. Right there's a special coupon just for you! Click here to get the coupon.
Now go get yourself some pudding packs and make these awesome pudding cups! 🙂
If you give these pudding cups a try, we'd love to know! Leave a comment or tag your picture #layersofhappinessblog on Instagram! When we see everyone enjoying out recipes it always makes our day. Enjoy!
Easy Carrots & Dirt Pudding Cups
These fun, no bake, 5-ingredient "Carrots & Dirt Pudding cups" come together in minutes – perfect for any Easter celebration!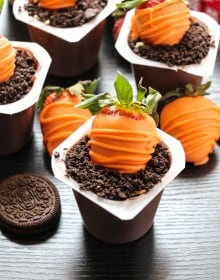 Ingredients:
6 strawberries
1 cup Orange Candy Melts
6 chocolate pudding cups (such as ConAgra Snack Pack)
10 Oreos, crushed into fine crumbs
6 graham crackers, crushed into fine crumbs
Directions:
Melt the candy melts according to the package directions. Dip each strawberries into the melted candy and let set on piece of foil until hardened. Drizzle stripes across the top (I put leftover melted coating in a small bag and snipped the corner to make it easier to drizzle straight lines), and let cool and harden.
Into each pudding cup, layer 1 teaspoon crushed Honey Maid Grahams, then 2 teaspoons crushed Oreos. Insert the tip of the strawberry into the top of each pudding cup. Serve immediately.