March 2, 2015
Domino's Thin Crust Pizza Recipe
Domino's Thin Crust Pizza Recipe – A thin and cracker-crispy crusted pizza that's no yeast, no rise, no mixer, and comes together in less than 30 mins!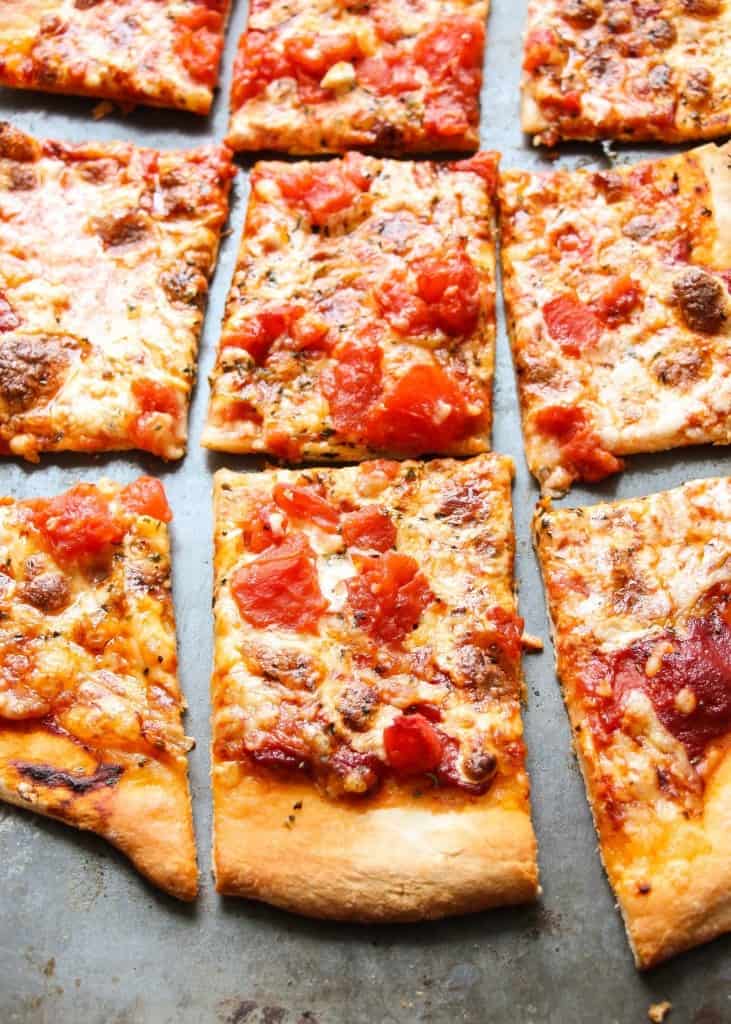 This pizza tastes just like the real thing. And it takes less time to make this pizza than it does to get this pizza delivered!
The dough comes together without a mixer – in one bowl. Then it gets rolled out, smothered with a combination of tomato paste and diced tomatoes (to reduce the water-y-ness of the sauce), topped with melty cheese, baked for about 10 minutes, and DONE.
What is the secret to thin crust pizza?
The secret is a not yeast dough! Yeast makes the dough fluffy and not crispy like a classic thin crust pizza is.
What flour is best for this Domino's thin crust pizza recipe?
All-purpose flour is what I have found works best. Which is great because that's the one most of us have on hand at all times.
How do you crisp up the bottom of a pizza?
This dough gets pretty crispy on a regular baking sheet. But a pizza wheel with holes in the bottom helps the crust on the bottom get really crispy!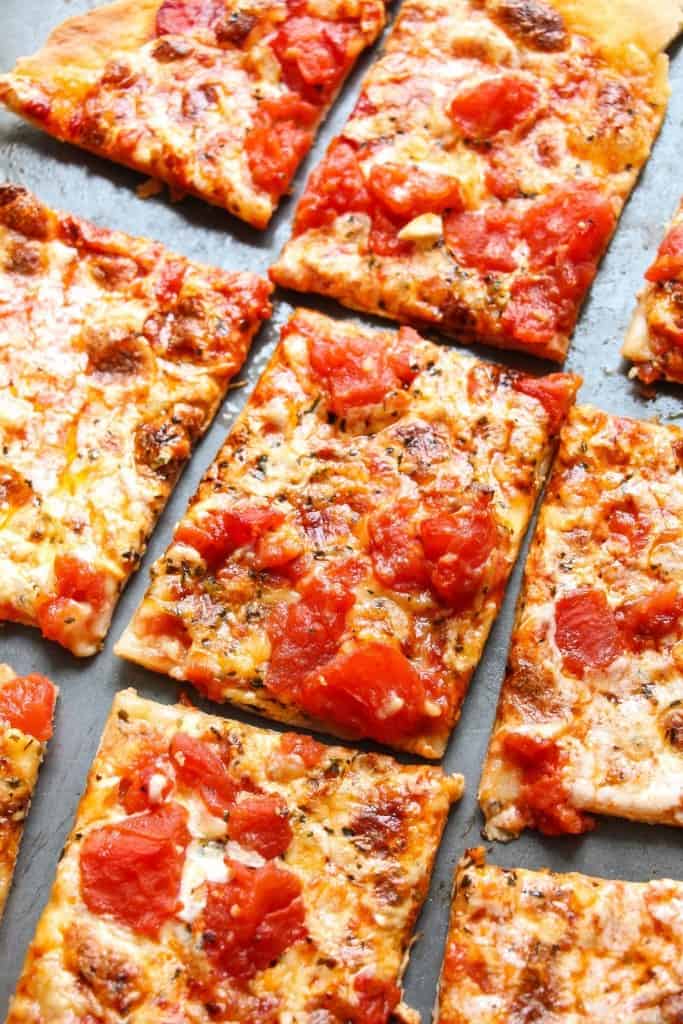 What to serve with thin crust pizza?
This would be great with a simple side salad. You could also put the salad on the pizza and make a salad pizza!
Domino's Thin Crust Pizza Recipe
A thin and cracker-crispy crusted pizza smothered with pizza sauce and topped with melty cheese – easy to make at home. None of the artificial stuff! This pizza tastes better than the original too.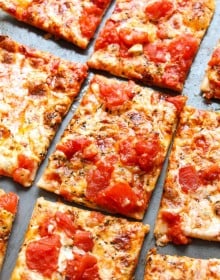 Ingredients:
For the crust:
1 1/4 cups flour
1/2 tsp salt
1/2 tsp baking powder
2 tsp olive oil
1 tsp light corn syrup
1/2 cup water
For the pizza:
3 Tablespoons tomato paste
2 Tablespoons finely chopped tomatoes (about 1/2 roma tomato)
1/2 cup (or more) fresh mozzarella cheese, shredded
1/2 teaspoon Italian seasoning
1/4 teaspoon dried basil (optional)
favorite pizza toppings (I normally top mine with the remain half of the Roma tomato + another Roma tomato)
(optional) Balsamic glaze
Directions:
Place pizza stone in oven and preheat to 450 degrees.
Make the crust:
In a large bowl, combine flour, salt, baking powder, olive oil, corn syrup, and water until thoroughly combined. Transfer to a piece of parchment paper and shape into a ball and roll it out paper thin on a piece of parchment paper.
To make sauce:
In a small bowl, combine tomato paste and tomatoes.
To make pizza:
Top crust with pizza sauce. Sprinkle cheese on pizza. Top with favorite toppings. Sprinkle with Italian seasoning and basil.
Transfer pizza on the parchment paper to pizza stone. (Sometimes I just leave the parchment paper and bake the pizza with parchment paper on the pizza stone) Bake 12-15 minutes, until cheese is golden and crust is brown. Allow to cool 3-5 minutes and slice into squares and serve.