March 2, 2015
Copycat Domino's Thin Crust Pizza Recipe
A thin and cracker-crispy crusted pizza smothered with pizza sauce and topped with melty cheese – easy to make at home. None of the artificial stuff! This pizza tastes better than the original too.
(No-yeast, no-rise, comes together in less than 30 minutes!)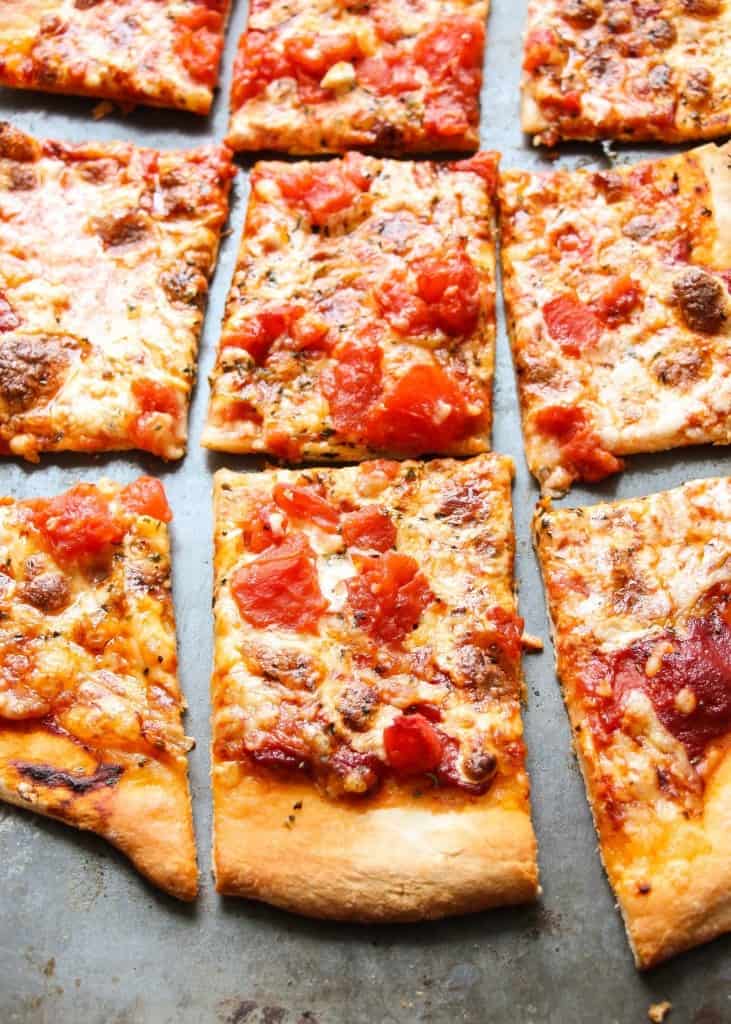 Let's take a quick break from the miserable weather and talk pizza. Easy, quick, cheesy, super thin, cracker-y-crispy crust PIZZA.
What's your favorite kind? For me, nothing beats a super thin pizza with the perfect combination of sauce (not to watery) and melty cheese. To be more specific, Domino's thin crust pizza. I don't think I have ever talked about my love for Domino's  thin crust pizza here on LOH before. I think the reason is really that we hardly ever order pizza. (Because when do are we not craving Indian food??.!! 🙂 ) But it's also because I have never been able to master that super thin, cracker-crispy crust they make so perfectly.
BUT I have done it. *Happy food dance.*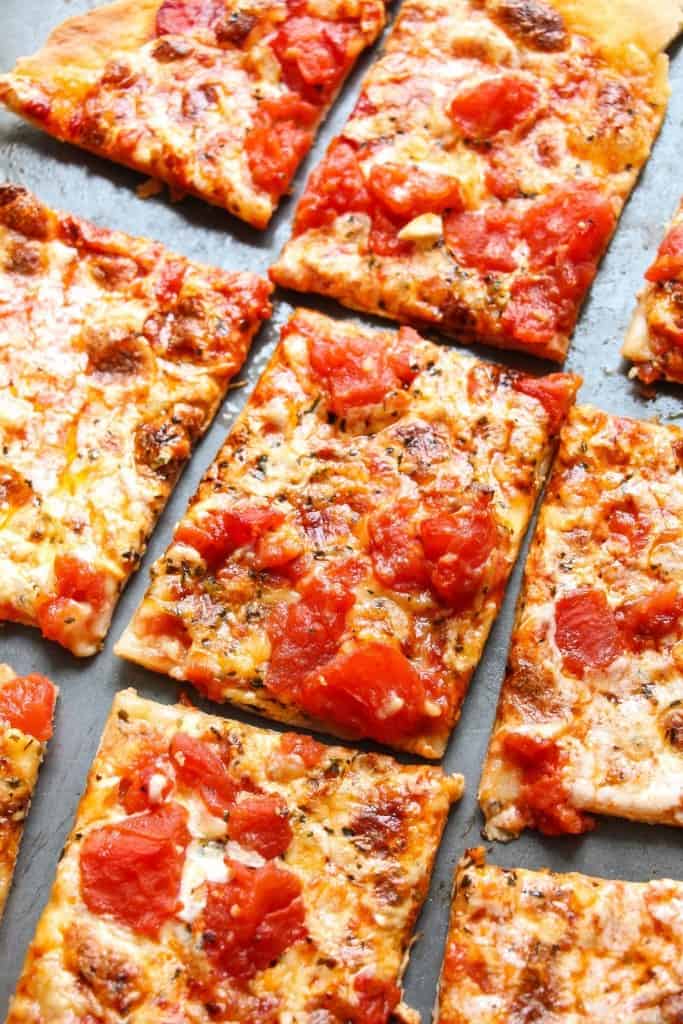 The problem was that in the past I was just trying to roll the dough out as thin as possible and cook it longer than I thought it should be cooked. Every. single. time I would end up with a half soft/fluffy, half burnt pizza. No one wants that!! But I never realized that it wasn't the thickness of the dough that mattered – it was the yeast! Something about that dang yeast makes dough too fluffy for the thin crust variety.
So, I got rid of the yeast, added a teaspoon of light corn syrup to make it nice and cracker-y crispy and BAM. Just like the original, if not better.
I have to be honest with you, some copycat recipes out there should not be titled "Copycat," because nothing is worse than spending time making only a subpar version of something you might really enjoy.
But fear not here folks, because this crust lives up to its name. It tastes just that the real thing.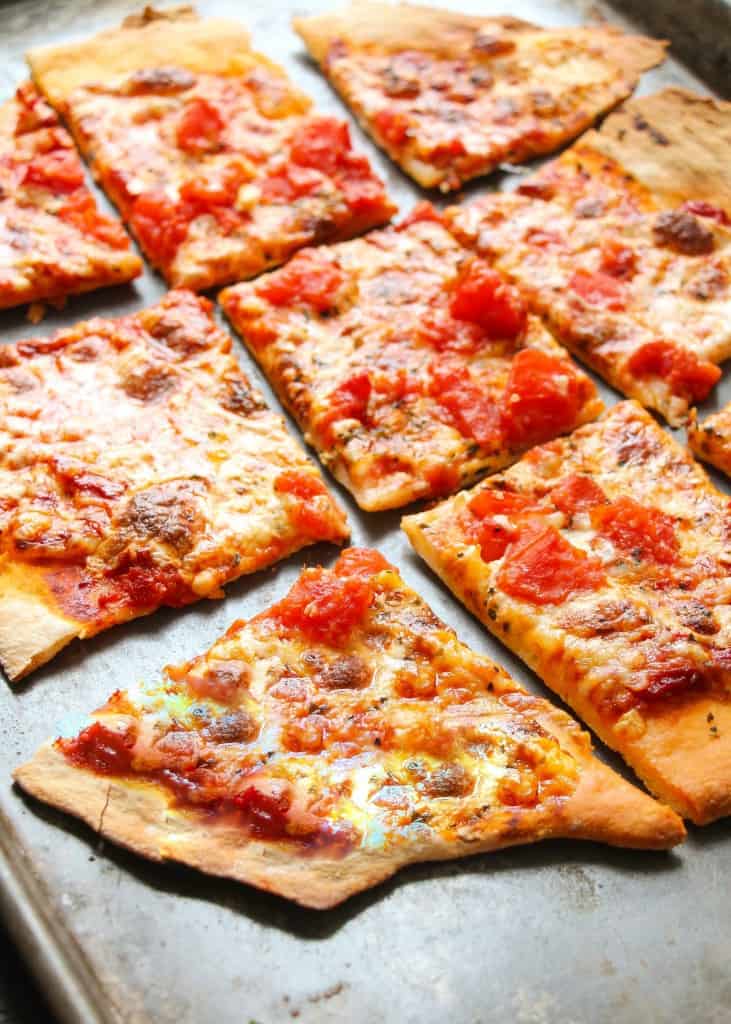 Not only does it taste just like the real thing, but it takes less time from start to finish to make this pizza than it does for delivery AND there's nothing artificial.
The dough comes together in 5 seconds (Okay 1 min.) and without a mixer – in one bowl. Then, the dough gets rolled out, smothered with a combination of tomato paste and diced tomatoes (to reduce the water-y-ness of the sauce), topped with melty cheese, baked for about 10 minutes, and DONE.
And if you are feeling a little frisky, drizzle some balsamic glaze over the whole thing. Trust me. SO GOOD.
**Did you know that you can buy pre-made balsamic glaze in a bottom from Whole Foods? We use it all the time in our house… and so much better than slaving away at the stove for 15+ minutes trying to reduce the bad boy.
My version of QUICK AND EASY savory HEAVEN, right here.
If you give this pizza a try, please let us know! Leave a comment or tag your picture #layersofhappinessblog on Instagram! When we see everyone enjoying out recipes it always makes our day. Enjoy!
Copycat Domino's Thin Crust Pizza Recipe
A thin and cracker-crispy crusted pizza smothered with pizza sauce and topped with melty cheese – easy to make at home. None of the artificial stuff! This pizza tastes better than the original too.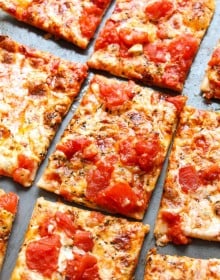 Ingredients:
For the crust:
1 1/4 cups flour
1/2 tsp salt
1/2 tsp baking powder
2 tsp olive oil
1 tsp light corn syrup
1/2 cup water
For the pizza:
3 Tablespoons tomato paste
2 Tablespoons finely chopped tomatoes (about 1/2 roma tomato)
1/2 cup (or more) fresh mozzarella cheese, shredded
1/2 teaspoon Italian seasoning
1/4 teaspoon dried basil (optional)
favorite pizza toppings (I normally top mine with the remain half of the Roma tomato + another Roma tomato)
(optional) Balsamic glaze
Directions:
Place pizza stone in oven and preheat to 450 degrees.
Make the crust:
In a large bowl, combine flour, salt, baking powder, olive oil, corn syrup, and water until thoroughly combined. Transfer to a piece of parchment paper and shape into a ball and roll it out paper thin on a piece of parchment paper.
To make sauce:
In a small bowl, combine tomato paste and tomatoes.
To make pizza:
Top crust with pizza sauce. Sprinkle cheese on pizza. Top with favorite toppings. Sprinkle with Italian seasoning and basil.
Transfer pizza on the parchment paper to pizza stone. (Sometimes I just leave the parchment paper and bake the pizza with parchment paper on the pizza stone) Bake 12-15 minutes, until cheese is golden and crust is brown. Allow to cool 3-5 minutes and slice into squares and serve.