January 25, 2016
Best Restaurants In Santorini, Greece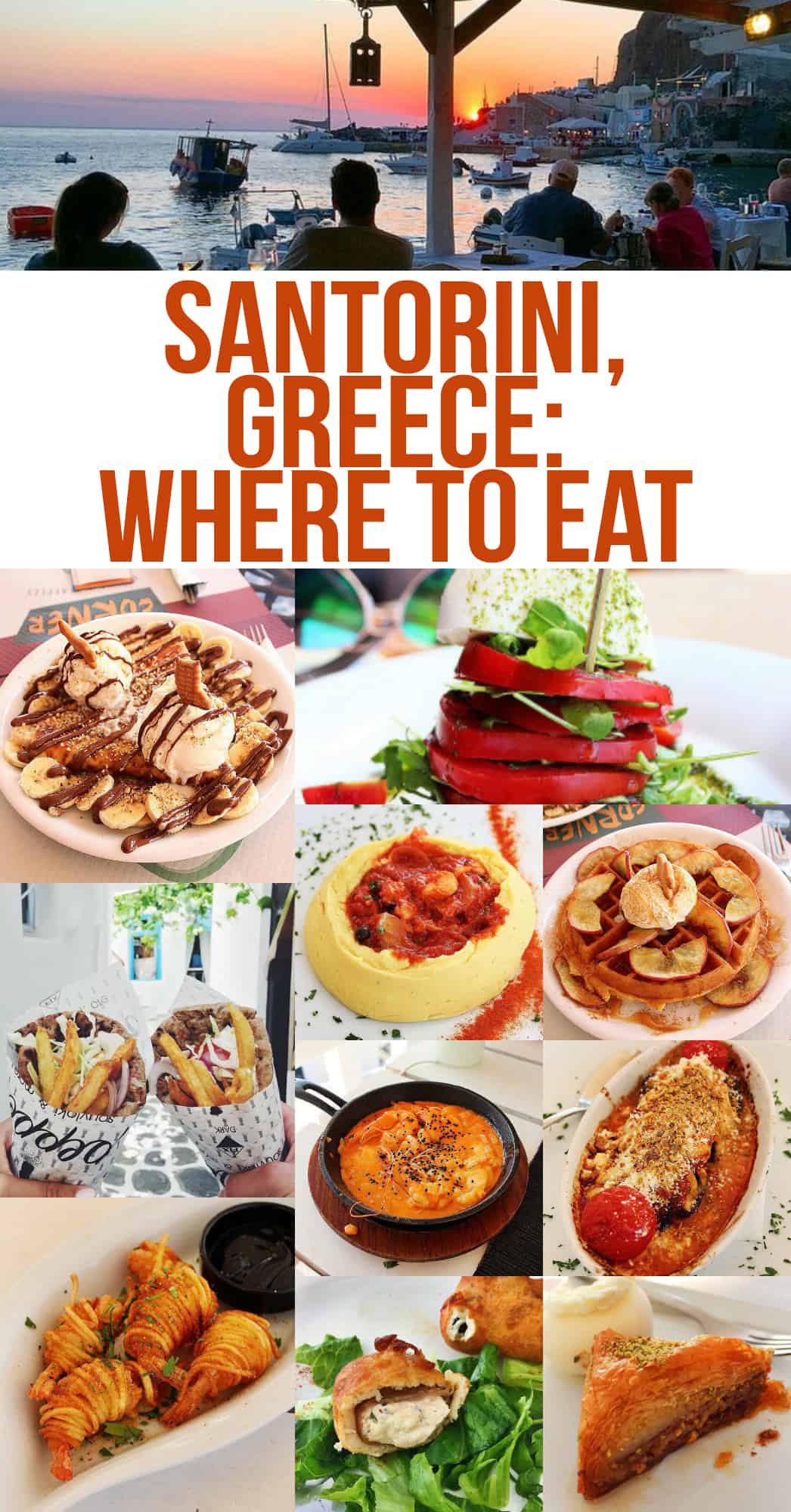 This summer we traveled to Santorini, Greece for the vacation of our lives.  We did LOADS of research before hand to make sure we got the most out of our experience.
We like to experience the local version, as opposed to a touristy version to get the most out of our stay!
After experiencing it all first hand, we are here to report back on only the best things to do, what to eat, and where to stay. Santorini has become one of the most popular destinations to visit in the world, and let me tell you – it completely lives up to and, in our opinion, exceeds all expectations we had.
Greeks don't eat breakfast (proving American dietitians wrong, am I right??) and most hotels serve breakfast, so don't expect to find many breakfast restaurants. However, we did find one breakfast spot that can't be missed. Crepes. And waffles.The place we got them from is called Corner Crepes and Waffles. Make sure you have cash when you go because they don't take any kind of cards. There is a euro exchange super close at the top of the street if worst comes to worst.
You must get these crepes and waffles at least once. Who would have thought, waffles and crepes in a Santorini. Best. Crepe. and. Waffle. of. my. Life. So thick and fluffy and melty. I still dream about this breakfast.
Our favorite crepe: we made our own and got bananas, Nutella, chopped walnuts, and TWO scoops of vanilla ice cream.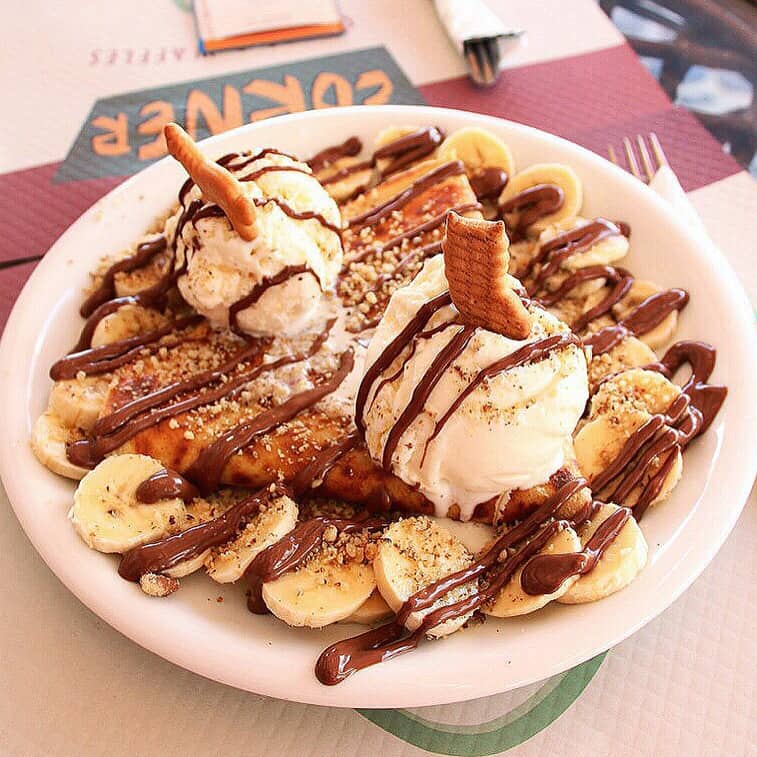 Our favorite waffle: the caramelized apple, cinnamon, honey and TWO scoops of vanilla ice cream waffle and my goodness it was delicious.
This was definitely the best food we had during our trip. So much so that we went back two times.
What to get: Summer salad, mushroom risotto, shrimp saganaki, shrimp potato rolls, Eggplant rolls (!!!), Fish gyros, octopus fava, chocolate soufflé.
Our suggestion: Eat dinner at six (make a reservation) and then go to Franco's, a bar about 50 meters away, to get drinks and watch the sunset. Franco's was the very first bar on the island. It has a super fun atmosphere and a great place to relax after dinner and watch the sunset. Bonus: they play classical music at sunset.
3. Gyros
You can't go to Greece and not get Gyros. Ask your hotel where to get the best gyros. It's a little shack in Fira without a name, but they will be able to point you in the right direction to find a good one.
This dinner had the best sunset and the food was amazing!
What to get: feta stuffed eggplant fritters, fresh fish, Greek fries, and Bakalava with vanilla ice cream. (This was the best baklava we found on the island!)
TIP: Don't reserve a table in the front two rows closest to the water because when the sun sets it will shine in your face. It is best to sit farther back because the views are the same, but you also get the bonus of having shade.
5. Tomatoes
Yes, they seriously deserves a category of their own because the tomatoes there are unlike any tomatoes I have ever tasted. Whether that be in a salad, greek salad, tomato fritters, you name it the tomatoes steal the show. Super crispy, bright, and juicy.
Want more??
And that is a wrap! We had the most amazing time in Santorini and hope you do too! Let us know if you have any favorites from Santorini!