September 11, 2015
White Sangria Recipe
White Sangria Recipe – This simple and quick sangria recipe is infused with fresh oranges and lemons which makes for a refreshing drink.
What is white sangria made of?
This sangria is made of white wine and Triple Sec! Triple Sec is an orange liquor. The blend of alcohol makes such a crisp and delicious sangria.
Which white wine is best?
We like Pinot Grigio. But any crisp white wine would work. I like Pinot Grigio, Sauvignon Blanc, Vermentino, or Grenache Blanc. Don't use Chardonnay though. The butter-like flavor will change the taste of the sangria.
What is the difference between white and red sangria?
White sangria uses white wine. And red sangria uses red wine!
Can you make this ahead of time?
Yes! You actually want to make sangria ahead of time. Because it lets the flavors develop. Then you add the champagne right before serving.
What to serve with this white sangria recipe?
These salmon tacos with some chips and salsa!
Or these turkey burgers with a caprese salad and fresh watermelon.
And this Almond crusted tilapia would also make such a great summer meal.
White Sangria Recipe
This simple and quick sangria recipe is infused with fresh oranges and lemons which makes for a very refreshing, delicious drink.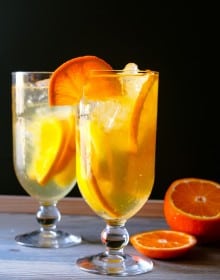 Ingredients:
4 cups white wine (I use Pinot Grigio)
¼ cup Triple Sec (any orange liqueur will work)
¼ cup Agave
1 lemon, thinly sliced
1 orange, thinly sliced
½ bottle of champagne/sparkling wine (chilled and inexpensive)
Directions:
Slice the Orange and Lemon into thin slices
Combine, sliced fruit, wine, agave and Triple Sec
Refrigerate for a minimum of 2 hours – you can make the night before if you want to make it ahead of time.
When you are ready to serve the sangria add the chilled sparkling wine. I actually put my sparkling wine in the freezer for about 20 minutes before I combine them. I also add ice to the glasses before pouring.
If you made several batches only add the sparkling wine to what you are going to drink right away. It's best if it stays bubbly. Enjoy – I absolutely know you will. It's a no-fail, perfectly delicious recipe.
[this isn't a sponsored post, there are a few affiliate links above based on things I purchase on my own and love]