October 28, 2023
Recipe for Apple Butter
Recipe for Apple Butter – homemade, super easy, no peeling the apples, sugar free and only one ingredient needed to make!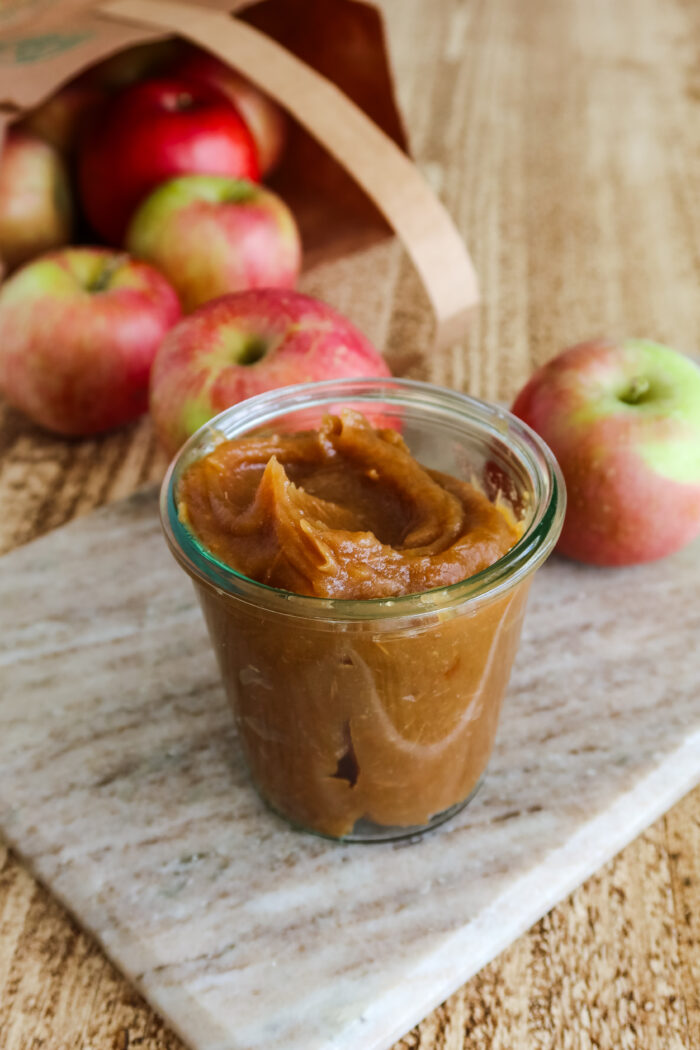 This is what you should make if you just went apple picking and have a ton of apples. Or if you want apple butter but can't find it at the store!
It's beyond easy to make. You don't have to peel the apples. And apples are the only ingredient.
It's the perfect recipe to make in the ber-months (September, October, and November). It will make your whole house smell like apples!
This homemade apple butter recipe needs nothing but apples
You don't need apple cider vinegar, brown sugar, ground cloves, vanilla extract, sugar, butter, or anything else. Only apples!
It might sound like applesauce. But that's because it is! Apple butter is basically applesauce you cook down in a large pot in the oven. When you cook the water out, it becomes thick and darker in color.
You can make this a small batch or a large batch recipe
The beauty of it being a one ingredient recipe is you can use however many apples you have. You can do a small batch or a large batch! I wouldn't do less than 10 apples. 10 apples will make about one cup of apple butter. Anything less and it won't be worth the time it takes to make it.
You can use any kind of apple you have
I love honeycrisp apples because they are so sweet. But any kind of apple would work. Granny Smith, Fuji, Pink lady, or classic red all work!
Looking for other apple recipes?
The apple crumb cake is the most popular apple recipe on my blog!
These salted caramel apple soft pretzels are everything you love about dutch apple pie wrapped in a soft pretzels form!
This is the best apple pie ever!!
Watch the recipe video here:
Recipe for Apple Butter
Homemade, super easy, no peeling the apples, sugar free and only one ingredient needed to make!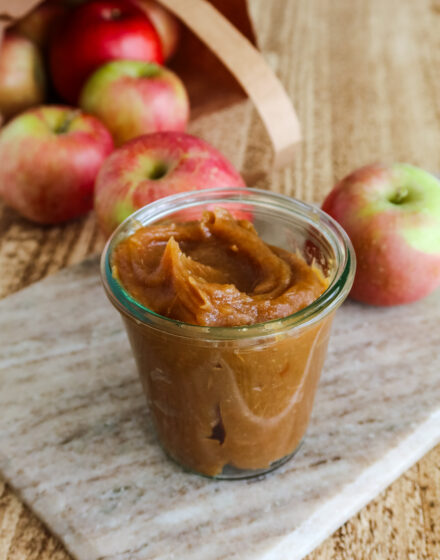 Ingredients:
10 or more Apples (I like honeycrisp apples, but any kind works)
Directions:
Preheat oven to 375 degrees.
Core and cut the apples into large chunks (about 8 pieces per apple).
Add the apples to a large dutch oven or large oven safe skillet.
Cover with a lid and bake for 30-40 minutes or until the apples are very soft and tender.
Pour all of the apples + liquid in the pan to a blender. Blend until very smooth.
Pour the blended apples back into the pot. Bake uncovered for 15 minutes at a time. Stir in between each 15 minutes so the apple butter doesn't burn. The apple butter is done when it's a dark caramel color.
Let cool and then store in an airtight container