May 9, 2014
Best-Ever Chewy Homemade Brownies
These brownies are the best of both ways, chewy, yet fudgy in the best possible way. 100% homemade with a deep chocolate flavor and chewy texture that firms up and gets even chewier if refrigerated. Ditch that box mix!
Calling all chewy, ooey, gooey, messy brownies lovers. This is the recipe you have been waiting for!
I have tried many, many different brownie recipes and I am so excited to say that I've found the brownie recipe. With the right amount of fudgy-ness, a shiny, crackled top and above all, moist in every way… This is the best, most perfect, totally ultimate brownie recipe ever.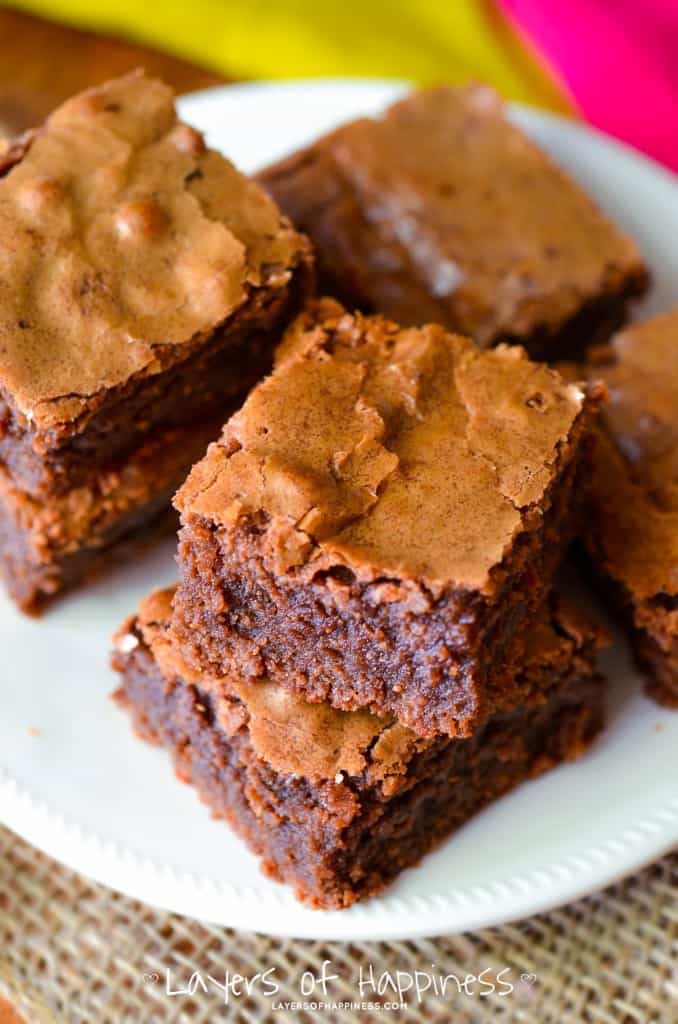 Everyone has a favorite brownie recipe. But today I'll show you how to make chewy, fudgy homemade brownies. Because let's be honest, a brownie should be two things: chewy and fudgy.
Ingredients explained:
Melted Semisweet Chocolate Chips AND Cocoa Powder. Today, my brownie recipe uses mostly solid chocolate with a couple spoonfuls of cocoa powder. Double the chocolate goodness!
People who really, really love chocolate are seem to be opposed to cocoa powder, but don't be!  At least for this recipe. Because the compact chocolatey goodness called cocoa powder is what really gives that extra fudgy texture. Part one out of two requirements for these brownies: check!
For the solid chocolate, I prefer these brownies with semi-sweet or milk chocolate. Not unsweetened or bittersweet chocolate unless you love deep, dark chocolate because both of those types of chocolates resulted in a very bitter brownie.
Whipped Eggs and Sifted Flour. In the directions, these brownies require both whipped eggs, sifted flour, and folding of all ingredients. By whipping the eggs and folding in the sifted flour, the dough becomes very soft and delicate, and thus becomes super chewy and super moist when it's baked. Part two of two requirements for these brownies: check!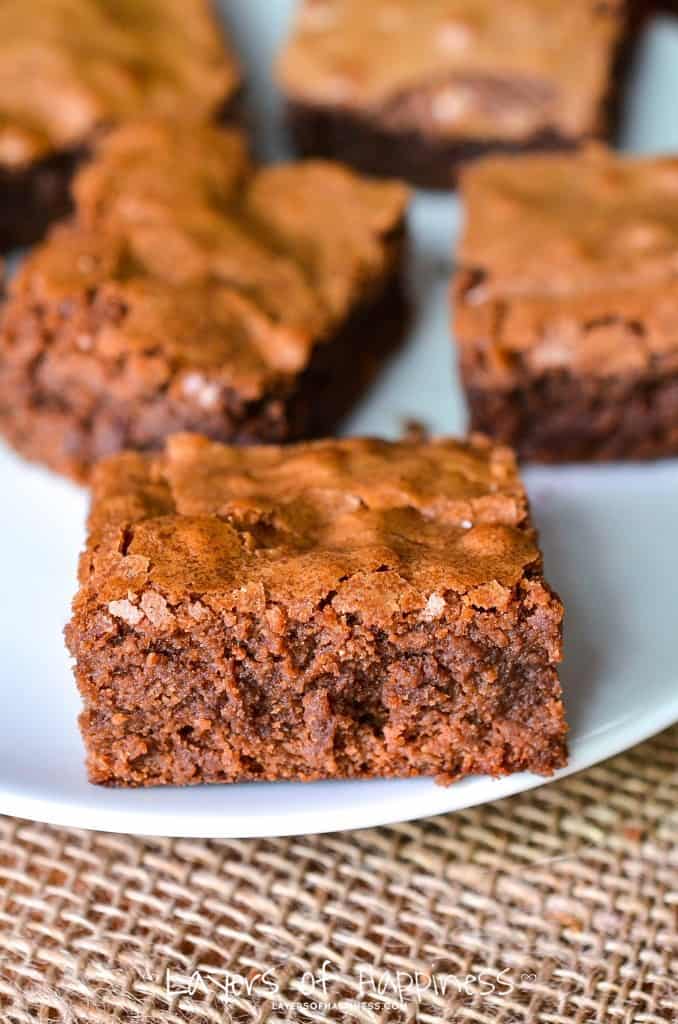 These brownies are absolutely amazing on their own and I personally like them better plain, but feel free to top them with a generous smear of chocolate frosting or mix chocolate chips into the batter, making them one of the most decadent little things you'll ever put in your mouth.
You could also even top them with cream cheese frosting – My family and I loved that version!
Don't be scared of all the steps required for these brownies… these brownies do required more steps than most brownies do, but I am very detailed in the steps below to ensure you make no mistakes and end up with the most amazing ultra chewy brownies ever!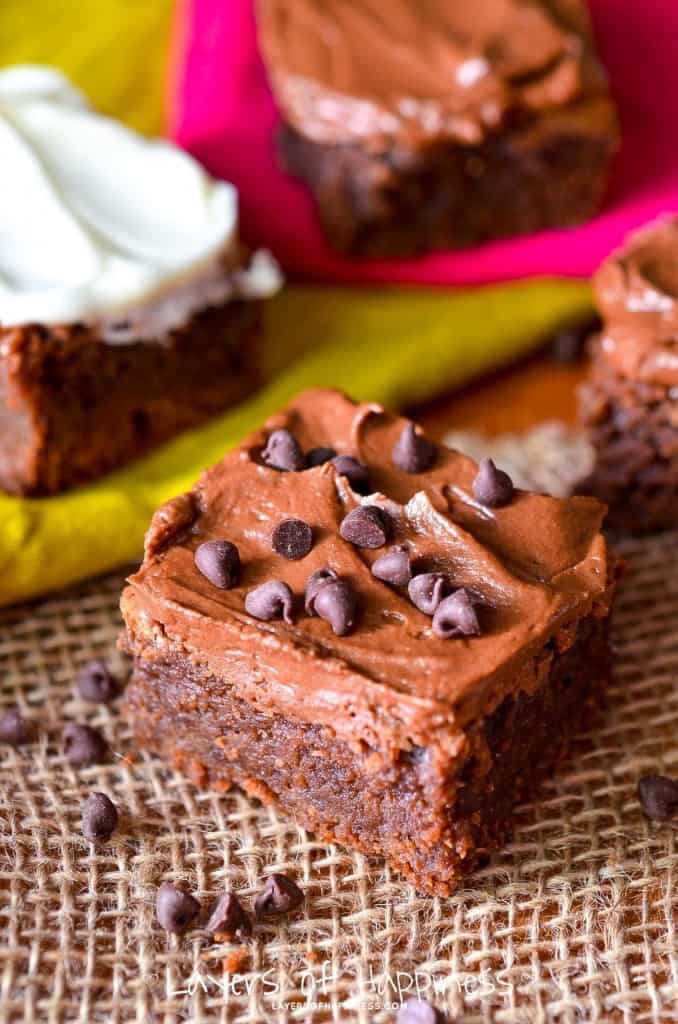 Enjoy!
Best-Ever Chewy Homemade Brownies
These brownies are the best of both ways, chewy, yet fudgy in the best possible way. 100% homemade with a deep chocolate flavor and chewy texture that firms up and gets even chewier if refrigerated. Ditch that box mix!
Ingredients:
For the brownies:
1 cup (2 Sticks) Unsalted Butter
8 ounces, weight Semi-sweet Chocolate Chips (about 1 1/3 Cups)
1-¼ cup All-purpose Flour
2 Tablespoons unsweetened cocoa powder
1 teaspoon Salt
2 cups sugar, divided
1 teaspoon pure vanilla extract
4 large eggs, room temperature
Milk Chocolate Frosting (Optional):
3 cups Powdered Sugar
¼ cups Unsweetened Cocoa
¼ cups Butter, Room Temperature
¼ cups Evaporated Canned Milk, Or Regular Milk
1 pinch Salt
Directions:
For the brownies:
Melt the butter and chopped chocolate in a medium saucepan on medium heat, stirring constantly, about 5 minutes. Set aside and let cool for about 10 minutes
Adjust the oven rack to the lower third position and preheat oven to 350F degrees. Line the bottom and sides of a 9×13* inch square baking pan* with aluminum foil, leaving an overhand on all sides. Set aside.
In a medium bowl, sift together the flour, cocoa powder and salt; set aside.
Whisk 1 cup granulated sugar and vanilla into the cooled chocolate/butter mixture until sugar is dissolved, about 30 seconds.
Add the eggs and remaining cup of sugar to the bowl of an electric mixer, and mix until just combined. Slowly pour half of the egg mixture into the chocolate-butter mixture and gently and constantly whisk so that the eggs don't set from the heat. I use a measuring cup to transfer the sugar/egg mixture to the chocolate/butter mixture.
In the electric mixer, whip the remaining sugar and eggs on high speed until the are thick, pale, and doubled in volume, about three minutes. Pour the chocolate mixture into the whipped eggs and gently fold together. When the eggs are almost completely incorporated, gently fold in the dry ingredients.
Pour and scrape the batter into a prepared 9×13-inch baking pan. Bake the brownies for 30-35 minutes. A toothpick inserted in the center should come out with a few moist crumbs when the brownies are done. All ovens are different, so keep an eye on them after 30 minutes and use the toothpick test to see when yours are finished.
Remove from oven and cool in the pan on a rack before cutting.
For the optional frosting:
Sift together the confectioners' sugar and cocoa powder to assure there are no lumps. Set aside. With a handheld or stand mixer fitted with a paddle attachment, beat the butter on medium speed until creamy – about 2 minutes. Gradually add the sifted sugar/cocoa powder alternately with the milk and vanilla. Once all added, beat on high speed until creamy and combined for at least 2 minutes. Add a pinch of salt if frosting is too sweet. Frost the brownies before or after cutting into squares, whichever you prefer.
*You may use a 11×7-inch pan, but the baking time is about 35-40 minutes.