June 11, 2023
Strawberry Syrup for Cocktails
Strawberry Syrup for Cocktails – the easiest homemade strawberry syrup for drinks! Made with only 3 ingredients!
This is a simple strawberry syrup I love to use in cocktails! It's a perfect way to use up extra strawberries. It's bright and flavorful. And makes the best drinks!
What is the difference between strawberry puree and syrup?
Simple syrup is a sugary water. It's made with dissolving equal amounts of sugar and water together.
So strawberry simple syrup is a strawberry flavored sugar water. It's made by simmer together sugar, water, and fresh strawberries. This extracts some of that strawberry juice. But you put the whole thing through a fine mesh strainer (something with small enough holes to catch all the strawberries) to leave the actual strawberries behind.
Strawberry puree is a thicker made by blending strawberries into a smooth sauce.
Does strawberry syrup need to be refrigerated?
Yes! Strawberries are perishable so you want to keep this in the refridgerator.
It will last in the fridge in an airtight container for about 2 weeks.
What do you use this strawberry simple syrup on?
I love to use this simple syrup in cocktails. But you could also drizzle it over ice cream or strawberry shortcake!
Looking for more delicious strawberries recipes?
I love this fruit dip for strawberries!
And this strawberry goat cheese salad.
Or this strawberry chicken salad.
Watch the recipe video here:
Strawberry Syrup for Cocktails
The easiest homemade strawberry simple syrup for drinks! Made with only 3 ingredients!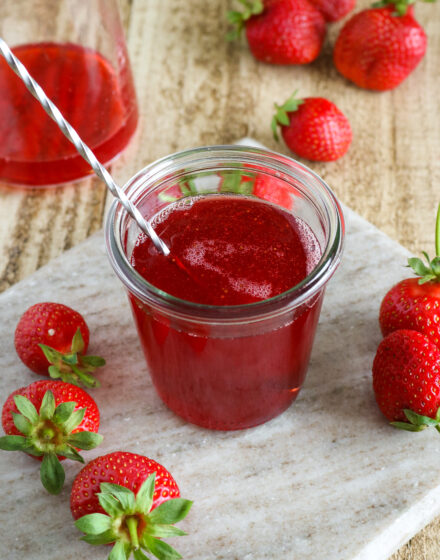 Ingredients:
1 1/2 cups sliced strawberries (~8 ounces strawberries)
1 cup water
1 cup granulated sugar
Directions:
In a saucepan over medium high heat, add the strawberries, water, and sugar. Stir to dissolve the sugar.
Bring to a boil. Then reduce to a simmer and cook for 20 minutes, until the liquid is deeply red and the strawberries are soft.
Put a fine mesh strainer into a large bowl. Strain the strawberries out from the simple syrup. Don't press down on the strawberries or the syrup will be cloudy!
Chill the strawberry simple syrup in the fridge for an hour or two until cold, then enjoy! Store in an airtight container in the fridge for up 2 weeks.
[this isn't a sponsored post, there are a few affiliate links above based on things I purchase on my own and love]