Orange Glazed Cajun Salmon Tacos
Sweet and spicy cajun marinade and an orange glaze – loaded with fresh avocado salsa, greens, purple cabbage, and fresh cilantro. LOVE these layers of flavors!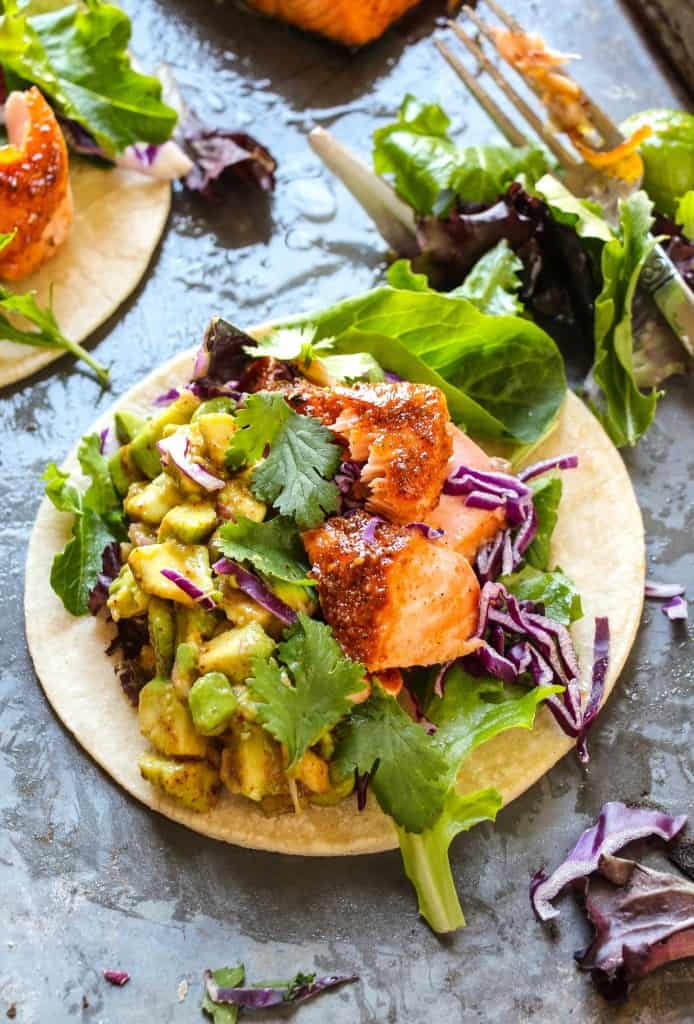 Tacos! Tacos! Tacos!!! Taco tuesday came a day early this week. Introducing my all-time favorite fish taco/any-taco: Orange-glazed cajun salmon tacos – loaded with avocado salsa, purple cabbage, greens, and topped with cilantro and sour cream. YUM.
Fun fact: Taco Tuesday's are a real thing in college. Like even more of a thing than in high school. Local restaurant. Tacos. Chips. Salsa. Friends. Memories. & more. It's the best thing ever.
Fun fact #2: I spent allll summer cooking dinner for the family so that I would have enough recipes to last me the whole year. That's how I'm sharing this recipe with you today, and how I will be able to continue to share recipes all year long.
As much as I love fresh guac, chips and the tacos here…. nothing compares to the flavor and texture these tacos.
The salmon used in these tacos is the salmon we posted a few months ago: this orange-glazed cajon salmon. I little bit crazy of a combination I know – but I bought some premarinated cajun salmon from Whole Foods one day I was feeling spontaneous and trying to get out of my comfort zone. Little did I know that it would be the best salmon ever. The cajun and sweet orange flavors meld with the salty salmon in the best way possible.
And then I turned this salmon into stuffed it in tacos…. and it was probably the best idea I have ever had. These are the perfect tacos. Full of flavor, super easy and I swear these get better with each and every bite. You could definitely swap out the salmon and use chicken instead. But I beg of you not to do that. The salmon is way, way, way too good to be replaced.
My favorite part about these tacos is these came together in less that thirty minutes. And I even made some of this loaded bean dip for the chips. (We can't have Mexican food and not have that dip. 🙂 )
It's perfect for a weeknight meal or even a weekend meal because it is that good. I mean, I know a 30-minute meal on the weekend may seem boring, but this is not boring, in any dang way. Hello, there are tortilla chips. Totally weekend worthy, but bonus if you get to make them tonight <– do it if you can, your Taco Monday will be made!
A few side notes…
>>> I like to use corn tortillas and double the tortilla for extra support and extra yumminess.
>>> When you buy avocados, look for they ones that are only a little bit tender when squeezed… if they are too ripe, they are more likely to be brown.
>>> While we are talking about avocados… Don't skip out on the avocado salsa. It gives an added texture and cool flavor to complement the slightly spicy salmon that can't be missed.
>>> Serve your tacos with LOTS of chips and margaritas. You won't regret it. Even if my margarita was virgin.
Orange Glazed Cajun Salmon Tacos
Sweet and spicy cajun marinade and an orange glaze – loaded with fresh avocado salsa, greens, purple cabbage, and fresh cilantro. LOVE these layers of flavors!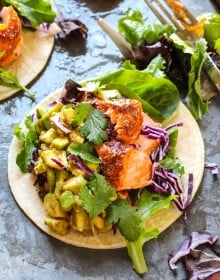 Ingredients:
For the orange glaze:
2 Tablespoons orange marmalade
2 Tablespoons water
For the salmon:
2 tablespoons olive oil
1 tablespoon cajun seasoning
1 tablespoon creole seasoning
2 tablespoons brown sugar
2 tablespoons soy sauce
1 teaspoon orange marmalade
1 teaspoon paprika
1 teaspoon black pepper
4 (6-ounce) Salmon Filets
For the avocado salsa:
3 medium avocados, diced
1/2 finely chopped sweet onion, such as Vidalia
1/8 cup finely chopped fresh cilantro
1 tablespoon lime juice
1 teaspoon crushed red pepper flakes
1/4 teaspoon garlic salt
Black pepper
For the tacos:
8 6-inch corn tortillas, warmed
2 cups thinly sliced red or green cabbage
mixed greens
1/2 cup crumbled Cotija cheese or goat cheese
(optional) sour cream
Directions:
Preheat the broiler (I set mine on the medium setting). Line a jelly roll pan with aluminum foil, and spray with nonstick spray. Set aside.
To make glaze:
Whisk together orange marmalade and water in a small bowl. Set aside.
To cook salmon:
Wash salmon and pat dry. Place in a container to marinate. In a large bowl, whisk together olive oil, cajun seasoning, creole seasoning, brown sugar, soy sauce, orange juice, paprika, and black pepper. Pour over salmon and let marinate for 5-10 minutes. It is not necessary to marinate but do not marinate for any longer than ten minutes or the fish will not taste good!
Remove from marinade and pace the salmon fillets skin-side down on the prepared pan. Spoon the the excess marinade over the fillets. Place in the oven and broil for 10 minutes. Remove from oven and spoon 1 tablespoon of the marmalade mixture over the salmon. Return to oven and broil for 3 more minutes, or until the fish flakes easily with a fork.
For the avocado salsa:
While the salmon is broiling, make the avocado salsa. Gently toss together the avocados, onion, cilantro, lime juice, red pepper flakes and garlic salt in a medium bowl. Add pepper to taste. Set aside.
To assemble the tacos:
Break salmon into small portions and layer over center of tacos, add cabbage, mixed greens, avocado salsa, Cotija cheese, and sour cream. Serve warm.
PIN THESE TACOS: