Turkey Apple Brie Sandwich
Turkey Apple Brie Sandwich – Loaded with turkey, sliced granny smith apples, brie cheese, pickled onions, bacon, and arugula!
I love apple butter. But I never know how to use it up. Enter this sandwich.
For this sandwich, I mix together apple butter and dijon mustard to make a fall sandwich sauce. The apple butter dijon gets spread on both sides of the bread. It adds so much flavor to the sandwich.
Creamy brie cheese and turkey are melted on top of the apple butter dijon. Then you pile on pickled onions, arugula, and thinly sliced granny smith apples.
It's the ultimate fall sandwich! And the perfect way to use up apple butter!
Can you make this sandwich with leftover turkey from Thanksgiving?
Yes! This sandwich would be a great way to turn thanksgiving turkey leftovers into an easy meal. Use the turkey breast part of the meat.
What cheese pairs best on this sandwich?
I use brie because the creaminess pairs so well with crisp apples.
You can use provolone, mozzarella, monterey jack, Colby jack, or white cheddar if you don't have brie cheese.
Other recipe modifications for this turkey apple brie sandwich
I use brioche bread but you could use any kind of white bread you like! Even a leftover roll would work!
You can use homemade or storebought apple butter! If you can't find apple butter, you use mayo for a mayo-dijon mixture instead.
Make a grilled cheese! You could grill the whole sandwich together instead of just toasting the turkey and brie.
I love granny smith apples in this sandwich. It gives a great tartness flavor. But any kind of apple works.
Watch the recipe video here:
Turkey Apple Brie Sandwich
The ultimate fall sandwich!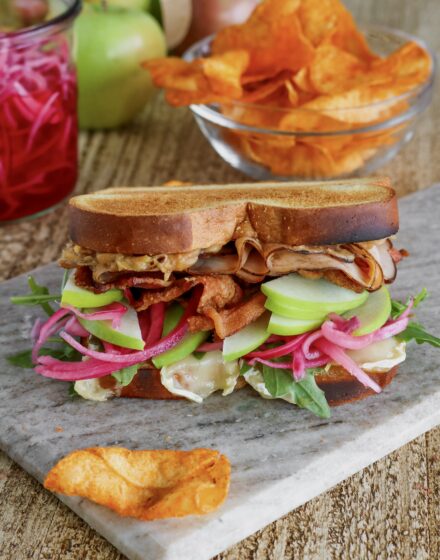 Ingredients:
2 slices brioche bread
3 Tablespoons apple butter
1 teaspoon dijon
3 slices maple turkey
3 slices brie cheese
2 slices bacon, cooked
1/4 green apple, sliced
pickled onions
arugula
Directions:
Preheat oven to broil and line a baking sheet with foil.
Place the bread on the baking sheet and broil on one side until golden brown.
In a small bowl, mix together the apple butter and dijon.
Remove from oven and flip bread over. Spread the apple butter/dijon on both sides of the bread.
Layer turkey on one side and brie on the other side. Broil for another few minutes until the brie and turkey are warmed and melty.
Top with bacon, apples, pickled onions, and arugula. Sandwich the two sides together and enjoy.