December 3, 2015
Frosted Sugar Cookie Bars
Soft and chewy frosted sugar cookie bars loaded with extra sprinkles and topped with vanilla frosting.
I can now officially talk all things Christmas!!!
And I clearly could not be more excited.
But first, happy Thursday! How was everyone's Thanksgiving? Did you fill up on enough turkey, gravy, and stuffing to last a whole year until next time? Was it perfect? Do you have any horror stories??
Tell me!! I want to know! We spent ours in the hills of Napa Valley sipping wine and popping champagne. Well, not me. But I did spend a lot of time winery hopping watching my parents wine taste. I was the designated driver of the trip. 😉 It was so fun to see them. I hadn't seen my family in almost 4 months!!
I'm back at school now for another 3 weeks until winter break.
That said, let's talk cookies!
The most perfect sugar cookie bars to be exact. Aren't these so fun? I mean I know they don't look all professional like the perfect cut out reindeer on Santa's sleigh like you might see in a William-Sonoma magazine (if that's what you're looking for, we've got you covered: try these perfect no-fail soft cut-out sugar cookies). BUT they are just as yummy and so much easier if you are serving a crowd.
A few notes about these sugar cookies. These are so much easier than cutout sugar cookies because after making the dough, there is no refrigerating time, simple spread out the dough onto a large baking pan, bake, and frost. Easy as that. Simple as that. Delicious as that.
You can decorate them however you please, and for me it's sprinkles. Change the sprinkle colors and you've got yourself the dessert of choice for every holiday all year long.
Aside from all these easiness and quickness, these are so so addicting-ly  delicious. They are soft in the middle, sweet, vanilla goodness. Pretty much Christmas perfection! You have to try them for your next cookie party or holiday baking day!!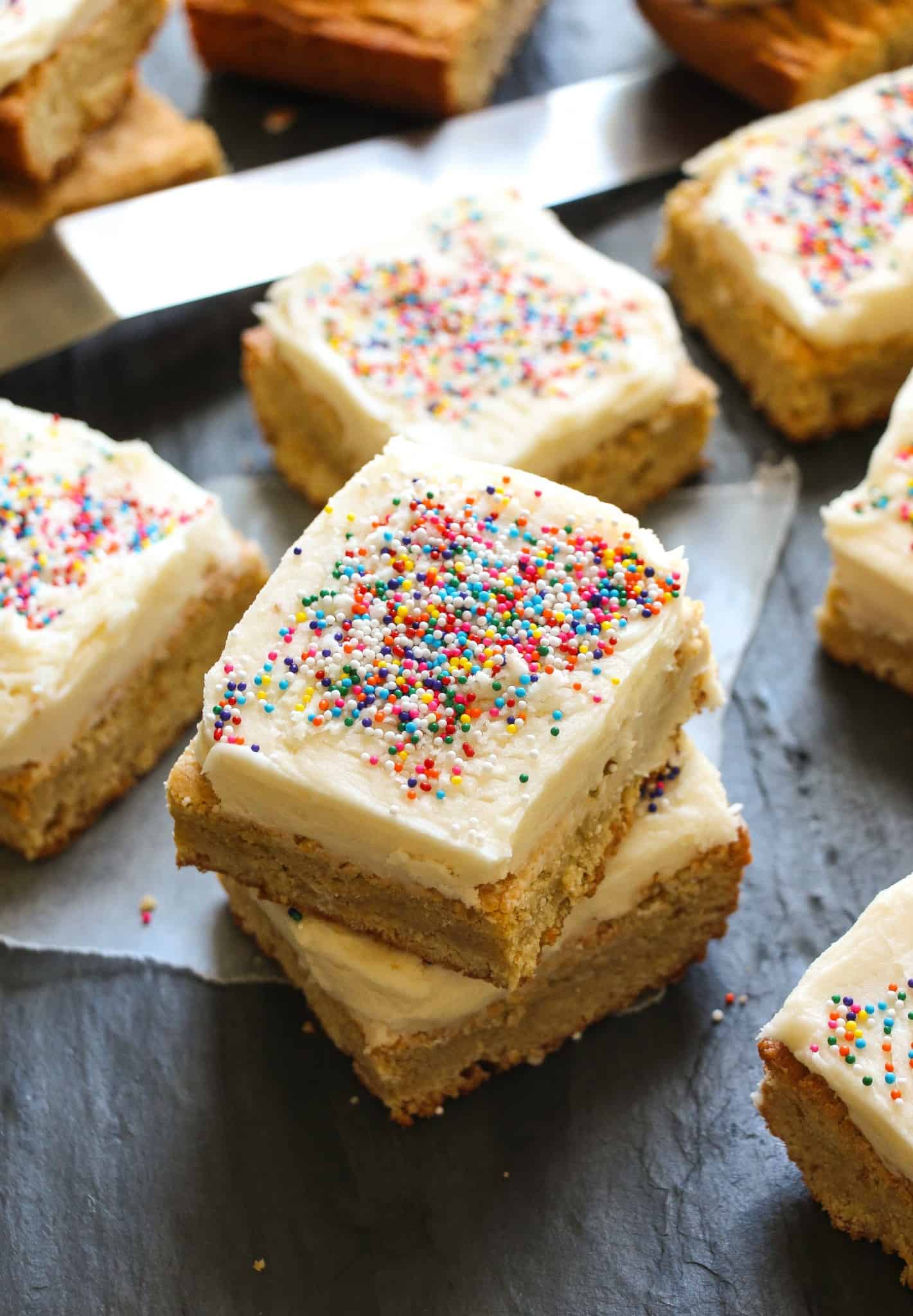 PLEASE.
Frosted Sugar Cookie Bars
Soft and chewy frosted sugar cookie bars loaded with extra sprinkles and topped with vanilla frosting.
Ingredients:
For the cookie bars:
3/4 cup (1 1/2 sticks) butter, softened
1 cup brown sugar
3/4 cup granulated sugar
3 eggs
2 teaspoon vanilla
2 1/4 cups flour
1 1/2 teaspoon baking powder
1 teaspoon salt
For the frosting:
3/4 cup unsalted butter, softened to room temperature
4 cups confectioners' sugar
3 Tablespoons milk
1 teaspoon vanilla extract
1/2 teaspoon almond extract
salt, to taste
Optional:
food coloring for frosting
extra sprinkles for decorating on top
Directions:
Preheat oven to 350 degrees and grease a 9×13-inch baking pan with aluminum foil, making sure to leave enough overhang on the sides. Set aside.
To make cookie bars:
In bowl of stand mixer combine butter and both sugars. Cream together until light and fluffy, about 4 minutes.
Add eggs and vanilla and beat until smooth.
In a separate bowl, whisk together flour, baking powder, and salt until combined.
Turn mixer to low and slowly mix in flour mixture until just combined.
Spread dough into prepared pan and bake for 25-30 minutes until edges are golden and bars are just set up. Don't over-bake!
Let cool completely before frosting.
To make frosting:
With a handheld or stand mixer fitted with a paddle attachment, beat the butter on medium speed until creamy – about 2 minutes.
Add confectioners' sugar, milk, vanilla extract, and almond extract with the mixer running on low. Increase to high speed and beat for 3 full minutes. Add more powdered sugar if frosting is too thin or more milk if frosting is too thick. Add a pinch of salt if frosting is too sweet. I usually add anywhere between 1/8 – 1/4 teaspoon of salt. Beat in food coloring, if using.
Remove cooled bars from the baking pan using the aluminum foil overhang on the sides. Frost the bars with a thick layer of frosting and decorate with extra sprinkles if desired. Cut into squares. Use a very sharp knife and wipe off with a paper towel between each cut to make neat, even cuts.
Store bars in an airtight container at room temperature for up to 2 days and in the refrigerator up to 5.
PIN THESE COOKIE BARS >>