January 20, 2017
Sheet Pan Zucchini Noodles and Chicken with Basil Vinaigrette
Roasted chicken seasoned with chili powder, ground cumin, and freshly ground pepper on a bed of zucchini and yellow squash noodles, carrots, and chickpeas – roasted in the oven to perfection. The whole thing gets topped off with an incredible basil vinaigrette. An easy weeknight, low-carb dinner.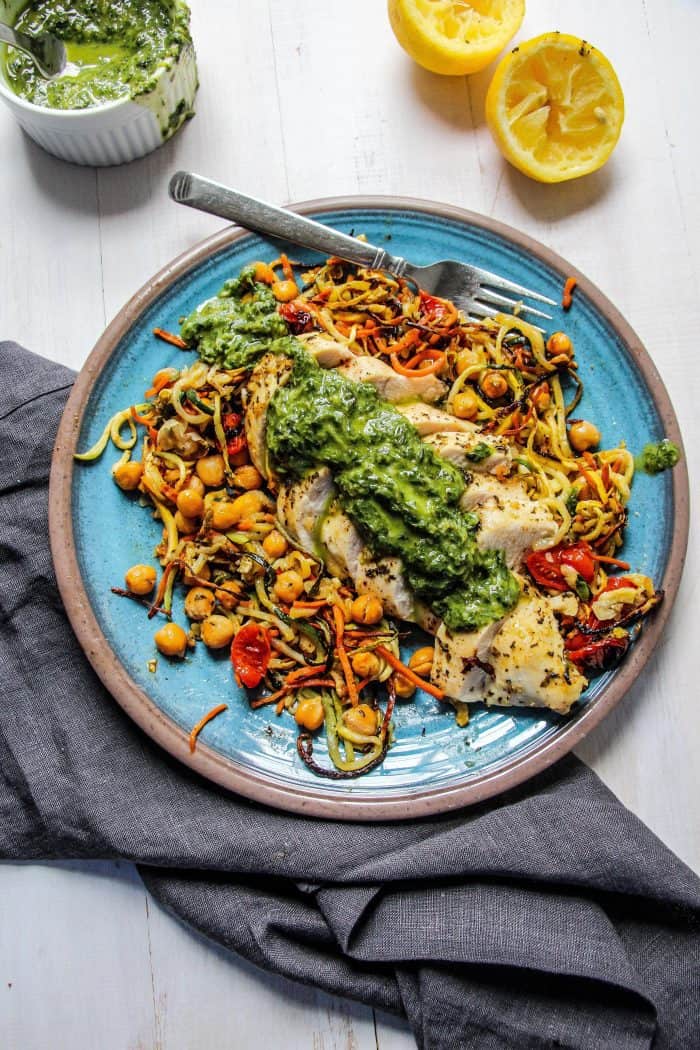 Who says zucchini noodles have to be limited to just marinara sauce. No way. There is so much you can do with them. Zucchini noodles might be one of my favorite secretly healthy dinner items… right behind spaghetti squash and cauliflower rice.
Side note – did you guys know that Trader Joes sells packaged cauliflower rice in their vegetable section? It is magic and a huge time saver for hardly any extra money. Win!!
Today we are taking zucchini noodles out of the spaghetti bowl and onto a sheet pan with this recipe.
I know you might think that roasting chickpeas is a little bit weird, but trust me. They get a nice golden color and crunchy texture in the oven. Magic.
That is the key to healthy eating. Texture. And flavors. You need lots of different textures and flavors to make sure you are going to be satisfied at the end of your meal.
If you just had plain zucchini noodles and grilled chicken… that would be so boring and unsatisfying! You have to play with your food and get creative in the kitchen.
Enjoy!
Ingredients:
Directions: