Sausage Rolls With Puff Pastry
Sausage Rolls With Puff Pastry – a super easy appetizer for entertaining! Like grown up pigs in a blanket!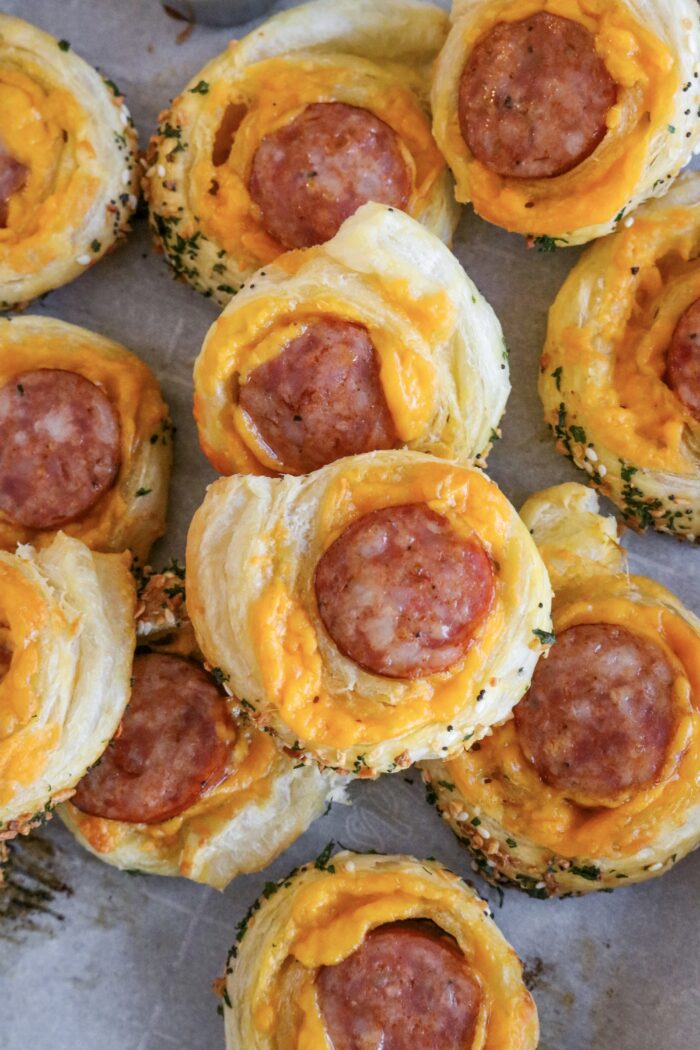 Pigs in a blanket are a crowd pleaser. There's something so comforting about them. So I turned pigs in a blanket into an even better adult version! Fancy enough for a holiday party. But comforting enough to remind you of your childhood with every bite.
How I leveled up pigs in a blanket…
I use puff pastry dough instead of cresent rolls. And andouille sausage instead of lil smokies. I added shredded cheese in the rolls. And an egg wash with seasoning on the outside!
These puff pastry sausage rolls are a knockout!!!
How big should the puff pastry sheet be?
I used the Pillsbury puff pastry and cut it in half! But if your puff pastry package already comes with two pieces, you can use the size it is.
I use one andouille sausage per recipe. You cut off the bent sausage part to get two straight pieces. So one recipe makes two sausage logs.
What kind of sausage meat should you use?
I use an andouille sausage. It's almost the same firmness as the lil' smokies used in pigs in a blanket.
You can use a ground pork sausage. But make sure to freeze the rolled up sausage in puff pastry for 30 minutes before slicing!
The andouille sausage is easily sliceable so the freezing isn't necessary. The ground sausage is harder to cut through without smushing.
What sauce to serve with these homemade sausage rolls?
These are so flavorful they don't even need a dipping sauce. Griffin needs a sauce with everything. He agreed these don't even need a sauce!
But you could do honey mustard if you are wanting to add a sauce.
What to do with leftovers?
Store them in a container in the fridge. Reheat in the microwave when you want to eat!
Looking for more crowd pleasing appetizer recipes?
Make this whipped goat cheese date bacon dip.
Or this crispy baked boursin!
Sausage Rolls With Puff Pastry
A super easy appetizer for entertaining! Like grown up pigs in a blanket!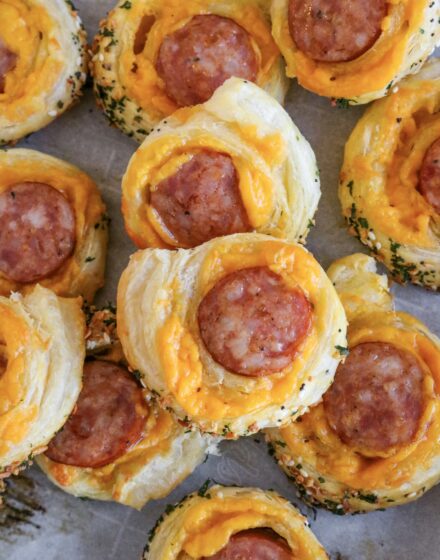 Ingredients:
1 (13 oz) package puff pastry, 2 sheet (or cut in half if the box comes with 1 long sheet)
1 (13.5 oz) package andouille sausage, cut in half where it curves (you can cut the bent part off to get straight logs or wrap around the bent part)
1 (8 oz) package sharp cheddar cheese, shredded
1 egg + 1 Tablespoon water
Everything but the bagel seasoning
Dried Parsley
Directions:
Preheat oven to 400 degrees.
Roll out the puff pastry and sprinkle half of the cheese in single layer over each puff pastry piece. Place the sausage close to one edge. Roll up the sausage in the puff pastry. Press the edges to seal it closed.
Beat and egg with water. Brush the egg wash over the top of the roll. Sprinkle with everything bagel seasoning and dried parsley.
Slice off the ends and then cut into 1 inch thick pieces. Place them on a parchment paper lined baking sheet. Bake for 15-20 minutes, or until golden browned.