March 3, 2014
Sally's Baking Addiction Cookbook GIVEAWAY (CLOSED)
Today we are celebrating one of our favorite bloggers, Sally, as she launches her new cookbook: Sally's Baking Addiction: Irresistible Cupcakes, Cookies, and Desserts for Your Sweet Tooth Fix.
**Scroll to the bottom for a chance to win a copy of Sally's new book!**
A while back, Sally proclaimed her Brown Sugar Glazed Apple bread from her cookbook as, "by far one of the best things I have ever, ever baked." With a statement like that coming from a girl who's devoted her life to baking, and has probably baked more then some of us will in our lives, that's saying something. So, of course that was the first thing we made when her cookbook arrived on our doorstep.
You can find the recipe on page 2 in her cookbook. And let me tell you, it is out of this world. I don't know if I should love Sally or be mad at her for introducing me and my family something so irresistible. 😉
I'm guessing that the brown sugar topping would have hardened to form a sort of crust instead of glaze eventually… if only we had the patience. But we didn't. I could hardly fend off my family before I even put it in the oven, so I knew there was no way I was going to be able to fend them off long enough for the glaze to harden.

I was right.
Everyone was hawking in the kitchen before the bread even came out of the oven. It's a good thing I took pictures when I did because the quick bread was gone in a matter of minutes.
Sally shares her Apple Bread in the Breads and Muffins chapter, which is filled with everything from a Pumpkin Chocolate Chip Loaf to a Glazed Lemon Loaf. The Great Harvest I work at sells a Pumpkin Chocolate Chip Batter Bread, so I cannot wait to see if I have finally found a homemade version of it. As for the Lemon Loaf…. my friend, Molly, is going to go crazy for that.
Sally's Baking Addiction: Irresistible Cupcakes, Cookies, and Desserts for Your Sweet Tooth Fix is full of everything from cookies to cakes to candy to healthier options.
Which one will you try first?
There are so many things I want to make, I don't even know which one I should bake next. But for right now, I should probably take a break from baking and go get on the treadmill considering how much Apple bread I ate.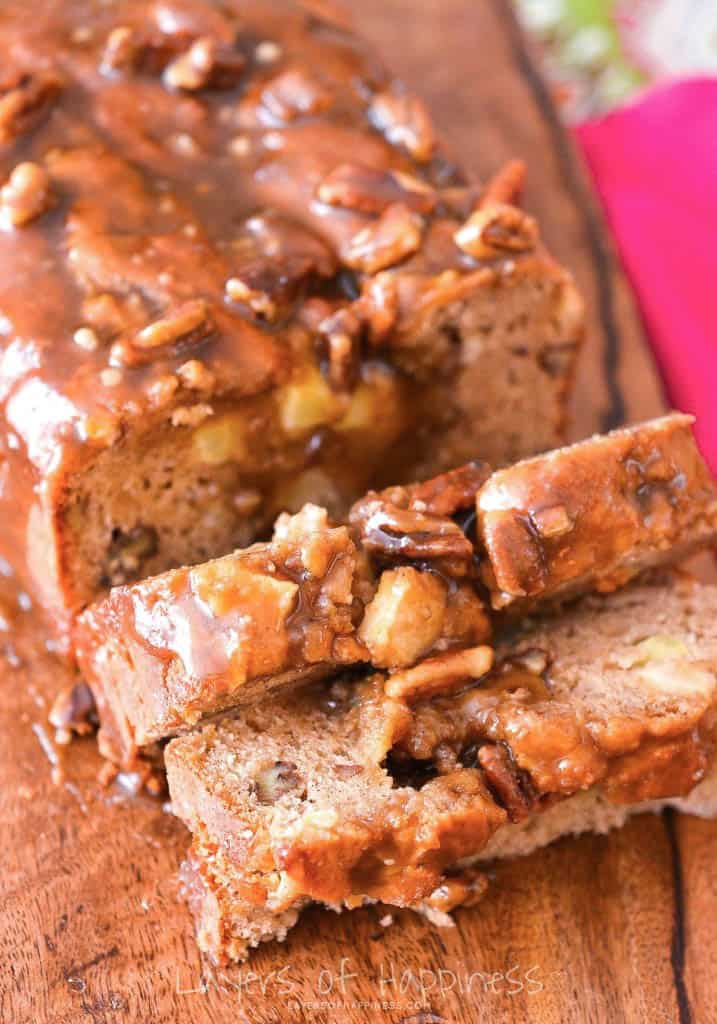 I can promise you that this is one cookbook you're going to want to have on your shelf. The thing I love most is that every recipe is explained in so much detail that there is no way you could ever do anything wrong… giving you "all of the sweet with none of the fuss!"
To keep the celebration going, we are giving away TWO copies of Sally's new cookbook, Sally's Baking Addiction: Irresistible Cupcakes, Cookies, and Desserts for Your Sweet Tooth Fix! To enter to win, use the Rafflecopter Widget Below.
 How to use Rafflecopter? The first step is to log-in. You can do this with Facebook or with an email address.
Once you are logged in, the first and mandatory entry option is to leave a comment on this post telling us which recipe from her cookbook you will make first.
At this point, you are entered in the giveaway. You can stop there or enter more times by liking us on Facebook and Following on Pinterest. Pick and choose the you ways you want to enter.
The giveaway ends Saturday, March 8th 12am EST. 
The winner will be emailed and will have 48 hours to respond or else a new winner will be selected. Good luck!