April 19, 2016
Quinoa Avocado Spinach Power Bowls
A hearty, healthy salad recipe with creamy avocado, nutty quinoa, fresh cilantro, and lots of bright flavors. The perfect light dinner or easy lunch!
Coconut Cilantro Lime Quinoa and avocados and honey lime sauce: OH MY.
What a colorful little situation that we've got going on. This is the recipe that I've been eating for the last week and a half to keep myself eating something of nutritional value that actually tastes good to my mouth during this crazy End-of-December season. Thank you Costco for their incredible avocado even at this time of year.
This is also what I use to kick start a week of healthy deliciousness.
At the risk of sounding annoyingly excited about a Tuesday morning, I have to say – I love a good fresh start. Especially after weekend eating that includes sushi takeout with an emphasis on the shrimp tempura rolls, BBQ eatings from the grill, and a smorgasbord of good food from at our Sunday dinner club party yesterday. Seriously whenever I say "dinner club" I feel like I'm 80. And seriously I ate leftovers from the food-party weekend for dinner last night. Judge or join. It's up to you.
So, what's in this bowl?
Well, incase you missed my super artsy graphic design up there (yeah, I'm pretty proud of myself on that one. 🙂 )
We've got coconut cilantro lime quinoa, cherry tomatoes, (more) cilantro, spinach, jalapeño slices, and fresh avocado.
With an emphasis on the fresh avocado. Man oh man do I love me some silky smooth and creamy avocado.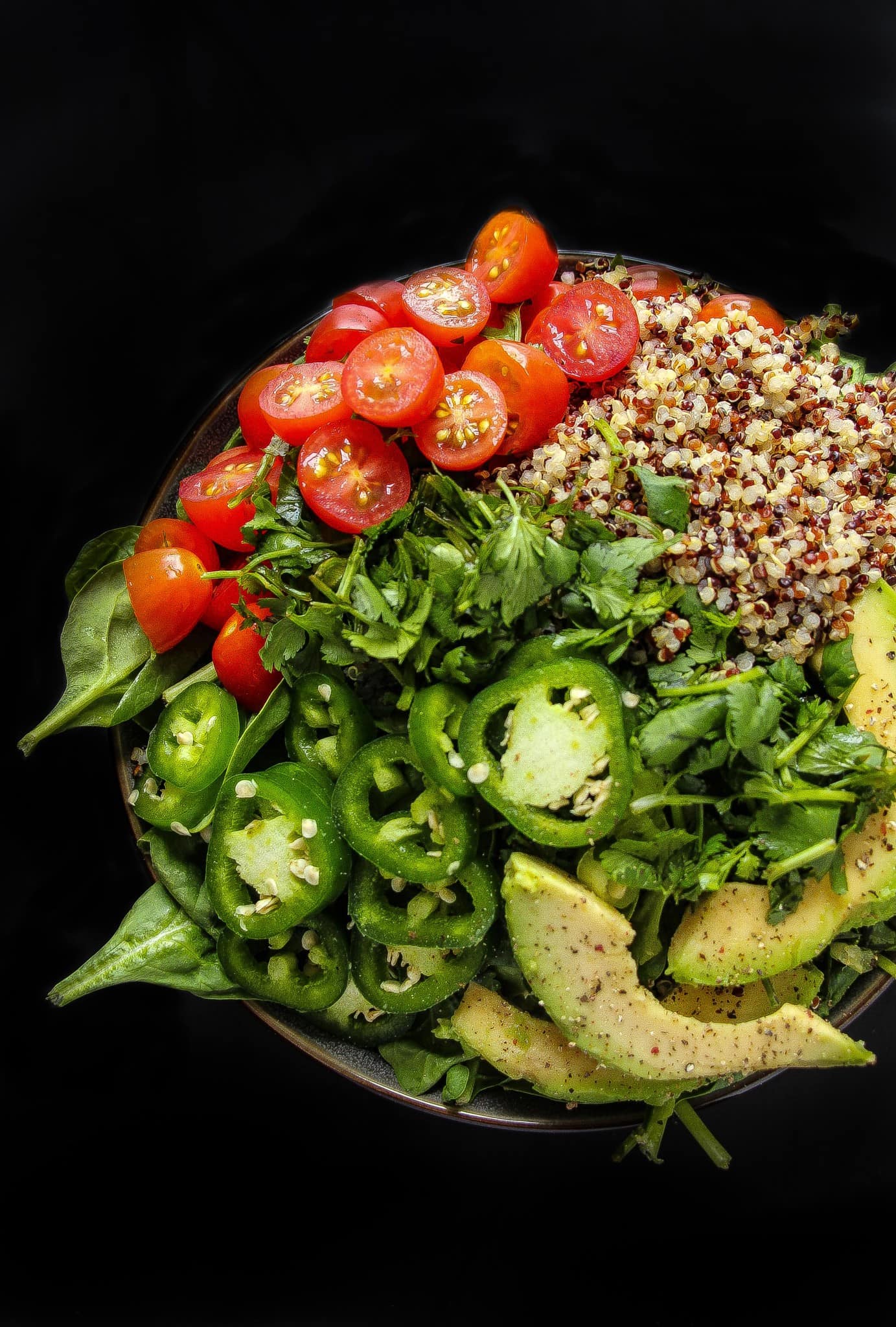 This salad is 1) easy, 2) delicious and filling, like only the best salads are, and 3) HEALTHY in a number of ways:
Quinoa = protein.
Veggie rainbow!
Vegan!!
CHEESE potential. If you aren't in the vegan business you could totally add some feta up in here. Because honestly, there are times when you just can't say no to those feta crumbles. Let's set realistic expectations here.
Reduces stress. To make this salad, you'll have to lift approximately three fingers for about five seconds. Get your zen on! Time to kick stressful salad-making to the curb.
Quinoa Avocado Spinach Power Bowls
A hearty, healthy salad recipe with creamy avocado, nutty quinoa, fresh cilantro, and lots of bright flavors. The perfect light dinner or easy lunch!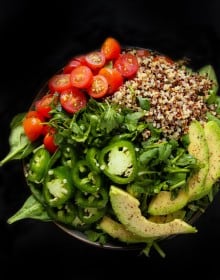 Ingredients:
For the Coconut Lime Quinoa:
1/2 cup uncooked quinoa, rinsed
1 cup low-sodium vegetable stock, or water
1 tablespoon coconut oil
1 lime, juiced and zest freshly grated
1/4 teaspoon salt
1/4 teaspoon pepper
For the dressing:
1 lime, juiced
1 tablespoon olive oil
1/2 tablespoon honey
For the salads:
1/2 pint cherry tomatoes, halved
1/4 cup roughly chopped fresh cilantro
4 green onions, sliced
(optional) 1 jalapeño, thinly sliced
6 cups spinach (you can also use spring greens)
2 avocado, diced or sliced
Directions:
To make the quinoa: Add the quinoa and stock (or water) to a saucepan over high heat and bring it to a boil. Once boiling, reduce the heat to low and cover the pot. Cook for about 15 minutes, or until all the liquid is absorbed. Stir in the coconut oil, lime juice, zest, salt and pepper. Set aside until ready to assemble salads.
To make dressing, whisk together lime juice, olive oil, and honey. Set aside.
To make salads, stir together quinoa, halved cherry tomatoes, cilantro, and green onions. Season with salt and pepper to taste.
Serve quinoa mixture over about 1 1/2 cups of spinach and drizzle with dressing. Top with avocado and extra cilantro. Serve!