June 10, 2023
Potato Fritters
Potato Fritters – Super crispy outside, pillowy potato insides. Super simple and extra crispy grated potato fritters!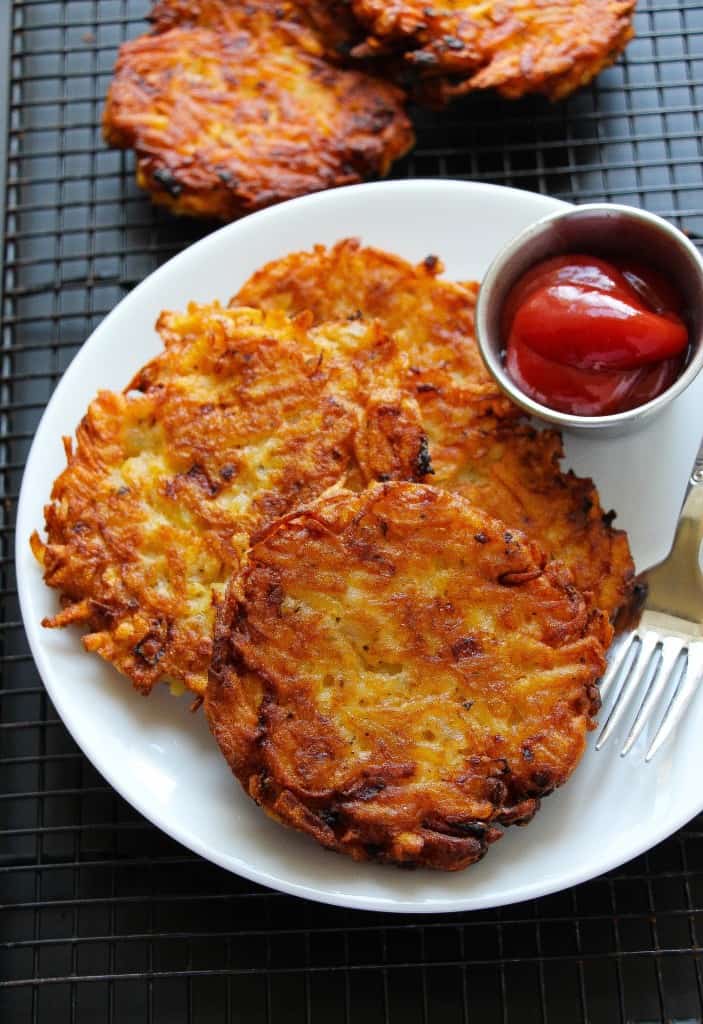 These are a crowd pleaser!!! They are crispy and soft and so flavorful. Everyone loves these!!
What are potato fritters made of?
These are made of grated potatoes, an egg, cheese, flour and lots of seasoning to make sure they are super flavorful! The egg and flour makes sure the mixture stays together and gets extra crispy.
You can use gluten free flour if you can't do gluten. I would use an all-purpose one-for-one flour blend like Cup 4 Cup or Bob's Red Mill.
How to make them perfectly round?
I use these egg cookers to make the fritters into circles. But you can definitely make them without the egg circle. You just won't have as perfect circles. But the taste will be no different.
Can you freeze these?
Yes! Lay the cooked fritters out on a baking sheet. Freeze or 1-2 hours. Place in a plastic bag and freeze.
To reheat: Preheat oven to 425 degrees. Then place them frozen on a baking sheet. Bake for 25 minutes, until crisp, flipping once halfway through.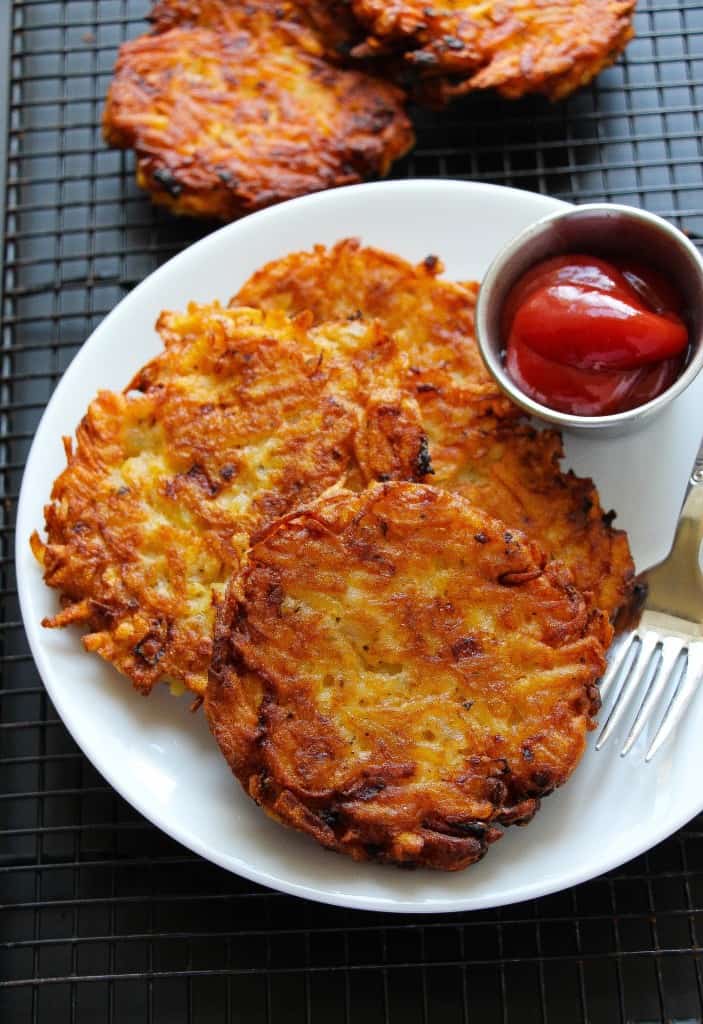 What do you serve with these crispy potato fritters?
Traditionally these are served with sour cream or applesauce.
But you could also serve these with salmon and strawberry goat cheese salad!
Or steak!
Or you could go the breakfast route The most epic brunch ever would be these with waffles, fresh fruit with fruit dip, and some bacon.
Potato Fritters
Super crispy outside, pillowy potato insides. Super simple and extra crispy grated potato fritters!
Ingredients:
2 medium russet potatoes, peeled and shredded
1 egg
1/4 cup shredded parmesan
3 Tablespoons chives, thinly sliced
2 Tablespoons all-purpose flour
2 teaspoons seasoned salt
1/2 teaspoon chili powder
1/2 teaspoon dried basil
1/4 teaspoon ground cumin
1/4 teaspoon black pepper
1 cup oil for frying, or as needed
Directions:
Rinse shredded potatoes until water is clear, then drain and squeeze dry. Place shreds in a large bowl.
In a small bowl, whisk together egg, parmesan, chives, flour, seasoned salt, chili powder, basil, cumin, and pepper. Add to shredded potatoes and mix until evenly distributed.
Heat about 1/4 inch of oil in a large heavy skillet over medium-high heat. When oil is sizzling hot, scoops out 1/4 cup potato mixture into the pan and flatten to a 1/2 inch thick layer (I use these to shape the fritters). Cook until nicely browned on the bottom, then flip over and brown on the other side. It should take at least 5 minutes per side.
Remove from pan, and drain on paper towels. Season with a little extra salt and pepper, if desired, and serve immediately.