January 6, 2015
Nutella Swirled Pancakes
You guys. Currently dying over here. Peanut butter-chocolate lover's unite!!!
I have this weird thing about peanut butter and chocolate, sometimes I like the combo, and sometimes I don't. Like reese's or butterfingers??? You can count me in. But most of the time peanut butter and chocolate combos are typically a, "no thanks, I'm good :)" kind of deal. However. THIS combo is sseriouslyawesome. Like one of the best chocolate-peanut butter combos ever.
Well I guess I should have expected nothing different when I put the worlds most glorious spread with the world's most glorious breakfast (in my opinion – around here eggs and sausage and hash-browns take the backseat to anything sweet, sugary, or cinnamon-y).
Now that I think about it, New Year's resolutions, also have the same effect as peanut butter and chocolate. Sometimes I like them and sometimes I don't. Like last weekend when I made these. Stupid New Year's resolutions trying to tell me what to eat and what not to eat. 😉
Okay, so maybe I'm being only kind of seriously, and kind of silly at the same time, but still. I feel like New Year's resolutions are so hyped up with the "new year, new you," and that somehow in the difference of about 1 minute, you will suddenly become a "new, changed person." I don't necessarily believe that to be true. I'm not saying that I don't set goals for the new year, because I do, I'm just saying (after experience), it's just unrealistic to believe that I am going to completely change. Instead I have come to accept that a new year provides new opportunities for new growth. That being said, if part of my goals for this year is to eat a healthier/more nutritious breakfast, and I accomplish that goal 80-90% of the time, I'd say that I'm doing okay. 😉
Enough of my rambling about all things cliche regarding the New year, and on to some more about these amazingggggg pancakes.
The base pancake recipe is a tried and true favorite… super fluffy, super flavorful, super soft, and all things delicious – and then after the pancake batter has been halfway-cooked on the griddle, a little swirl of nutella gets thrown into the mix. YES. Nutella.
This was a tough one. At first we tried a nutella + butter mixture, and that did nothing but ooze out everywhere and turning into a crispy black burn. Then we tried a little more nutella to butter ratio and that didn't work either. So finally, we just ditched the butter completely and used straight up nutella. And guess what? It worked!!! Ya I know, I know. Sometimes I just complicate things for no reason.
Make sure to read all the tips I included in the recipe because there are a few important techniques to getting a perfect nutella swirl. 😉
Funny thing is, I was planning on stopping after the Nutella swirl… top the pancakes with a little maple syrup and voila, seriously deliciousness. But no. I didn't. I made a peanut butter sauce!! You could definitely just do the nutella pancake and be done. But coming from experience and taste testing – if you are a peanut butter chocolate lover: do the peanut butter sauce. Just do it.
This pancake recipe only makes about 8 medium pancakes, so for a large family, I would suggest doubling this recipe! 🙂 Enjoy!
Nutella Swirled Pancakes
Melty Nutella chocolate swirled in buttery, soft, fluffy pancakes – topped with a dreamy peanut butter sauce!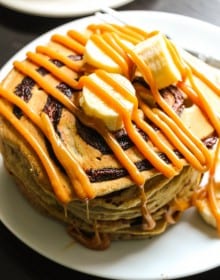 Ingredients:
For the peanut butter sauce: (optional – or use maple syrup)
1/2 cup light corn syrup
2 Tablespoons granulated sugar
2 Tablespoons unsalted butter
1 teaspoon vanilla
1/2 cup peanut butter
For the pancakes:
2 cups flour
1 teaspoon baking soda
1 teaspoon salt
1 Tablespoon sugar
1 egg
2 cups buttermilk
maple syrup, for serving
Directions:
To make the Nutella filling:
Scoop Nutella into a baggie and set aside.
To make the peanut butter sauce:
Melt corn syrup, sugar, vanilla, and butter in a medium sauce pan over medium low heat. When sugar has dissolved, add peanut butter and stir until melted. Keep warm until serving.
To make the pancakes:
Combine flour, baking powder salt, and sugar. Whisk together the milk and egg.
Heat skillet to medium low. Once preheated, spray with non-stick spray or drizzle with oil. Add about ½ cup of the batter to the skillet. Wait until bubbles start to form. Snip the corner of the nutella filling, and create a swirl pattern in the center of the pancake as pictured above. Be careful not to get it too close to the edge. With a wide metal spatula flip the pancake over and continue cooking for an additional 1-2 minutes until golden brown.
Wipe out the pan each time and repeat with the remaining batter. Warm the glaze if needed and drizzle over pancakes.