October 29, 2015
Chewy M&M Monster Cookies.
These MM, peanut butter, oatmeal, chocolate chip fully loaded cookies are just what your cookie monster ordered. Our gooey-eyed, soft and chewy monster cookie will leave you saying "Me Want Cookie"…."Me Eat Cookie".
These cookies are perfect for that person who can't decide if they want a chocolate chip cookie, an oatmeal cookie or a peanut butter cookie – because you get it all in one :). It's like eating 3 cookies for the calories of 1….how awesome is that?…haha. Seriously, people will not be able to resist these cookies. They are not only yummy but cute. I love the monster eyes in them – which you can find at Michaels or any other craft store in the baking section all year long. They don't only have to be for Halloween….they would be great for a kids birthday party or school party – kids love them.
This cookie recipe is super chewy. There is nothing better to me than a perfectly chewy cookie. And the secret to really pretty cookies you ask? Hand place your chocolate chips or in this case MM's on the tops of the cookies right when they come out of the oven. You can't wait – have the MM's sitting out ready to press into them as soon as they come out. I promise it makes them so much prettier. Remember we eat with our eyes 🙂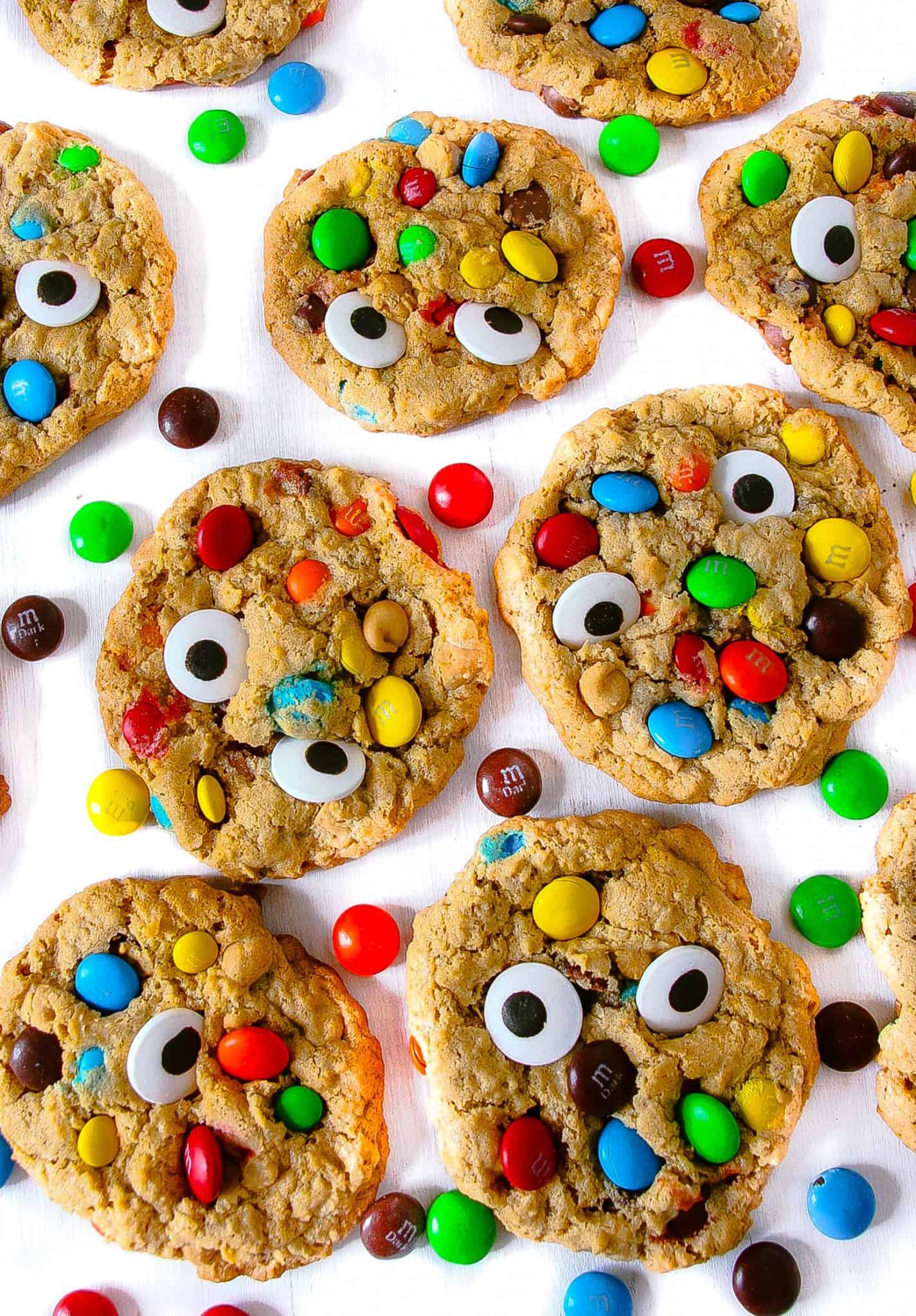 I hope you enjoy this recipe as much as we do…..it's super easy and really yummy.
Chewy M&M Monster Cookies
Ingredients:
1 cup brown sugar
1 cup granulated sugar
1/2 cup butter
1 cup peanut butter
2 teaspoons vanilla extract
3 eggs
2 teaspoon baking soda
3 cups quick oats
1 cup flour
1/2 cup M&M's
1/2 cup peanut butter M&M's
1/2 cup milk chocolate chips
1 package monster eye from craft store
Extra M&Ms to put on top when they come out of oven
Directions:
Preheat oven to 350 degrees and line baking sheet with parchment paper.
In a large bowl mix sugars, butter, and peanut butter. Add vanilla. Slowly mix in eggs one at a time. Add oats, baking soda, and flour and mix until fully combined. Stir in M&M's and milk chocolate chips.
Place a scoop of the cookie mix onto the lined baking sheet and bake for 10-12 minutes.
Remove from oven and let cool for about 5 minute and serve immediately!