Kale Spaghetti Squash (with Parmesan and Lemon!)
Kale Spaghetti Squash Recipe – Roasted spaghetti squash with kale and parmesan. Healthy, low carb, comforting, and so flavorful!!
This is the BEST health side to add to your Thanksgiving table. It has all the comforting Thanksgiving flavors. But it's healthy and vegetable packed.
How to get prevent your spaghetti squash from getting mushy
I couldn't figure out how to make spaghetti squash that wasn't mushy for a long time.
But this method of cooking spaghetti squash is the master of all other methods. It makes the longest, most pasta like strands.
You just need a good knife to cut the spaghetti squash into rings!
Can you make this ahead of time?
Yes! I prep this ahead of time for Thanksgiving every year.
To prep ahead: Make spaghetti squash the day before. Prep kale by de-stemming and chopping. Combine onion + rosemary + garlic + chickpeas in a plastic bag/container. Then on the day of: cook the chickpea mixture, add the spaghetti squash, and top with lemon + parmesan. So easy!!
What to serve with this Kale Spaghetti Squash?
We love this as a Thanksgiving side. But if it's not Thanksgiving, this crispy chicken on top would be the best meal ever.
Kale Spaghetti Squash (with Parmesan and Lemon!)
Roasted spaghetti squash with kale and parmesan. Healthy, low carb, comforting, and so flavorful!!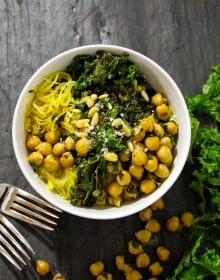 Ingredients:
2 spaghetti squash
Olive oil spray
2 tablespoons olive oil
1 yellow onion, finely chopped
1 clove garlic
1 Tablespoon minced fresh rosemary
1/4 teaspoon chile flakes
1 (15 ounce can) chickpeas, drained and rinsed
2 (packed) cups of chopped kale leaves
juice of a lemon
salt & pepper
grated parmesan cheese
Directions:
Preheat the oven to 425 degrees and line a large rimmed baking sheet with parchment paper.
Cut about half an inch off of the top and bottom of the spaghetti squash, and discard those pieces. Cut the squash crosswise into rings about 1-inch thick, and run your knife around the inside of the rings to cut the seeds out.
Lightly spray both sides with olive oil. Season with salt and pepper, then flip the rings over and season again.
Roast in the preheated oven until the squash is tender, about 30 minutes.
When the squash is done, set it aside on the counter while you cook the chickpeas and kale. It will be easier to handle if you let it cool for 10 minutes before taking it apart.
Heat a large skillet over medium heat, then add the remaining two Tablespoons of olive oil, onion, and garlic. Cook over medium heat, stirring often until the onion is translucent, about 2 minutes. Then add the chickpeas, rosemary, and chili flakes. Cook over medium heat, stirring often, until the chickpeas start are browned and toasted, about 3 minutes. Turn the heat down slightly to medium-low and add the lemon juice and kale. Cook until kale has cooked down and wilted.
Peel the skin away from the squash, then use a fork or your hands to pull the strands apart, adding them to the skillet as you go. When all of the squash is in the skillet, add 1/4 cup of parmesan and toss everything together just to combine.
Serve immediately with more parmesan over top. Seriously. It makes the dish.
[this isn't a sponsored post, there are a few affiliate links above based on things I purchase on my own and love]