Lazy One-Pot Lasagna
The easiest lasagna you will ever make in a single pot – no boiling, no layering, nothing! Everything is made in one pot from start to finish.
It's Monday, which means you don't want to be at work and I don't want to be in class. And we both don't want to have to think about what to make the family for dinner. Enter this lazy girl/busy mom's lasagna. Otherwise known as happiness in a pot.
I can't take full credit for this lasagna idea. A while back, I asked my (not so) little brother if he had any ideas/requests for dinner that week. As always he responded: lasagna. It's his favorite thing my mom makes, and it's always the meal he requests for his birthday dinner – or any dinner really. Except, I actually listened to him this time because lasagna sounded pretty good to me too.
Going into recipe testing, I knew I wanted to use my mom's famous lasagna recipe as a base, but change it up a little bit.
My idea to make it all in one pot happen kind of by accident when I realized I had gotten no-boil lasagna noodles instead of just regular lasagna noodles. In other words, there was no need to boil the lasagna before adding the layers. Before the pasta got added, I used cream cheese (the secret ingredient!) to add an extra creaminess to the sauce and to make up for the lack of a ricotta layer. Then, it got topped off with a bunch of cheese and baked for 20-30 minutes until hot and bubbly. And with that – dinner is ready.
When I pulled this out of the oven (on a weeknight) my brother thought he had died and gone to heaven. This has all the flavors of my mom's famous lasagna, made in under and hour. It's the perfect meal to throw together and serve to your family on a weeknight or even a weekend dinner. Let's be real: my family is over the moon anytime I make this for dinner, weeknight or weekend.
It's so easy, so fast, and SO dang yummy.
Lazy One-Pot Lasagna
The easiest lasagna you will ever make in a single pot – no boiling, no layering, nothing! Everything is made in one pot from start to finish.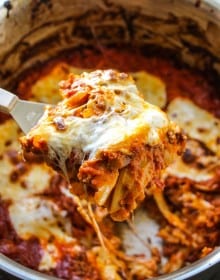 Ingredients:
1 teaspoon olive oil
1 onion, finely diced
2 cloves garlic, minced
1 lb ground beef
2 (24 ounce) jars tomato sauce
1 (28 ounce) can crushed tomatoes
2 Tablespoons brown sugar
3/4 cup shredded parmesan cheese
2 oz cream cheese
8-9 no boil lasagna noodles
6-8 ounces mozzarella cheese, sliced
fresh basil and parmesan cheese, for serving
Directions:
Preheat the oven to 350 degrees Fahrenheit.
In a large ovenproof heavy-bottom sauce pan, add the olive oil, onion and garlic to the pan; saute for 5 minutes or until soft and fragrant. Add the ground beef with salt and pepper and brown until no longer pink. Drain off all the excess grease.
Add the tomato sauce and crushed tomatoes to the meat in the skillet. Simmer for 10 minutes over medium low heat. Stir in the cream cheese, brown sugar, and parmesan until cream cheese melted.
Break each of the lasagna noodles into 3 or 4 pieces. Stir them into the meat mixture so they are completely covered in sauce, and arrange them so that they are all laying flat in the pan.
Place a few slices of fresh mozzarella between the noodles, and place the remaining slices of fresh mozzarella on top. Bake for 25 minutes, or until cheese is hot and bubbly.
Let stand for 5-10 minutes. Top with fresh basil and Parmesan cheese, and serve with a side salad or garlic bread.
PIN THIS RECIPE >>