October 14, 2015
French Onion Chicken Sandwich
I'm working with Perdue in the fight against hunger and to help feed families in need. Every time you redeem one of Perdue's specially marked coupons for easy, convenient PERDUE® Chicken Products, Perdue Foods will donate 4 ounces of protein to Feeding America® to help provide a meal* through its nationwide network of food banks.** Maximum donation: 450,000 pounds of protein. Learn more on how to Get Deals and #DonateMeals: http://www.perdue.com/promotions/
*Feeding America guidelines: 4 ounces of protein = 1 meal. 1 meal = $0.10.
———————————————————————————————————————————————–
Today I'm bringing you one of my favorite Grandma recipes to the blog.
I mean that literally – this a real recipe, from my very real and wonderful Grandma, adapted a weensy bit and now being formally presented to you, blog friends.
We got together with my Grandparents not too long ago and my Grandma "just happened to have" a huge bag of these crazy yummy chicken sandwiches in her freezer, so when lunch time hit she just turned on the oven and popped these bad boys in for a quick and easy lunch, showing me the beautiful art of providing a family meal that keeps everyone happy. Not to mention that fact that between 7 people, 20 sandwiches were gone in less than 30 minutes. Grandma, you amaze me.
I think what makes these sandwiches so dang addicting is the marinade on the chicken… bright, citrusy, sweet, and savory. Oh and the melty cheese is pretty good too. 😉 During lunch, I probably asked her 100 times "how she made them again?" and the next week I got a sweet card in the mail with the handwritten recipe enclosed… seriously the best. <3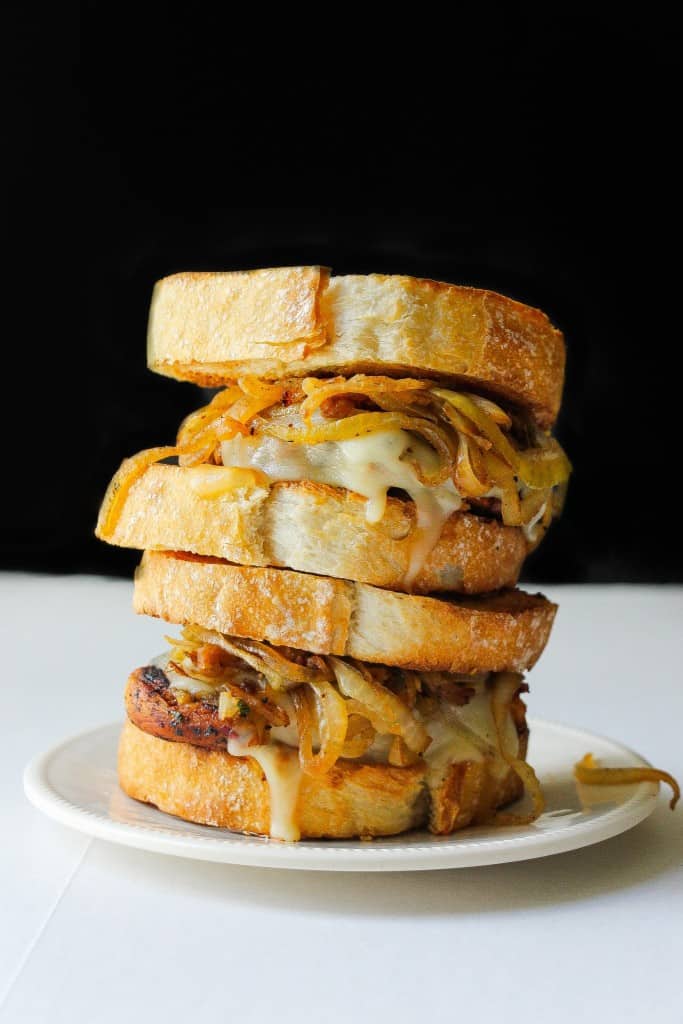 Upon closer investigation, I realized that we have hardly shared any sandwich recipes with you guys. I'm not opposed; I eat sandwiches regularly at restaurants, especially the variety that comes with a buttery toasted bun, crispy bacon, cool lettuce,fresh tomato, garlic aioli, and a side of sweet potato fries. But I digress.
Sometimes you need to go back to your roots, and for us, our small town roots are not found in quinoa and kale. They are found in this dreamy, melty sandwich. Ohmygosh, yes.
This recipe is so-very-friendly. It start with chicken breasts. I used Perdue's Perfect Portions for these sandwiches. Perfect portion and the perfect size for sandwiches… not too big, not too small. The chicken gets marinaded in all things delicious: apple cider vinegar, garlic, mustard, lemon, lime, brown sugar, salt, and pepper. The perfect slightly sweet/tangy marinade to compliment the savory onions.
Oh and don't forget about swiss cheese, garlic aioli, and buttery toasted bread. They're essential to the deliciousness of this sandwich.
And just like that, french onion soup takes chicken sandwich form in the most glorious way possible. In other words, yum.
Just as my Grandma shared these with us, we doubled this recipe and brought half of our sandwiches over to our neighbor who just had her baby. Wrap in some foil and these become the easiest meal to transport ever. I like to freeze my sandwiches wrapped in foil, and then store all the wrapped sandwiches in a large plastic bag. It keeps the sandwiches nice and secure until whenever you are ready to eat.
Whenever you need them, pop them into a 350 degree oven for 20 minutes. And when you take them out, the buns are slightly crusty and the fillings are delectable and delightful. Ooey and gooey and yum.
This recipe make 4 sandwiches, but it can be easily doubled, tripled, or even more than that. Just double/triple the ingredients accordingly.
Recipe highlights: easy for you, delicious for them, good-smelling and kind of addictive. Also, a personal tip from personal experience: if you are making these ahead of time or for a friend, double/triple the recipe and keep a little for yourself. You're welcome.
And if you're into deliciousness and you're into Facebook, I have the perfect thing for you: the Perdue Facebook account which showcases all the amazing ways to use chicken in your kitchen.
French Onion Chicken Sandwich
Ingredients:
For the Chicken:
1/4 cup apple cider vinegar
3 tablespoons prepared coarse-ground mustard
3 cloves garlic, minced
1 lime, juiced
1/2 lemon, juiced
1/2 cup brown sugar
1 1/2 teaspoons salt
ground black pepper to taste
nonstick spray
4 skinless, boneless chicken breast, pounded to even flatness
For the aioli:
2 garlic cloves
1 large egg yolk
2 teaspoons fresh lemon juice
1/2 teaspoon Dijon mustard
1/4 cup extra-virgin olive oil
3 tablespoons vegetable oil
For the sandwiches:
1 tablespoon olive oil
1 large white onion, thinly sliced
4 slices Swiss cheese
8 slices of bread (or 4 hamburger buns)
2 cups baby spinach (optional)
Directions:
To make the Chicken:
In a large glass bowl, mix the cider vinegar, mustard, garlic, lime juice, lemon juice, brown sugar, salt, and pepper. Whisk in the olive oil. Place chicken in the mixture. Cover, and marinate 8 hours, or overnight.
To make the aioli:
Mince and mash garlic to a paste with a pinch of salt using a large heavy knife. Whisk together yolk, lemon juice, and mustard in a bowl. Combine oils and add to yolk mixture very slowly, whisking constantly, until all oil is incorporated and mixture is emulsified. Whisk in garlic paste and season with salt and pepper. If aioli is too thick, whisk in 1 or 2 drops of water. Chill, covered, until ready to use.
For the sandwiches:
In large skillet, heat oil over medium heat. Add onion and sugar; cook 25 minutes or until onions are deeply caramelized, stirring frequently. This step can be done up to 3 days in advance. Re-warm onions in microwave or in a small pan on grill before proceeding.
Preheat grill for direct grilling over medium-high heat. Spray chicken with nonstick spray. Transfer chicken to hot grill rack; cover and cook 10 minutes or until chicken loses its pink color throughout and internal temperature reaches 160 degrees F, turning once.
Place cheese slices on chicken pieces. Cover and cook 1 to 2 minutes or until cheese is melted and golden brown. Remove from grill and cover with foil.
Build sandwiches using hamburger buns, spinach, chicken, caramelized onions, and aioli. Serve immediately.
Pin this sandwich recipe >>>