Farmers' Market Breakfast Tacos
A simple, healthy recipe for some of the best breakfast tacos you'll ever eat – loaded with cheesy scrambled eggs, maple glazed bacon, fresh herbs, and a balsamic glaze.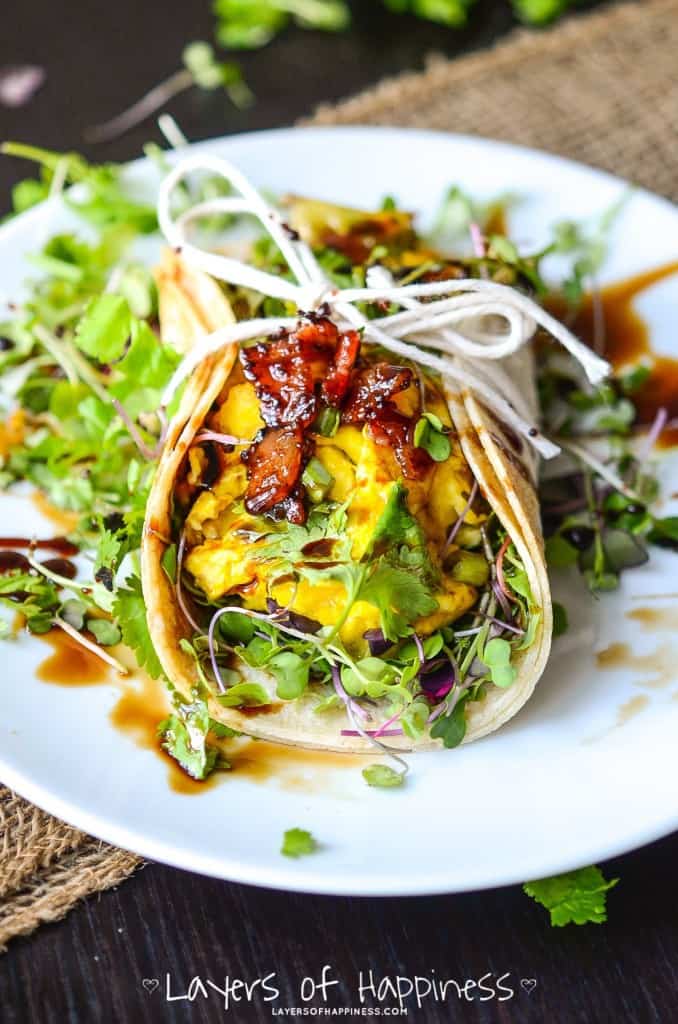 We have an awesome farmer's market near our house, and it is definitely the place to be on Saturday mornings around here! Live music, sunshine, fresh vegetables, local vendors, and most of all: the best breakfast in town! I normally go for my favorite oh-so-flavorful quinoa bowl topped with a fried egg, but last weekend I decided to change things up and try something new.
I went with breakfast tacos because with the line that wrapped around the corner – I knew it had to be a good choice. I am so glad I opted for the tacos because they were the BOMB. I would have never thought to pair a Balsamic vinaigrette with eggs and bacon, but it was crazy good!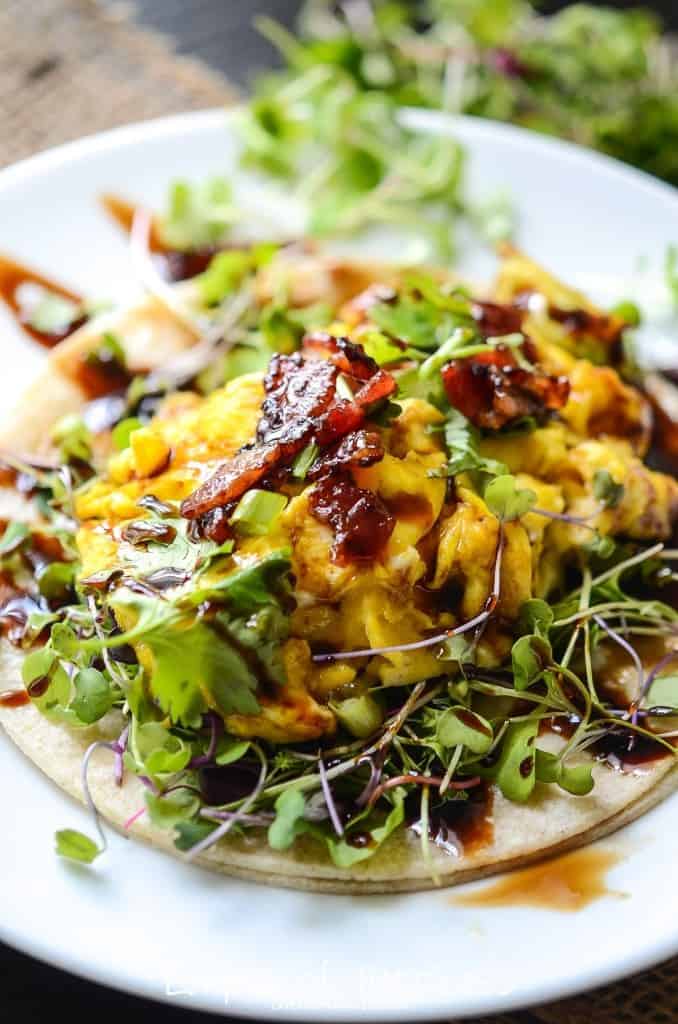 These breakfast tacos, in a word, are heavenly. In another word, divine. In another word, extremely delicious! I was instantly hooked, and, of course, I spent the rest of the day perfecting my own version.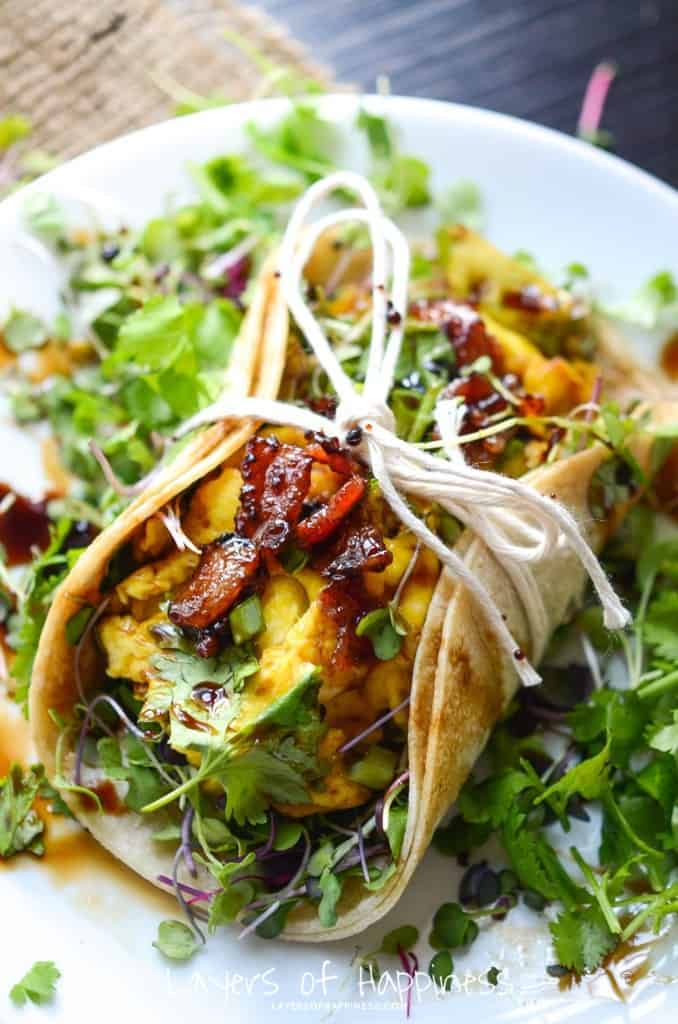 Let's talk ingredients:
First we have the scramble eggs, micro-greens (you could also use regular mixed greens), cilantro, and green onions, which are all pretty self explanatory and common. BUT it's the maple glazed bacon and balsamic glaze that take these tacos over the top!
Have you ever dipped your bacon in your excess pancake syrup? If so, then you probably have an idea of how good maple glazed bacon is. Bit if not, then you are in for one taste explosion. Sweet and salt and nutty and SO GOOD. It totally makes the tacos.
To make the bacon, all you do is cook the bacon in a microwave or skillet three-fourths of the way through, brush the bacon with maple syrup, and finish cooking. Simple, yet extraordinary.
And as for the balsamic reduction – it's just as amazing as the bacon. The versatility to this sweet-tangy sauce is endless. We always have it on hand. It can be used to dress salads, as a finishing sauce for grilled chicken or fish, as a dip for vegetables, drizzled over fruit, and it's delicious drizzled over these tacos.

You can easily buy a variety of ready-made Balsamic reduction from the grocery store, but it's often overpriced and not nearly as good.
As easy as it is to make, balsamic vinegar does require some patience regarding the cooking time. Here are a few quick tips will help that the process goes smoothly:
Have patience. Once you bring the vinegar to a simmer, turn the heat back so it reduces slowly. Don't be tempted to have the heat to high on the vinegar – it will result in a burned, over-reduced vinegar mess.
Keep in mind the size of the pan you're using. The wider the base, the more surface area, thus making the vinegar reduce quicker. If you use a smaller sauce pan, it will take longer to reduce the same amount of vinegar.
When the vinegar is done, it will not look as thick as you might think – that's because it will thicken up quite a bit as it cools.
Substitutions
I use corn tortillas because I feel like corn tortillas are for tacos and flour tortillas are for burritos, but you could use flour tortillas for these tacos if you prefer.

You could also use all egg white instead of whole eggs – 2 egg whites = one egg.
We buy micro-greens at our local farmer's market, but if you are unable to find them, use sprouts or chopped mixed greens.
Did you know that I used to be one of those people who hated cilantro? I tasted the offensive soapy taste so many of you have mentioned. But I persevered. I fought many battles. And I came out a victor! I won! And now I eat cilantro daily! If you think you don't like cilantro, give it one more try – on these tacos!

These tacos are great for a weekend breakfast, breakfast for dinner, and especially those nights when you don't feel like cooking a 'real meal'! They're easy, simple, and so delicious.
Enjoy 🙂
Farmers' Market Breakfast Tacos
A simple, healthy recipe for some of the best breakfast tacos you'll ever eat – loaded with cheesy scrambled eggs, maple glazed bacon, fresh herbs, and a balsamic glaze.
Ingredients:
For the balsamic glaze:
1 cup good balsamic vinegar
1/4 cup honey
For the tacos:
4 corn tortillas
1/2 cup grated extra-sharp white cheddar cheese
4 slices bacon
2 Tablespoons maple syrup
4 large eggs
4 Tablespoons chopped fresh cilantro, divided
4 green onions, sliced
balsamic glaze
micro-greens (sprouts or chopped mixed greens also work.)
Directions:
Make balsamic reduction:
Stir balsamic vinegar and honey together in a small saucepan and place over medium-high heat. Bring to a boil, reduce heat to low, and simmer for 10-15 minutes, until the vinegar can coat a spoon.
Set the balsamic reduction aside to cool. The mixture will thicken as it cools. It should be thick and stick, but not so thick that it's hard to stir. If it's too thick, add a bit more vinegar, place back over heat and stir until incorporated. If not thick enough, put back on burner until it thickens a bit more.
For the tacos:
Brush large nonstick skillet with olive or vegetable oil. Char tortillas over gas flame or directly on electric burner until blackened in spots, turning with tongs. Arrange tortillas in single layer and sprinkle each tortilla with 2 Tablespoons grated cheese and set aside.
Cook bacon in a microwave or skillet until it's three-fourths of the way done, brush with maple syrup, and finish cooking. Chopping into bite size pieces, set aside.
Whisk eggs and 2 tablespoons cilantro in medium bowl. Season with salt and pepper.
Add green onions to a skillet and sauté 2 minutes. Add egg mixture and stir until very softly set, about 1 minute. Remove egg mixture from heat.
Divide egg mixture among tortillas, top with micro-greens, and sprinkle with bacon bits and remaining cilantro. Fold each tortilla in half and drizzle with balsamic reduction.
Enjoy!