Oven Roasted Potatoes (Extra Crispy!)
Oven Roasted Potatoes – extra crispy, super easy, and irresistibly delicious. The secret to extra crispy homemade potatoes is using ghee instead oil!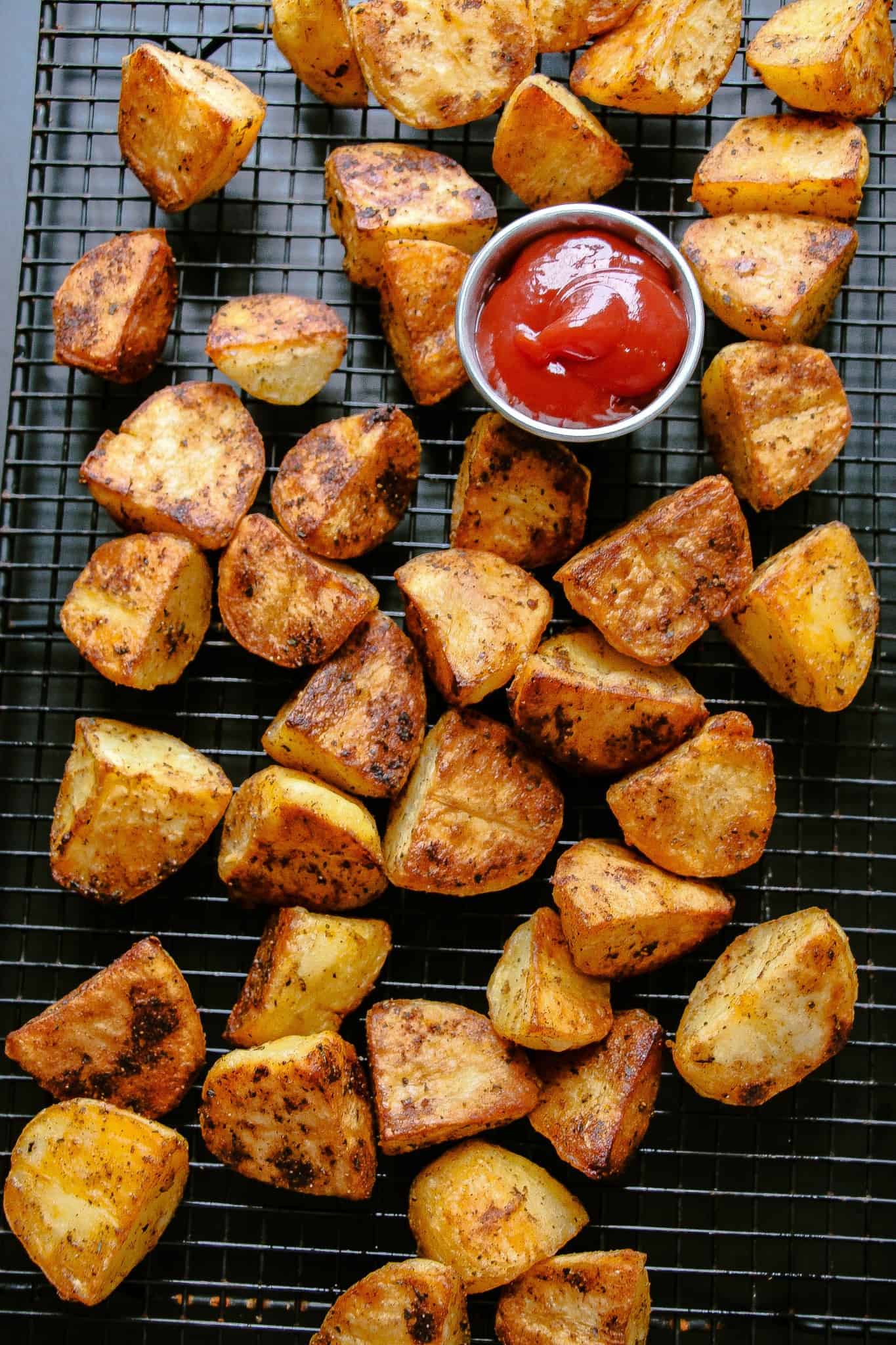 Tips for super crispy oven roasted potatoes
Soak your potato chunks in cold water. This removes some of the starch. The less starch on the potatoes, to more crispy they can get.
Dry the potatoes after soaking. Water = Steam = Soggy.
Preheat the oven with your pan in the oven. That way it's super hot when you add the potatoes and the crisping action starts immediately.
Don't overcrowd your pan. Overcrowding leads to steamed potatoes instead of crispy.
I use ghee for the fat in this roasting process. It makes the potatoes so much crispier. Don't knock it until you try it!
I also par boil the potatoes. This allows your to cook the potatoes at a super high temperature without burning the outside before the middles are tender.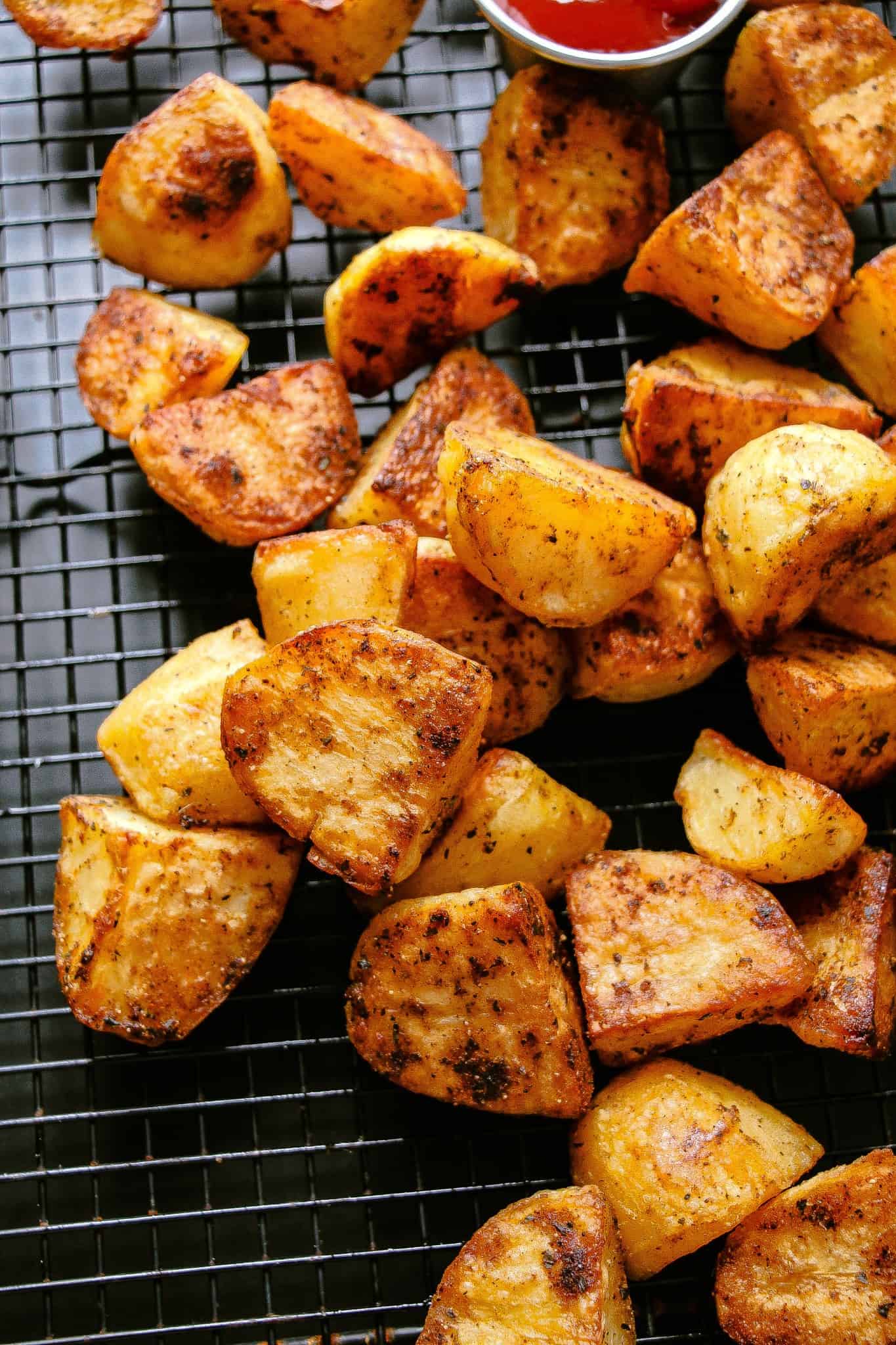 Can you freeze these potatoes?
Yes! Lay the cooked potatoes on a baking sheet. Place in freezer for 1-2 hours until frozen. Add them to an airtight container or plastic bag. When ready to reheat, preheat oven to 425 degrees. Bake for 20-25 minutes, or until the potatoes are warmed and crispy.
What to serve with these potatoes:
These BBQ chip chicken nuggets. Our spicy baked chicken tenders or homemade chicken fingers would be the perfect pair!
Oven Roasted Potatoes (Extra Crispy!)
Extra crispy, super easy, and irresistibly delicious.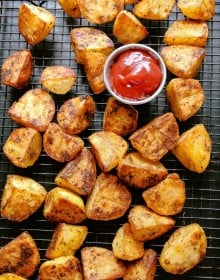 Ingredients:
4 1/2 pounds russet potatoes, rinsed and peeled
1 tablespoon white vinegar
Kosher salt
1/4 cup ghee
2 teaspoons seasoned salt
1/2 teaspoon chile powder
1/2 teaspoon dried basil
1/4 teaspoon ground cumin
1/4 teaspoon black pepper
Directions:
Adjust oven racks to lower and upper position and preheat oven to 500F degrees.
In a large bowl, soak potatoes in cold water for 10-15 minutes.
In a large pot, add the potatoes and cover with cold water by 1-inch. Add 2 Tablespoons salt and 2 Tablespoons vinegar. Bring to a boil over high heat, reduce to a simmer, and cook until exteriors are tender, about 10 minutes. Potatoes should show a slight resistance when poked with a paring knife or a cake tester. Drain potatoes, cut into 2-inch chunks, and transfer to a large bowl.
Add ghee to bowl with potatoes. Season with seasoned salt, chili powder, basil, cumin, and black pepper.
Divide potatoes evenly between two rimmed baking sheets. Bake for 20 minutes, or until the bottoms are crisp and golden. Remove from oven and flip potatoes using a rubber spatula (just trust me, it works!). Continue baking for another 20 minutes, until other side is golden brown. Serve immediately with ketchup or dip of choice.
[this isn't a sponsored post, there are a few affiliate links above based on things I purchase on my own and love]