June 7, 2016
Chewy Chocolate Chip Cookie Bars
Chocolate Chip cookie bars! Chewy and soft. Loaded with chocolate and toffee bits to create a gooey center. Served warm. And topped with ice cream.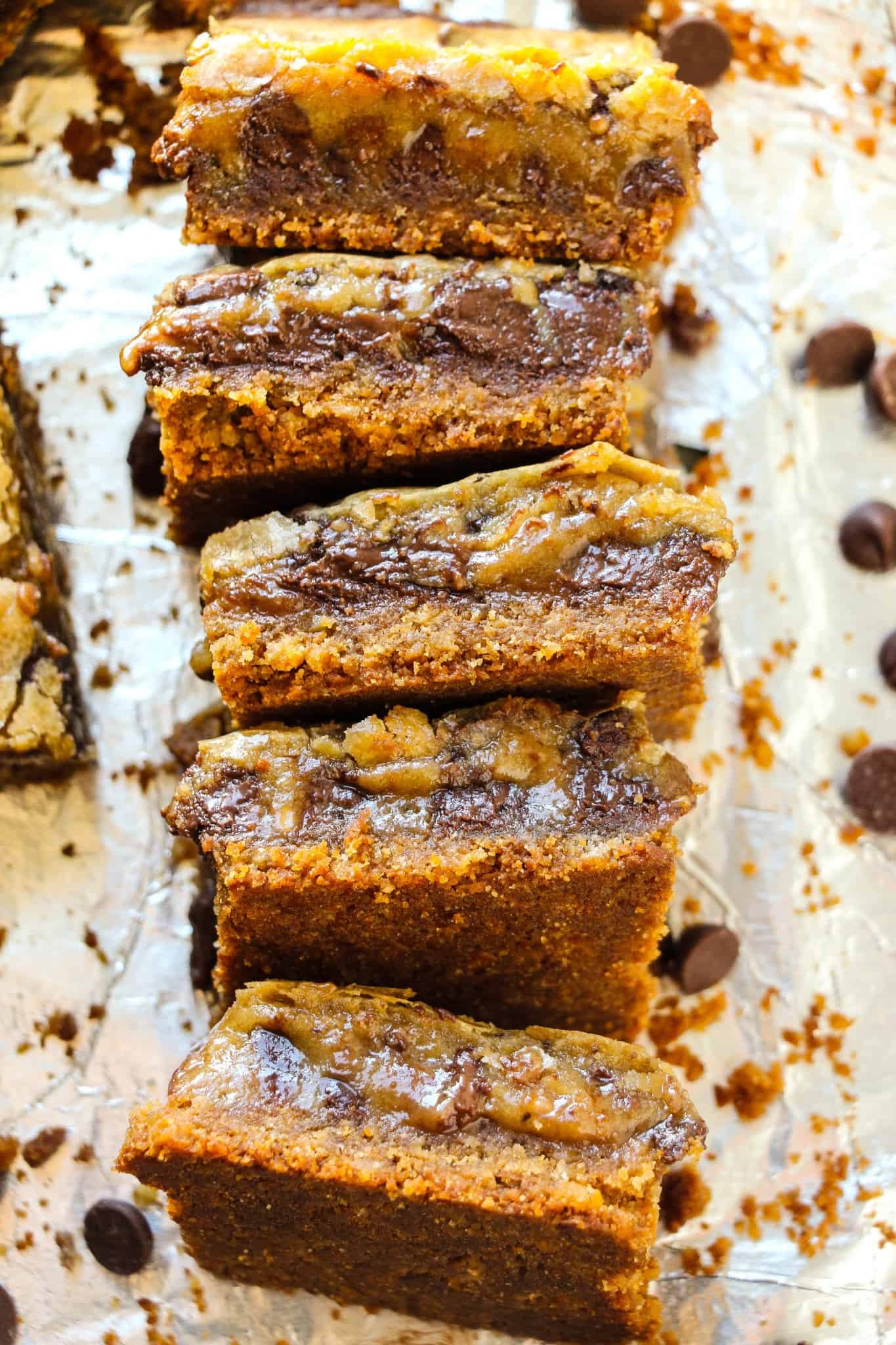 The bars are loaded with toffee. So the center gets super gooey and caramelized.
There's also a buttery graham cracker crust for extra support. Almost like a chocolate chip cookie pie?!
Then serve warm with ice cream. and salted caramel drizzled on top. Almost like a pizookie. But way better.
What to serve with these chocolate chip cookie bars….
These would be perfect as a summer cookout. You can make them ahead of time. Then warm up the individual portions and top with ice cream just before serving.
Like this flank steak + lemon parmesan asparagus + my favorite rice pilaf. And then these bars for dessert!
Or this no noodle baked zucchini lasagna + garlic bread for dinner. And these cookies to finish off the meal.
If it's fall when you're making these bars… this chicken parmesan spaghetti squash is amazing. And so is this stuffed pepper soup.
P.S. I only used Guittard chocolate after watching this chocolate taste test review!
Chewy Chocolate Chip Cookie Bars
Chewy and soft. Loaded with chocolate and toffee bits to create a gooey center. Served warm. And topped with ice cream.
Ingredients:
For the crust:
15 full-sheet graham crackers (or 2 1/4 cups graham cracker crumbs)
9 Tablespoons, melted unsalted butter
1/2 cup granulated sugar
For the filling:
1 cup butter, softened
3 large eggs
2 teaspoons vanilla extract
1 cup granulated sugar
1 cup firmly packed brown sugar
1 1/2 cups all-purpose flour
1/2 teaspoon salt
2 cups semisweet chocolate chips
1 cup toffee bits
vanilla ice cream, for serving
Directions:
Make the crust:
Using a food processor or blender, pulverize the graham crackers into a fine crumb. Pour into a medium bowl and mix with melted butter and sugar. Press into the lined pan. Bake for 10 minutes. Allow to cool as you prepare the filling.
Make the filling:
In a stand mixer, beat butter, eggs, and vanilla at high speed until creamy. Reduce to medium speed and add granulated and brown sugar. Mix until blended. Add flour and salt, beating until just blended. Stir in semisweet chocolate chips and toffee bits. Spread into prepared crust.
Bake for 35-40 minutes or until just set. The center will be a little bit gooey and will set as it cools. Remove from oven and transfer to a wire rack. Cool completely for about 1 hour.
Slice into bars and serve warm with ice cream. Enjoy!
[this isn't a sponsored post, there are a few affiliate links above based on things I purchase on my own and love]