June 7, 2016
Chocolate Chip Toffee Slab Pie
Like a chocolate chip cookie only better because it is loaded with toffee bits in slab pie form and topped with ice cream.
I craved a warm melty chocolate chip cookie with ice cream. It hit me like a ton of bricks and, ironically, this craving struck me right after a 5 mile run.
So I didn't feel quite as guilty adding 2 sticks of butter to the mixing bowl.
I run for… butter… and chocolate?
Chocolate chip cookies, while ultimately delectable, seem a little overdone. Jumping around the kitchen on my runner's high, with my mind spinning in all different directions, I chose a different destiny for my post-run treat.
Enter the high and mighty SLAB PIE.
And yes I did have a large, warm bowl of this toffee chocolate chip slab pie that is crusted by the most wonderful buttery graham cracker crust and made a little more decadent with toffee bits and vanilla bean ice cream – decorated with a little (okay a lot 😉 ) bit of salted caramel because I can't not drizzle stuff on my food, especially dessert.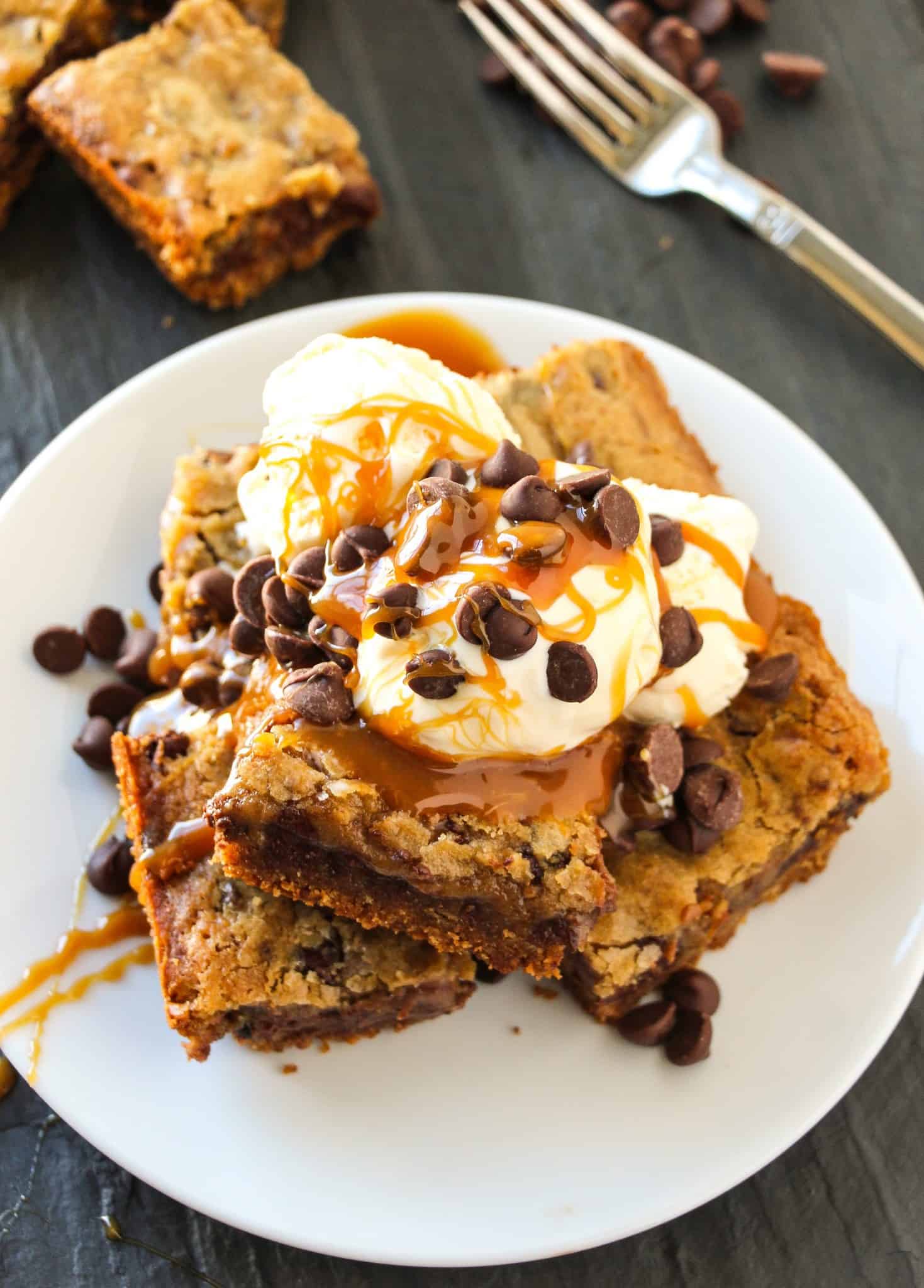 This is definitely one of my favorite summer treats for when friends come over for dinner. It's super easy to make ahead and then warm up right before serving.
And you guys know how much I like make ahead stuff because make ahead means less stress on my end. 🙂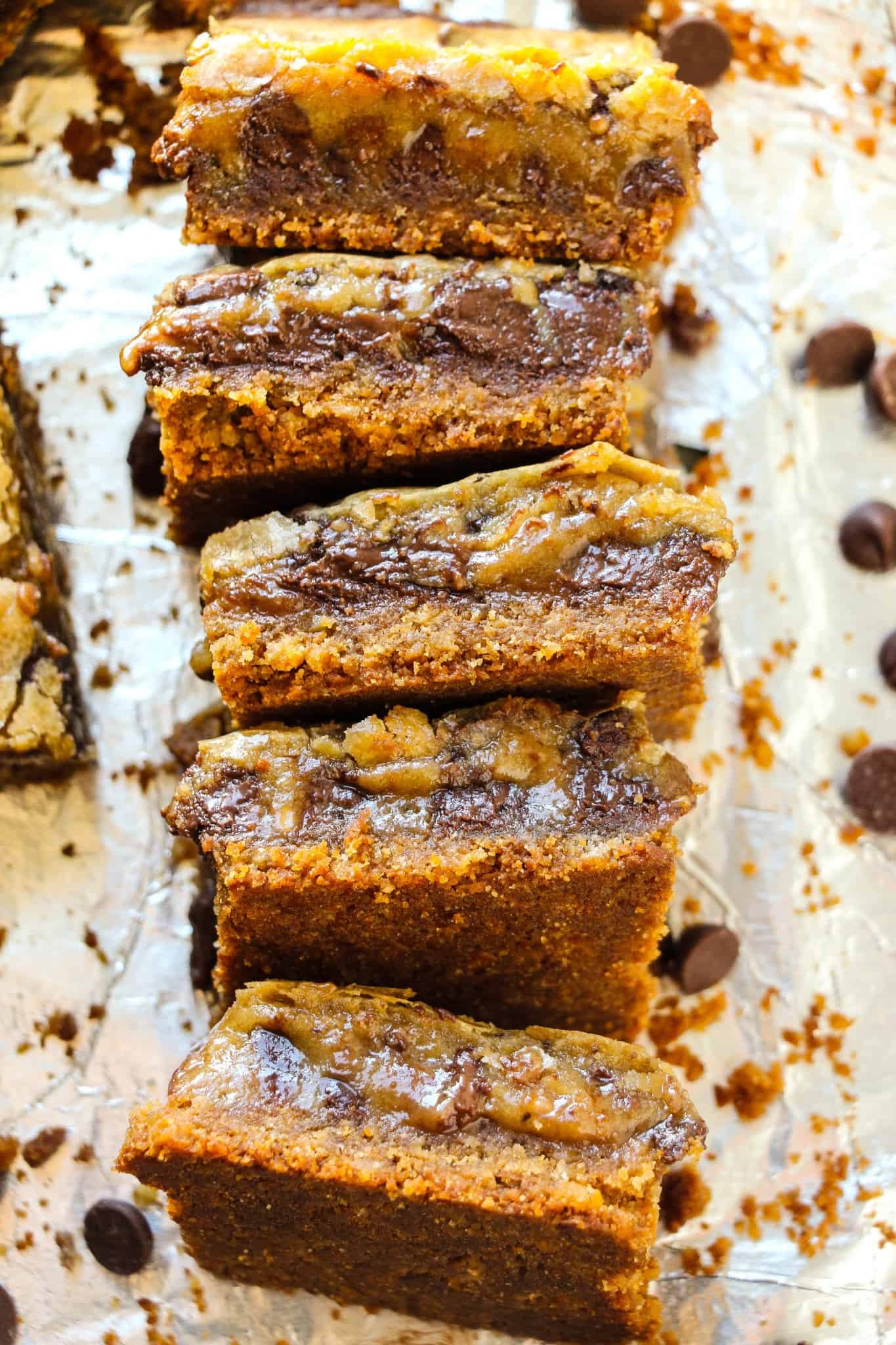 There is so much going on in these salty 'n sweet toffee chocolate chip slab pie bars, that you will HAVE go back for seconds. But who's complaining?! Happy June, everyone.
Chocolate Chip Toffee Slab Pie
Like a chocolate chip cookie only better because it is loaded with toffee bits in slab pie form and topped with ice cream.
Ingredients:
For the crust:
15 full-sheet graham crackers (or 2 1/4 cups graham cracker crumbs)
9 Tablespoons, melted unsalted butter
1/2 cup granulated sugar
For the filling:
1 cup butter, softened
3 large eggs
2 teaspoons vanilla extract
1 cup granulated sugar
1 cup firmly packed brown sugar
1 1/2 cups all-purpose flour
1/2 teaspoon salt
2 cups semisweet chocolate chips
1 cup toffee bits
vanilla ice cream, for serving
Directions:
Preheat oven to 350 degrees. Line a 9×13-inch baking dish with parchment paper. Set aside.
Make the crust:
Using a food processor or blender, pulverize the graham crackers into a fine crumb. Pour into a medium bowl and mix with melted butter and sugar. Press into the lined pan. Bake for 10 minutes. Allow to cool as you prepare the filling.
Make the filling:
Beat butter, eggs, and vanilla at high speed with an electric mixer until creamy. Reduce to medium speed and add granulated and brown sugar. Mix until blended. Add flour and salt, beating until just blended. Stir in semisweet chocolate chips and toffee bits. Spread into prepared crust.
Bake for 35-40 minutes or until just set. The center will be a little bit gooey and will set as it cools. Remove from oven and transfer to a wire rack. Cool completely for about 1 hour.
Slice into bars and serve warm with ice cream. Enjoy!