Cheesy Pizza Crust
A simple recipe for gooey cheese pizza on top of a cheesy pizza crust.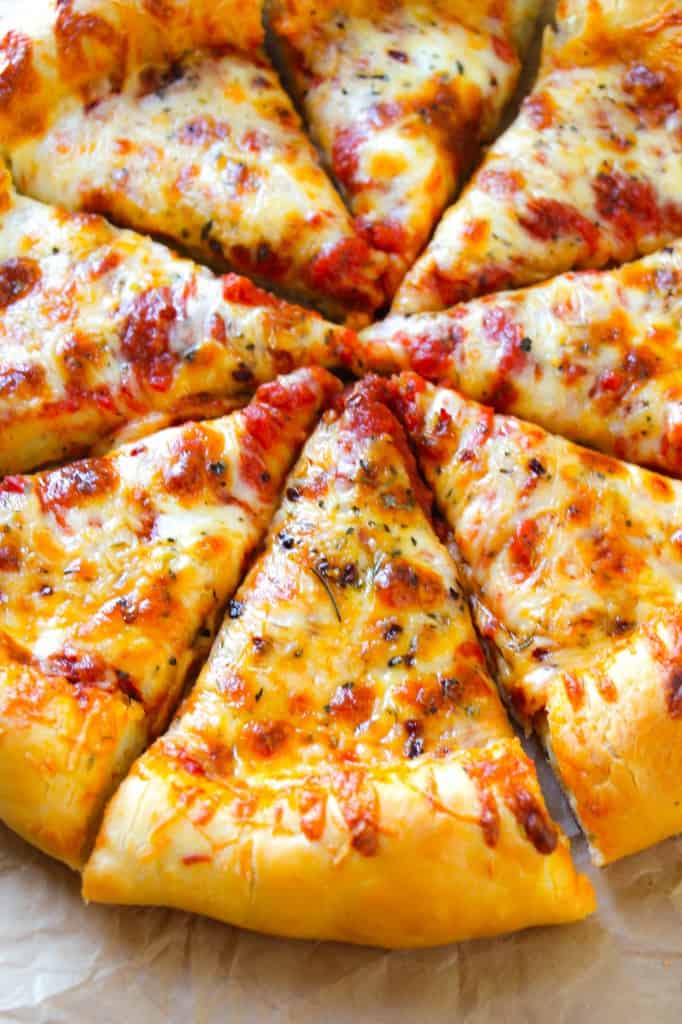 One of our favorite things to make for dinner is pizza.. with an AWESOME crust. The one thing our family really cares about is the crust. Really good crust. Puffy, chewy, and thick crust!
Most of the time we buy a ball of dough already made from our local grocery store, but nothing, and I mean nothing, beats a homemade crust.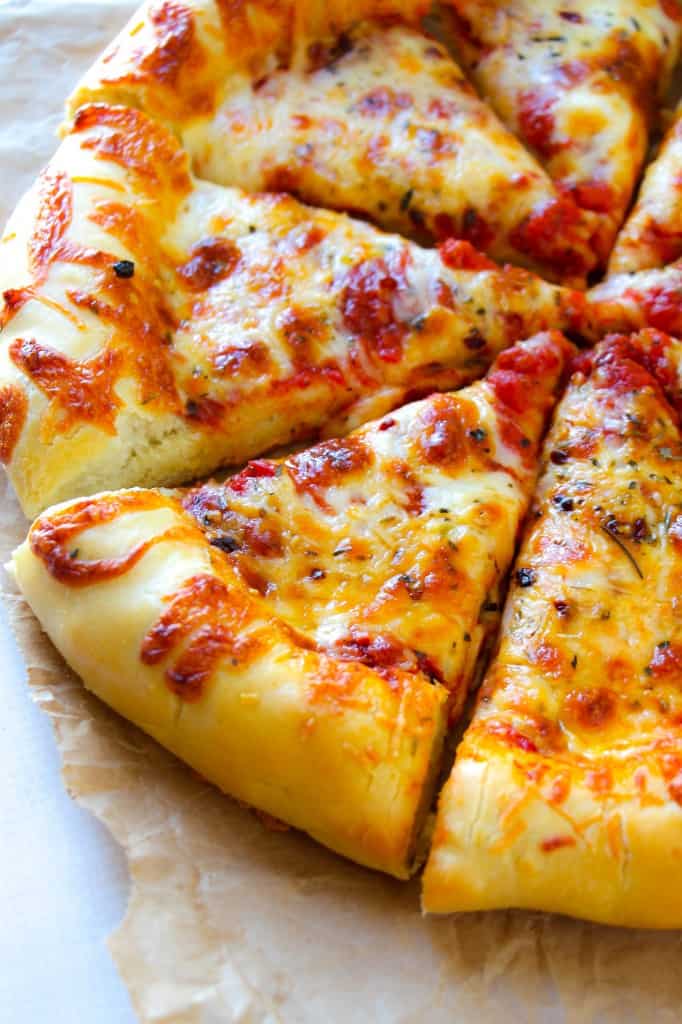 Homemade pizza crust can sound a little intimidating when you can easily buy it from the store, however, homemade pizza crust is unlike anything you could ever buy, have delivered, or order.
Here a few of my tips for making the perfect homemade pizza dough:
1. If you don't have a mixer you could also use the bread blade that came with my food processor!
3. One of the changes I made when I made this crust was that I dusted cornmeal on my pizza pan instead of flour like the recipe suggests. The main reason you sprinkle cornmeal onto the bottom of your pizza pan is so that the pizza won't stick to the bottom of the pan, but it also gives the pizza crust a little flavor and crispy bottom texture as well. You can find cornmeal at almost all grocery stores in the baking aisle. If you are having a hard time finding cornmeal, you could just use flour to dust the pan, but you'll lose the flavor cornmeal provides.
4. If you have had trouble with yeast and getting your dough to rise in the past here are a couple of possible answers to why your dough didn't rise:
Make sure the water is warm when you mix the water and yeast because hot water can kill the yeast and make it not rise properly.
Cheesy Pizza Crust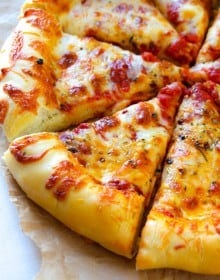 Ingredients:
1/2 cup cornmeal
2 1/4 cups bread flour, divided (divided)
1 (0.25oz) package or 2 1/4 teaspoons Active Dry Yeast
1 cup shredded cheddar cheese
1 teaspoon garlic powder
1/2 teaspoon table salt
1/4 teaspoon pepper
1 cup warm water
Desired toppings (like pizza sauce and shredded mozzarella)
Directions:
Prepare pans: sprinkle cornmeal in a thin layer in two 12-inch pizza pans. Set aside.
Preheat oven to 425 degrees.
In stand mixer bowl, add 1 cup flour, yeast, cheese, garlic powder, salt and pepper; mix well. Add warm water to flour mixture. Using a paddle attachment, blend on low speed for 30 seconds. Peat on medium speed for 3 minutes.
Switch to dough hook attachment. Gradually stir in enough remaining flour to make a firm dough. Knead until smooth and elastic, about 5 to 7 minutes.
Cover dough; let rest for 30 minutes.
Punch down dough. Divide dough into 2 equal parts. With well-floured or greased fingers, press each half into prepared pans. Top with desired toppings.
Bake for 20 to 25 minutes until edge is crisp and golden brown and cheeses are melted. Serve immediately.