Orzo Pesto Salad
Orzo Pesto Salad – An easy, super delicious vegetarian rice pilaf recipe that will take your dinner to the next level! Serve it with grilled chicken thighs or steak for the most perfect meal ever.
This recipe earned the status of "super knockout" !!!
My fiance calls really really really good recipes "knockouts." That label is not given out very easily….. and this side dish received (my first ever!!!!) "super knockout" from him (!!!!!)
Aka you need to make it.
Inspiration for this recipe came from…
My favorite side dish at the winery I am getting married at inspired this recipe.
You mix rice and orzo with arugula pesto, herbs, spices, raisins, and slivered almonds. And THEN you top it with burrata just before serving!!!
You can make this side dish recipe super easy by using a package of frozen rice
I used a package of frozen rice and Delallo's gluten-free orzo.
Any kind of rice/orzo works. You could also do all orzo or all rice if you prefer. But I will say – I really like the combo of the two kinds of grains because it gives the dish more texture.
How to prep it ahead of time
You can make the arugula pesto ahead of time for faster assembly when it's time to serve. But it's best when served warmer than room temperature. So I suggest mixing it all together right before you're ready to eat.
What to serve the orzo pesto salad with…
At the winery, they serve it as an appetizer but I love it as a side dish to something like this steak. It would also be great with some kind of grilled chicken thigh (like this one that looks amazing). Or you could eat it on its own as your main dish.
Watch the recipe video here:
Orzo Pesto Salad
The most flavorful side dish you will ever eat. Serve it with grilled chicken thighs or steak for the most perfect meal!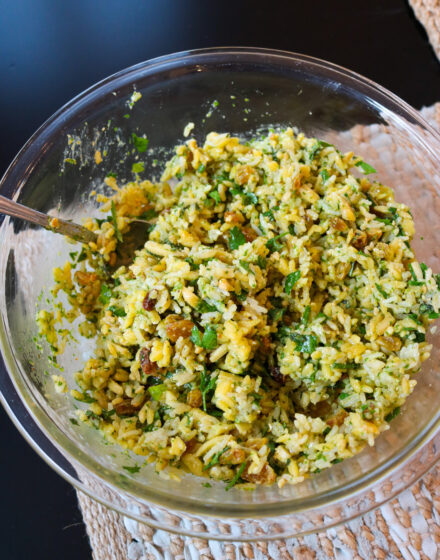 Ingredients:
ARUGULA PESTO
2 cups arugula
1/2 cup unsalted roasted cashews (raw cashews also work)
1/3 cup olive oil
1 lemon, juiced (about 1 lemon)
2 tablespoons water
1 Tablespoon honey
1/2 teaspoon garlic powder
1/2 teaspoon salt
ORZO
8 oz uncooked orzo (I like Dellalo's Gluten Free Orzo)
2 cups cooked rice (I use a package of frozen rice)
1/2 cup golden raisins
2/3 cup slivered almonds
1/4 cup parsley leaves, roughly chopped
3 tablespoons mint leaves, roughly chopped
2 lemons, zested + juiced
1 teaspoon chili powder
1 (8 oz) container burrata cheese
Directions:
ARUGULA PESTO
In a blender, add all ingredients. Pulse until the mixture is chopped up but not completely smooth. (It will turn into a nut butter consistency if you blend too long!)
ORZO
Cook the orzo or rice according to package instructions.
Put the raisins in a bowl, cover with about 1/2 cup boiling water, leave to soak for five minutes, then drain.
In a medium bowl, combine the pesto, orzo, rice, soaked raisins, almonds, parsley, mint, lemon zest, lemon juice, olive oil, and chili powder. Stir until the arugula pesto coats everything. Taste and adjust salt if needed.
Transfer the orzo/rice to a serving dish and break the burrata over top.
Nutritional Facts: 414 calories per serving (calculated using Dellalo's Gluten Free Orzo)
[this isn't a sponsored post, there are a few affiliate links above based on things I purchase on my own and love]