Philly Cheesesteak Skillet
Philly Cheesesteak Skillet – this is the best one-pan, skillet, melty, cheese, easy weeknight dinner made in under 20 minutes!
What's the difference between a Philly cheesesteak and a regular cheesesteak?
They are the same thing!
What is the best cheese to use?
The most common cheese used on a cheesesteak is provolone. But you could also go with white American cheese!
You will love this Philly Cheesesteak skillet if you love Philly Cheese Steak Sandwiches. It has melted cheese, tender veggies, and savory steak with herbs and spices! Load it on a hoagie roll and you've got a 20-minute dinner your whole family will go crazy over. You could also serve it in lettuce wraps or over cauliflower rice. Or maybe over a baked potato?!
From start to finish, it's made in the same skillet. Starting with the peppers, onions, and mushrooms; then the meat and spices, then the cheese. 20 minutes + one skillet = a weeknight win.
Philly Cheesesteak Skillet
This is the best one-pan, skillet, melty, cheese, easy weeknight dinner made in under 20 minutes!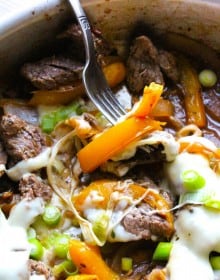 Ingredients:
1 lb thinly sliced rib eye
1 large onion, halved and then sliced into long strips
2 bell peppers, any color, cut into strips
1 cup baby bella mushrooms, chopped
2 Tablespoons soy sauce
1 Tablespoon Worcestershire sauce
1 Tablespoon dried basil (or 1/4 cup fresh basil)
1 Tablespoon lemon juice
1/2 Tablespoon minced garlic
1 teaspoon salt
1 teaspoon black pepper
4 slices provolone or other melting cheese
Directions:
In a large pan, over medium-high heat, cook meat with a little oil until slightly browned.
Add soy sauce, Worcestershire sauce, basil, lemon juice, garlic, salt, and black pepper. Stir to evenly distribute spices.
Add onion, peppers, and mushrooms, cook until browned- about 10 minutes.
Top with cheese. Let cheese melt, remove from heat, serve on hoagie rolls or as it is.